Event Calendar
Share your event with Surface Design Association's international community of 3000 artists, designers, and enthusiasts. The Calendar is home to fiber, textile and design related exhibitions, events, workshops, and artist opportunities. Click here to submit exhibitions, events, workshops, and artist opportunities to the SDA Calendar. Questions? Please email: calendar@surfacedesign.org.
Autumn Ink Making with Natural Dyes with Berkley Heath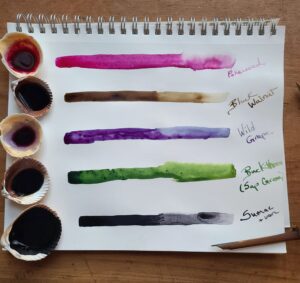 In this workshop, students will take the weekend to wander through the fall landscape, exploring the seasonal natural ink palette that surrounds us. We'll take time to observe subtle patterns in nature as we forage for color, seeing through the lens of the naturalist ink maker. Traditional ink making plant materials, such as buckthorn berries and oak galls, ground our color palette with durable bold tones, while pokeweed and wild grape lend an ephemeral splash of brilliance. Beyond specific ink recipes, students will gain an understanding of the general process for making natural dye-based inks. We will explore tannins in particular, a family of plant chemicals responsible for many long-lasting dyes and inks, including the classic indelible dark writing ink. Students will have a chance to experiment with the colors we create, using various papers, writing utensils, and modifiers. Everyone will bring home a set of inks!
Details
Date(s): 10/15/2022 to 10/16/2022
Cost: $300
Location
Sanborn Mills Farm
Loudon, New Hampshire United States