Event Calendar
Share your event with Surface Design Association's international community of 3000 artists, designers, and enthusiasts. The Calendar is home to fiber, textile and design related exhibitions, events, workshops, and artist opportunities. Click here to submit exhibitions, events, workshops, and artist opportunities to the SDA Calendar. Questions? Please email: calendar@surfacedesign.org.
'Felt Experience' Exhibit at the Brattleboro Museum & Art Center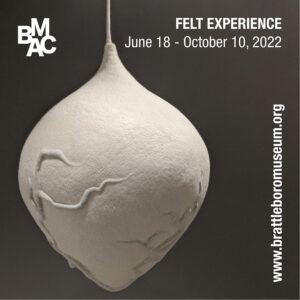 San Jose, CA sculptor Stephanie Metz presents six of her human-sized, touchable Hanging Pod felted wool sculptures as part of 'Felt Experience' at the Brattleboro Museum and Art Center in Vermont from June 18- October 10, 2022. Curators Sarah Freeman and Katherine Gass Stowe have assembled five artists working in felt today whose studio practices range from the exploration of the personally and universally nostalgic (Melissa Joseph), to a desire to connect our interior and exterior worlds (Liam Lee), to a coaxing out of the potential aliveness of the material (Marjolein Dallinga), to an investigation of time and memory within repetitive motions of making (Ruth Jeyaveeran), to a masterful merging of opposing qualities through curiosity and play (Stephanie Metz). Stephanie will present an in-person talk at the museum on Tuesday, July 19th at 7pm.
Details
Date(s): 06/18/2022 to 10/10/2022
Cost: Free
Location
Brattleboro Museum & Art Center
Brattleboro, Vermont United States