Crossing Mediums: A Dip into Wax
September 23, 2010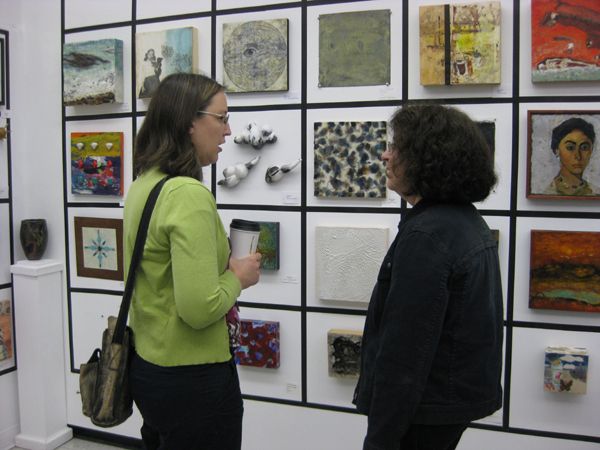 The 2010 Encaustic Conference (June 11-13) offered lots of reasons for artists working in fabric, thread, and paper to explore the medium of wax. A stimulating cluster of exhibitions, knowledgeable sessions on materials and processes, a brilliant keynote address, and an insightful panel on art and business sent participants home with heads full of information and inspiration.
This was the fourth in a series of conferences organized by founder/director Joanne Mattera—studio artist, author of The Art of Encaustic Painting: Contemporary Expression in the Ancient Medium of Pigmented Wax (Watson-Guptill, 2001), a former editor of Fiberarts, and a prime mover in the current wave of interest in encaustic.* This year, 244 participants, close to maximum capacity, traveled from across the US and Canada to Montserrat College of Art in Beverly, Massachusetts.
Keynoter Roberta Bernstein, Professor of Art History at the University of Albany (SUNY) worked as Jasper Johns's studio
assistant early in his career. She discussed Johns's philosophical and practical approaches to art—e.g., his desire to represent things so commonplace they aren't seen and his attraction to encaustic as a quick-drying paint that retained each brushstroke. Throughout his career, Bernstein said, Johns's work was marked by tension between what was hidden and what was revealed. (Textile trivia: his first flag was painted on a bed sheet.)
In a session on "Encaustic and Paper," SDA member Daniella Woolf, author of Encaustic with a Textile Sensibility, demonstrated many surface design techniques including collage, transfer printing, and gilding that can be applied to wax surfaces. In a separate Powerpoint session she introduced the artists featured in her book.
"Wax and the Artist Book" by Catherine Nash focused on a genre that embraces many disciplines, fiber among them. Nash discussed the book as a container in which the connection between image, content, structure, and narrative flow is critical. She showed examples illustrating many of encaustic's special capabilities such as embedding images, layering colors, and creating texture.
"Encaustic Painting and an Inquiry into Soy Wax" by Barbara Walton covered a series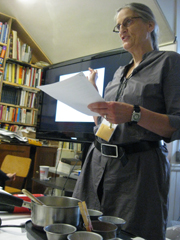 of collaborative experiments she had conducted with a chemist; they were seeking a formula for soy wax that would be successful as a medium for paint. Their research has not yet produced satisfactory results, but will continue. Meanwhile, many batik artists are using soy wax as a "green" disposable resist.
A high point for me was a talk on "Batik and Encaustic" by Cat Crotchett, who teaches in the Frostic School of Art at Western Michigan University. When two artists from Indonesia, Nia Fliam and her husband Agus Ismoyo, both well known in the international batik community—visited the school and saw Crotchett's work in encaustic, they invited her to Yogyakarta, a Javanese batik center, to exhibit her artwork and teach.
Eventually, funding was arranged to cover two workshops. One was for professional batik artists for whom wax was part of everyday life; they were skilled in applying the wax that is removed from the cloth at the end of the process. The second workshop was for art school graduates for whom wax was a new material. Crotchett described her experience of teaching artists in an unfamiliar culture—for example, Indonesians are used to sharing tools in communal studios. And from the batik artists she learned to use the canting tool. The paintings produced by both groups were boldly inventive with colorful shapes and lively patterns. While there, Crotchett discovered the metal caps (pronounced "chops") used to print lace-like patterns for batik. Now her own work incorporates designs imprinted with the caps she took home.
A dynamic panel on making a career in encaustic was applicable to any art discipline. The five diverse speakers offered generous insights into the partnership of art and business. Among them were an entrepreneur who sells work at fairs and likes interacting with customers, an artist involved in a cooperative gallery that allows her to show work as it grows and changes, an artist who directs an academic gallery, an artist who likes to travel and goes around the world teaching workshops. I strongly recommend a visit to www.encausticconference.blogspot.com where the panel proceedings are recorded.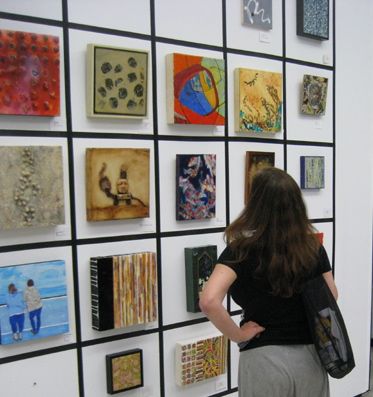 On the same blog are online catalogs for two conference exhibitions: Best Foot Forward, where each participant could show a piece that fit within a 12-inch square, offered a broad array of approaches, and Wax Libris II featuring diverse artist books.
The blog will announce the time and place of the next conference when information is available.
*An article on wax and fiber by Joanne Mattera will appear in the Winter 2011 issue of the Surface Design Journal.
______________________
Patricia Malarcher is Editor of the Surface Design Journal and a studio artist who has exhibited internationally.