Link About This: Mixed Media Makers + More
February 21, 2014
Augmented Reality at Jack Fischer Gallery
Lauren DiCioccio (CA) is one of several fiber/mixed media artists featured at Jack Fischer Gallery (San Francisco). She describes employing "tedious handiwork and obsessive care" to create her work.
The results are dazzling.
Click on the first image to enlarge and bring up a caption. Then you can scroll through the enlarged images with the arrows. There is a button at the top that lets you "toggle" the size to get a bigger image.
Scroll down to Past Work  to see the beaded skull (shown above); close to the bottom are embroidered newspaper pages (cross-stitched found book shown below).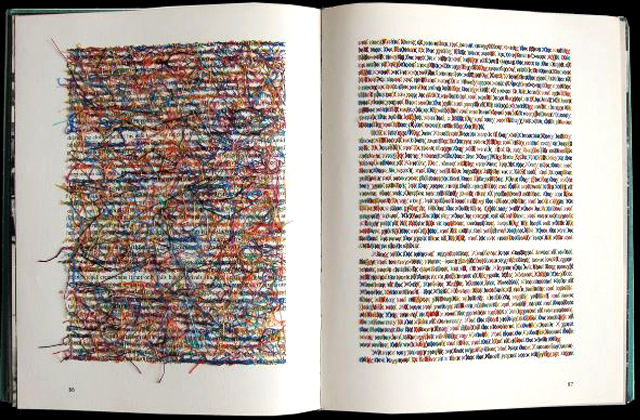 Animated Fabric at Mixed Remnants Blog
This page from Mixed Remnants blog features the work of Kate Nartker (who received SDA's 2011 Creative Promise Award for Student Excellence while in grad school at California College of Art).
Her Street Fair 1970 mixes quilting with video in a startling way (a still photo doesn't start to capture the fun of this one). It's the second item down the page (a single still shot shown below).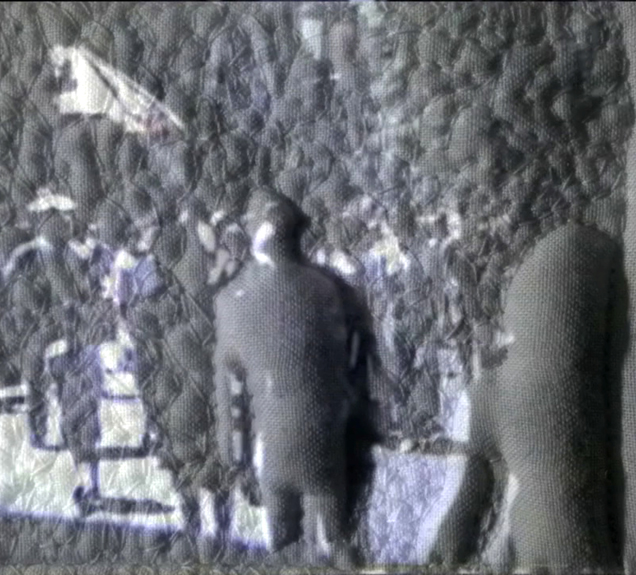 The artist/quilter/weaver has since gone in several new directions. Also featured at Jack Fischer Gallery, you can see her newest work in images digitally printed on silk organza. Her description of this new work resonates with the earlier video piece. She states that "Fragments from events are absorbed by cloth, and retold through patterns, textures, and haptic distortions." (I looked up the definition of haptic; it means tactile as well as nonverbal.)
Though silent for almost a year (this story is an archived post from 2012), Mixed Remnants creators say it will be up and running again soon to continue providing "fun and interesting fiber related items from across the web." I'll be there.
It's produced by the same people who give us the excellent Fiber Arts Call for Entries newsletter (there's a link to it on this blog; you can sign up to get it regularly via email).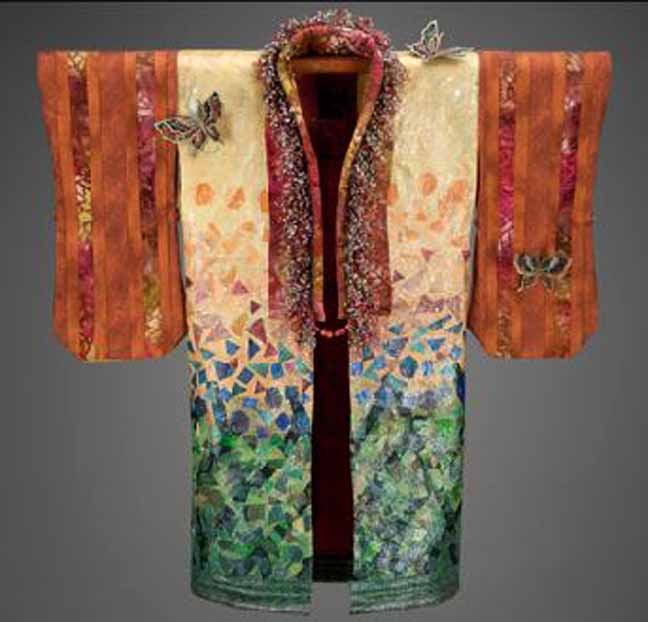 Mixed Media Crinkle & Shine
This link is to the website of mixed media maker Donna Tronca, who fuses plastic bags into new fabrics then sews, quilts, collages or constructs sculptures from them. (Kimono shown above; detail of fused bubble wrap, copper foil and acrylic paint, below.)
I recommend that you start by looking at the video at the top (where it says "click here to see interview") and then go on to explore the galleries of work. Knowing how she transformed familiar throw-aways into luminous fabrics will add to your appreciation.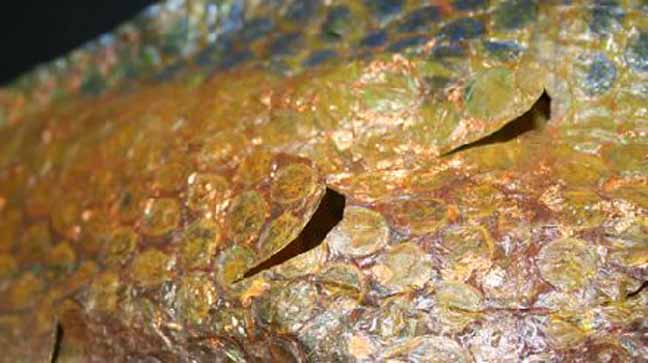 Metal "Couture" = Hard, Soft…and Perfect
Arabella Tattershall is a self-taught welder and sculptor who started as a fiber artist and now makes metal "couture".
Arabella Tattershall's Welded Metal Dresses, a 5-minute video made by WOSU Broad and High production team, gives us a close look how she tries to make metal look soft – and like it's moving.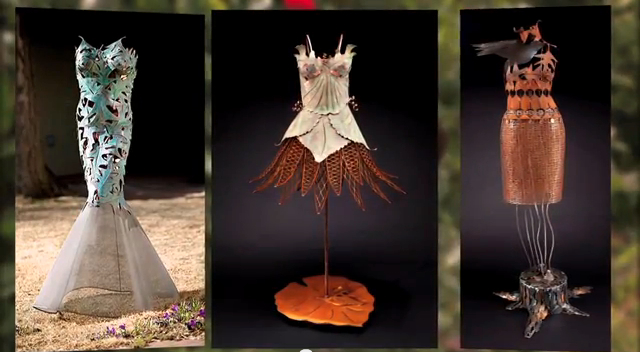 Her perfectionistic attention to detail and how she enjoys her work are inspiring.
She has an elegant web-site, too, at www.arabellasmetal.com.
Stitching Her World and Ours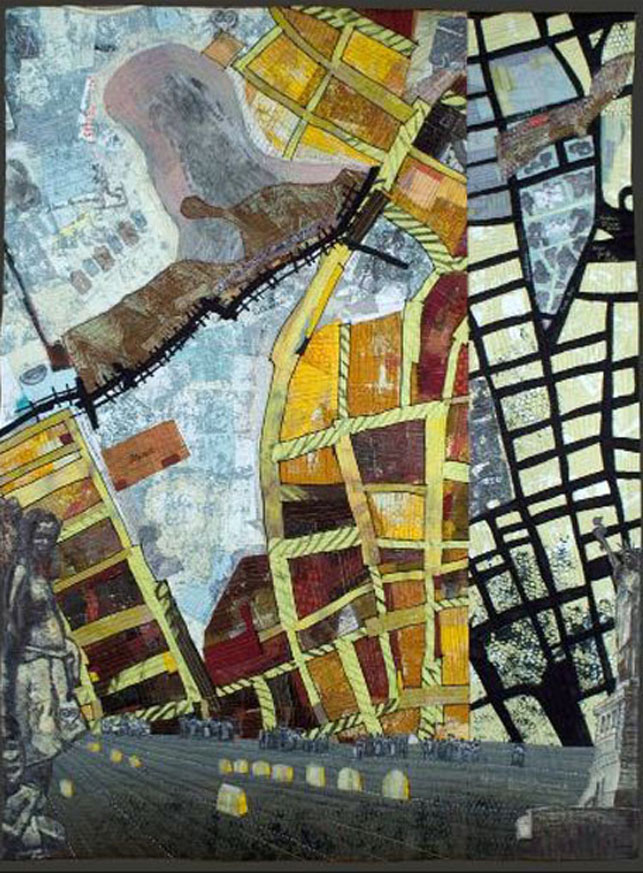 This link takes you to one of the art quilt galleries of Valerie S. Goodwin. She has 2 portfolios of quilts with map-inspired imagery.
This selection is Maps of Real Places.  You should also take a look at Maps as Abstraction in the left-hand menu. Even if you're not already fascinated with maps, these works offer a lot of visual stimulation.
Click on each thumbnail to enlarge it enough to see the details. (One of my favorite books is You Are Here: Personal Geographies and Other Maps of the Imagination by Katharine Harmon about art that maps bodies, emotions and time.)
Another facet of Goodwin's work is laser-cutting. She will be teaching workshops about it to fiber artists next summer (2014).
Northwest Best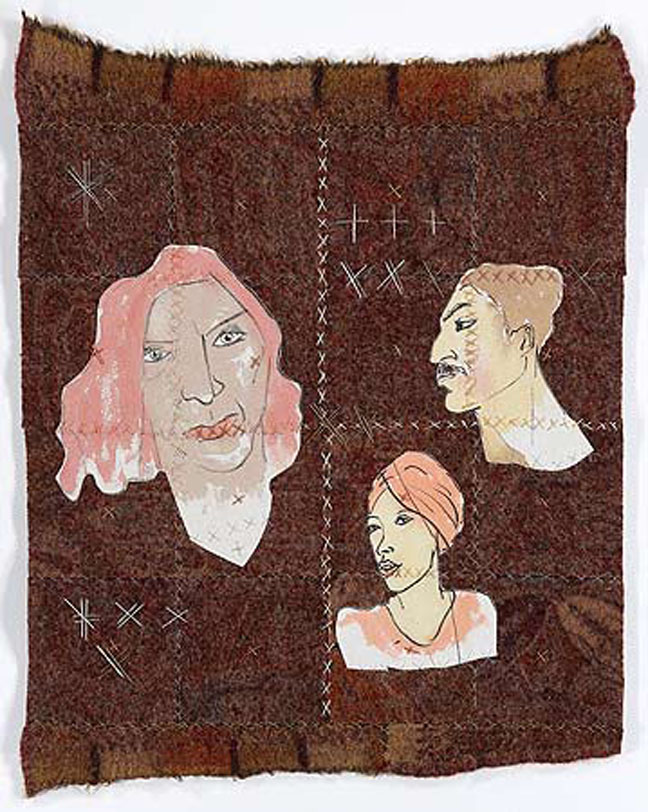 The Fiber Artists page at Northwest Designer Craftsmen has more than two dozen artists listed – each with a description and a thumbnail image and most with links to their individual websites. They are listed alphabetically.
My favorites are:
Patti Shaw (one of her portraits shown here); her website's "mixed media" gallery is especially rewarding.
Sally Sellers has 4 galleries with outstanding detail photos and an archive (can't say which I like best – they are all great).
Patricia Resseguie does truly remarkable things with free-motion embroidery.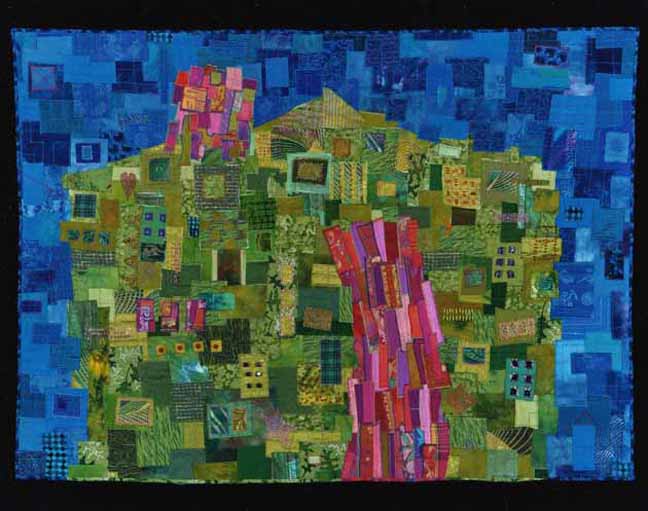 ________________________________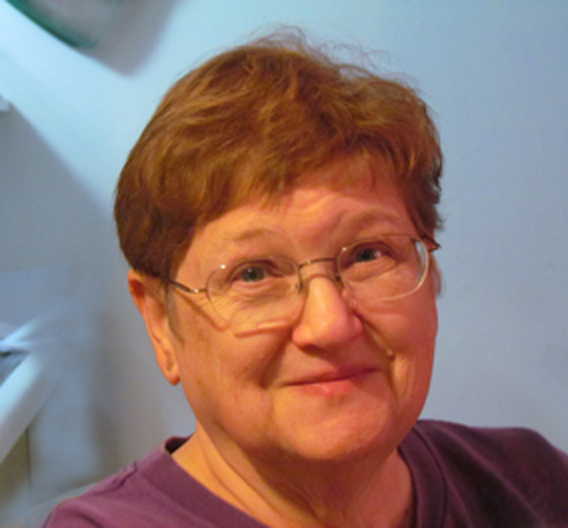 Mickie McCormic specializes in image transfer onto fabric; her art quilts using the technique have been accepted into national quilt shows. She has taught dyeing and transfer techniques on west coast of USA for 14 years, having now moved from Oregon to California.
When her 2nd year as an artist-in-residence at Mendocino Art Center ends in May 2014, she will continue her work there as Fiber Arts Workshop Coordinator.
McCormic has been contributing this column that features websites of interest to our textile-art focused audience since SDA NewBlog went live in 2010. Before that, she created a similar column for the printed newsletter edited by Patricia Malarcher.