Conference Programs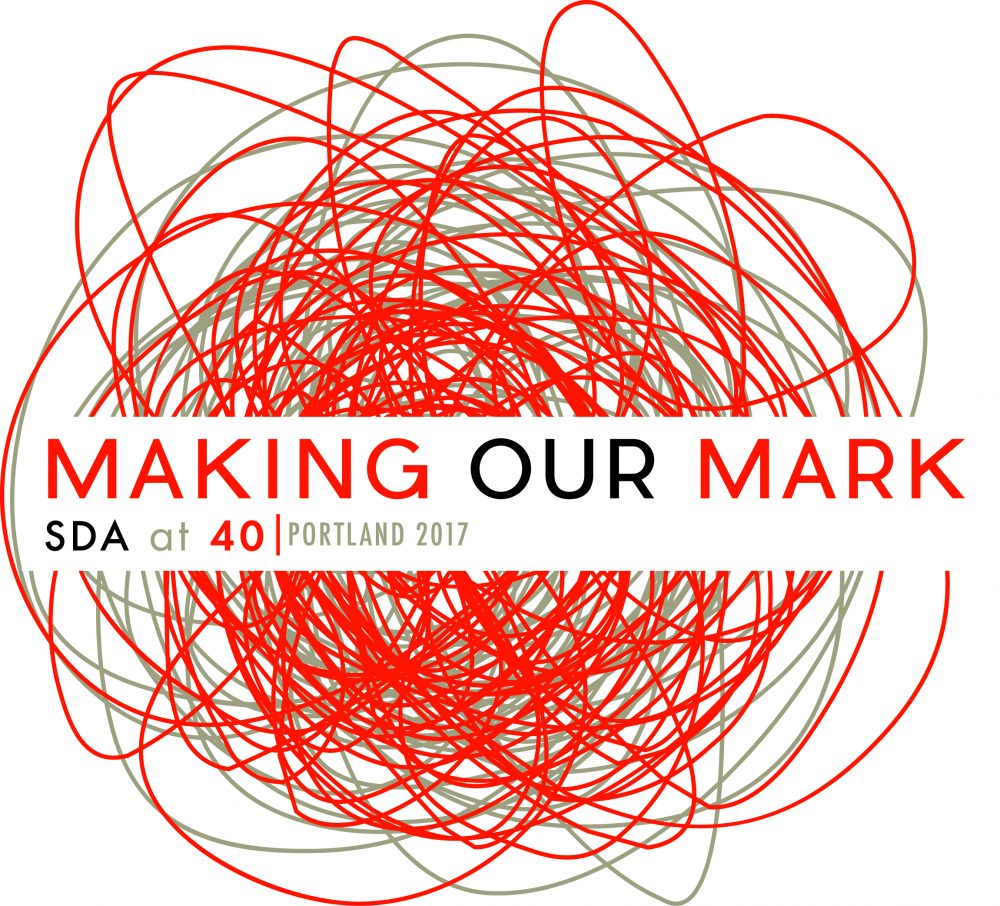 Join SDA when we return to Portland, Oregon for the biennial conference centered on creativity and our 40th Anniversary.
See you in Portland August 3- 6, 2017! 
Use the following links to explore Conference Programs
---
Concept + Context Day Speakers
Image:structure:pattern
Co-sponsored by the American Tapestry Alliance.
Socolofsky discusses the woven image throughout pre & post industrial histories as she grapples withwhat Anni Albers called 'the problematic': neither painting nor sculpture nor of function, yet remains outside of and Other.
---
Aaron McIntosh
No More Margins: Building a Critical Fiber Glossary
Between recent exhibitions, intercultural scholarship and large-scale activist projects, textile and fiber arts have perhaps never been more poised to tackle the complex human questions of our contemporary times. This breakout session begins with a lecture on recent projects that use textiles to hone our social, environmental and political awareness. With discussion following, participants will collectively build an open-source glossary of useful terms for understanding the complex and interwoven worlds of material culture, textile production, studio art practice, critical thinking/writing, intersectional understanding, globalization and civic engagement.
Aaron McIntosh is a cross-disciplinary artist whose work mines the intersections of material culture, family tradition, sexual desire and identity politics in a range of works including quilts, sculpture, collage, drawing and photography. He received a BFA from the Appalachian Center for Craft and a MFA from Virginia Commonwealth University. His exhibition record includes numerous solo and group exhibitions. He is the recipient of two Windgate Fellowships in 2006 and 2015, and residencies at Haystack Mountain School of Crafts and the Virginia Center for Creative Arts. McIntosh has held Fiber faculty positions at James Madison University and the Maryland Institute College of Art. He currently lives and works in Richmond, VA, where he is Assistant Professor and Fiber Area Head at Virginia Commonwealth University.
---
Jane Sauer
Jane Sauer is curator of SDA's invitational Exhibition, Crossing Generations, at the Hoffman Gallery at Oregon College of Art and Craft. In addition, she will lead the Crossing Generations Panel Discussion. Sauer started out as an artist connected to the women's movement.  After 9/11 she transitioned to "making things happen in a different way," as an advocate, not just a maker. In 2005, she became the owner of the seminal Jane Sauer Gallery in Santa Fe, focusing on helping artists get into museum collections. In 2013, she passed ownership of the gallery, now called Tansy Contemporary and transitioned to focusing on curatorial projects.
---
20 x 20 x 40: SDA Members Make Their Mark
A special opportunity for eight SDA Members to present work in the "PechaKucha-style". Developed in Japan, PechaKucha presenters show 20 images for 20 seconds each, speaking while the visuals advance automatically. Juried by Cameron Anne Mason, this member presentation was a favorite at the 2015 Arrowmont Conference. Theme this year: How are you making your mark? The application period ended June 15, 2017.
Cameron Anne Mason is an artist, educator and arts writer based in Seattle. Largely self-taught, Cameron draws on her background in design and performance to create sculpture and installation art which has been seen nationally and internationally. Cameron is represented by Foster/White Gallery in Washington State.
---
Concept + Practice Day
Notions of the Pacific: Lessons from Water in Times of Change
We live in a time of great uncertainty – a time that challenges us to sharpen our skills of observation and collaboration in service of creative action. What is the mark we want to make? How can an awareness of natural environment and our place within this dynamic ecosystem help guide us as individual artists and socially engaged citizens? This presentation offers a unique perspective by focusing on the works of contemporary textile artists in Oceania. In the session, Mary will combine a presentation of her own artistic practice with that of artists she has explored for an upcoming curatorial project: Liquid Archives: Climate Change in the Asia Pacific. In my own practice, Mary engages textile processes with non-traditional materials (ghost nets and ropes reclaimed from Pacific waters and tributaries, deeply contemplating the qualities of water as a means to better understand the complex workings of our own minds. An opportunity for concluding the session will be an open conversation about the possibilities and impacts of our creative practices.
Unraveling Political Knitting
From Mme Defarge in A Tale of Two Cities and onwards, knitters have been incorporating the political into their stitches. Select artists in the current wave of sculptural knitters are addressing issues of the day with visceral responses to contemporary issues of war, climate change, species preservation as well as bringing knitting in the public square. This power point presentation will start with the historical roots of knitting and politics through the lens of American wartime knitting while including an overview of current trends with particular attention to the more recent youth-driven knit revival called "yarn bombing" or "yarn graffiti". These often politically focused installations also beautify public spaces
while adding a touch of the handmade to our industrialized environments. The presentation will also incorporate the artist's own political imagery with attendant stories resulting from using knitting to convey political messages.
For 25 years studio artist Adrienne Sloane has deeply explored all forms of sculptural knit structures. As a hand and machine knitter, her work has often addressed the political while remaining mindful of the rich historical context of her medium. She exhibits and teaches internationally and has also worked with indigenous knitters in Bolivia and Peru. Sloane has work in major collections and has been published widely. She is a resident of Massachusetts.
---
Anna Carlson, Karie Amstutz, Diana Eicher, Marjorie Fedyszyn, Kristin Hoelscher-Schacker, Debra Maertens, Kristi Kuder, Ann Ribbens (SDA 8, 8 SDA Members in MN)
The Power of Eight: Making the Way for a Successful Artist Group
The framework for the group development section of our presentation is "forming, storming, norming and performing," devised by psychology professor Bruce Tuckman. We will share the challenges and successes we've had through each of these stages. We will offer a case study with images, stories and our action plan. Attendees will learn some of SD8* best practices that result in successful exhibitions. Examples of marketing, technology, and community engagement projects for exhibitions will be shown. The session will also introduce the Exhibition Guidebook and Checklist that are available to all SDA members. There will be time at the end of our presentation for interaction with the audience.
---
OCAC Fablab
CeCe Cutsforth, Integration of Digital Cutting Tools into the Making Process
Learn about integrating digital cutting tools with making. The fusion of digital and hand represents the synthesis of left-brain and right-brain making strategies. Digital processes can free the artist's design exploration because tools minimize the time and process normally required by traditional hand-craft. The artist will present examples of developing paper prototypes for 3-D conceptualization in the book arts and metal/jewelry, and using digitally-cut vinyl for fabric surface enhancement and printing on fabric.
---
OCAC Weaving Studio
Image to Textile on the TC2 Digital Jacquard loom, Jessica Hickey
Watch the process of converting a photographic image into a woven cloth using the TC2 Jacquard loom-from start to finish. The one-hour demonstration will show the process of editing an image, creating and assigning weave structures and "live" weaving of the digital file on the loom.
---
Gretchen Morrissey
Sustainable Studio: Design and Environmental Responsibility
I will address my background as a textile designer/ printer, the evolution of my design work, and steps leading to responsible and sustainable studio practices. During my tenure teaching at Philadelphia University and Moore College of Art and Design, I began to address environmental issues surrounding my work and the impact my studio practice had on the environment. I reeducated myself on alternative non-toxic ink and dye solutions for printing on textiles and paper, consciously shifting to environmentally responsible studio practices. Today I live and work out of a solar home, use rain-water collection, print and dye textiles with natural dyes outside under the pines and use SolarPlate technology to print both embossed and intaglio prints.
---
Jorie Johnson
Working with The Felt Maker's Mind
August 5th
There are many ways to develop a felt object. Having an open mind and not just a "full speed ahead" mentality is essential. I will discuss the felt maker's strategies in employing the "How's, Whys & Musts" of producing a durable fabric with unique integrity, from "weak", fluffy wool fiber. Living in the 21st century, I like to impart the ethos and mental volleying that is the genius of feltmaking. We are all limited in time and energy, something that hasn't changed for thousands of artisanal years. I believe the thinking process is 95% of the work of art. What is good wool and why? How does the migration of the wool fiber affect what can be done and how to achieve it?I will demo cord-making, joining of elements, how to make hollow objects, production of multiples and produce unique "floral" accessories ready to use upon drying as a vehicle for the demonstration.
---
Pat Courtney Gold
Introduction to Northwest Native Plateau Textiles—Basketry
Experience the traditional geometric designs of12,000 year old Heritage of Plateau baskets. Learn about full turn twined baskets, twined false-embroidered flat baskets, and imbricated coiled baskets. Pat will also discuss the labor intensive work of harvesting and caring for plant fibers, involving harvesting and processing indigenous plant fibers and then weaving with these fibers. Pat's ancestors lived along the Columbia River for more than 12,000 years. Pat was born and raised on the Warm Springs Indian Reservation, Oregon. She helped revive the Wasco technique of full-turn twine. Besides doing artwork, Pat lectures about the Columbia River Native cultures to universities and Museums.
---
Kiranada Sterling Benjamin
Art, Meditation and the Creative Spirit
August 5th
Exploring the connection between meditation practice and the creative process in the studio and on a Year Solitary Retreat in New Zealand
"Daily, we hear of the current 'mindfulness movement,' the growing interest in silence, the scientifically proven benefits of a quieter life and of meditation. For over 20 years I have searched the work of psychologists, meditation teachers as well as the writings of fellow artists, thirsty for information on the connections between art and meditation states, that 'bare attention' as psychologists call it – even interviewing my own students, to see if my 'losing self' experience in art and on the cushion, was also their experience. As a fiber artist,  educator, curator, author and renunciant with 35 years of meditation practice, connections between art and silence weave through my daily life, reinforcing my hope that my interests and research might benefit others.
In July of 2014, I flew off to a small hut on a precipice in the New Zealand bush to sit alone, for a year of solitary retreat, carrying few art materials and many questions What I found was the vibrant, enthusiastic, positive qualities that artists use to soar, keeping the creative spirit in place. Even under difficult conditions, we survive riding on that imagination, that creative problem solving, that looking within that bubbles out. With familiar Ahimsa silk in my hands, I stitched silence into it and applied what plant essences I could find. And work poured forth in surprising ways, through those twelve months, as I explored – "listening with my eyes, watching with my ears."
---
Susan Stover
Encaustic and Fiber
This demo is an introduction to working with encaustic and the many other mediums that can be combined with it. Encaustic is the process of working with hot pigmented wax. The physicality and malleability of wax is similar to that of fiber. The two mediums share many sculptural and textural properties and have an affinity for each other. Topics to include encaustic fundamentals, techniques and tools used with wax, embedding fabrics, dipping fibers and construction methods such as crochet, knitting and basketry. Topics include safety, studio setup, surfaces and grounds, mixing medium and paint, and fusing. Discussion of the various characteristics of wax as an unique material to work with, contemporary artists working in the medium, and the combination of other processes such as printmaking, photography, fiber, paper and book arts. This will be a physical demo with lots of samples and examples shown.
Susan Stover received an MFA from California College of Art and a FBA from Miami University in Oxford, OH, focusing on a combination of textiles and painting. She has served on the faculty at UC-Davis, and for 10 years at Jacquard Products. She has presented at conferences and trade shows and has taught workshops nationally and internationally. Her work is included in many private collections as well as in various books and publications. Her work was featured on the cover of SDA Journal's "Wax and Fiber" issue.
---
Tethering Meaning One Knot at a Time
Hamilton presents a slideshow and tabletop demo where she will work on a piece already in progress. Born in Glasgow, Scotland, Hamilton lives and works in Portland, OR and was recently featured in American Craft magazine.
---
Wildcraft Studio School
Wild Color: Natural Dye & Sustainable Practices
During this presentation we will demonstrate how to extract color from a variety of natural dye sources using sustainable practices. This is a physical demonstration where participants will learn about different natural dye sources and how to extract color from them. We have given many variations of this particular demonstration but will be creating a unique hour-long, hands-on session. We will discuss sustainable harvesting practices as a foundation to all natural dyeing. Then we will process materials for the dye bath and participants will get hands-on experience with the plants. We will walk through washing and mordanting fibers, though these steps will already be completed. Finally, participants will be able to sample the dyes using wool, silk & cotton fiber.
WildCraft is a Portland and Washington-based studio and school, offering workshops for adults in contemporary craft practices, studio art, plant medicine and land-based skills.
---
Ja Young Hwang
Sustainable Upcycle Design Project: Sock Dress
Learn about the creative design process used to create a contemporary up-cycled garment. Created from re-purposed and post-consumer materials, this project combines concepts of fashion deconstruction and the golden ratio. In this design process, 50 pairs of used knit socks were cut into three different parts; the toe was used to make fiber berries, the body was cut into squares and cut into different triangular shapes conforming to the golden ratio and limiting waste as much as possible. The ribbed ankle parts of the socks were used to entirely construct a knit jacket.
SDA Member Trunk Show
An informal, pop-up shop trunk show for and by members who attend Making Our Mark Conference. The submission period has ended.
---
Please support our sponsors