Beyond the Surface
2019 SDA Biennial Conference

Beyond the Surface, the biennial Surface Design Association conference, took place alongside Innovations in Textiles 2019 in St. Louis, Missouri. Created to investigate the state of contemporary textile arts, Innovations in Textiles 2019 was comprised of over 30 regional nonprofit & commercial art galleries, organizations and museums that have joined forces to present innovative exhibitions that explore fiber art, textiles and fashion created by local, regional, national, and international artists.
View the 2019 Conference Guide
---
Featured SDA Exhibitions
Beyond the Surface featured several SDA exhibitions:
SDA's Annual Members' Exhibition, Beyond the Surface, held September 20 -October 23, 2019 at the St Louis Artists' Guild
Future Tense 2019, SDA's Annual Student Exhibition, held September 6 – October 11, 2019, at the Edwardsville Art Center in Edwardsville, IL
Small Works, the SDA all member, non-juried exhibition, held October 3 – December 15, 2019 at the Webster University's Arcade Contemporary Art Projects Gallery
---
Speakers
Speakers at Beyond the Surface included: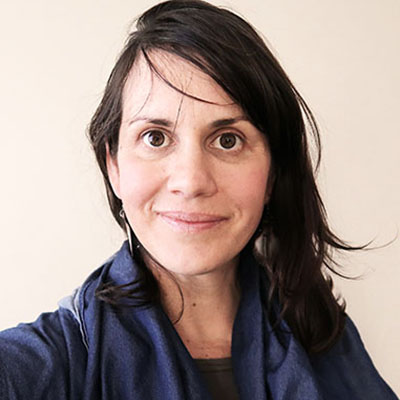 Carissa Carman
SITE Lab: Surreal Innovations in Textile Environments
Carissa Carman's multidisciplinary artwork includes playful site specific interventions; pseudo–purposeful yet soulful and generous. Her performances, sculptures and printed materials reference already established systems, occupations, and skills while maintaining the aesthetic of the handmade. Her work incorporates social activity, collaboration and public interventions that infuse botany, food, agriculture and communication alongside portable objects and structures. Carman is Lecturer in Fibers at the School of Art Architecture and Design (SOAAD), Indiana University Bloomington.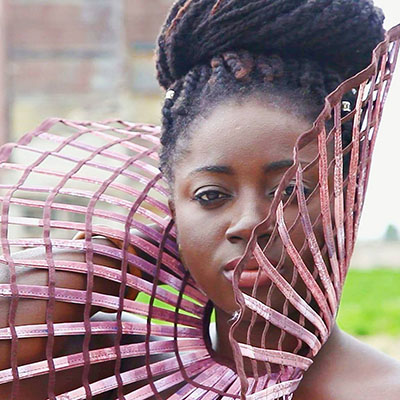 Yvonne Osei
German born Ghanaian artist, Yvonne Osei, describes herself as an outsider artist making insider art. This is in reference to her identity as being black, female, and an Ashanti native operating in the confines of the Western art world. The term "outsider" also brings to light her outdoor creative practice, which is often fueled by travel and discovery in various cultures in Europe, West Africa and North America. Osei's work examines beauty, colorism, the politics of clothing, complexities associated with global trade, and the residual implications of colonialism in post-colonial West Africa and Western cultures. Through her most recent work "Who Discovers the Discoverer?" and other artworks, she will unpack the importance of relying on public spaces to cultivate content and context for art.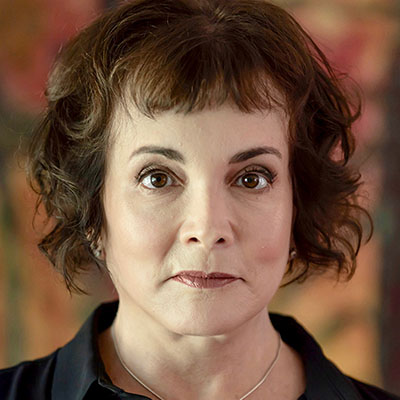 Kate Anderson
Formally trained as a painter, St Louis artist Kate Anderson began knotting in 1996 after a workshop at Craft Alliance. Her knotted teapots reference the work of images from the pop era and-mid century cultural icons. Over the past 36 years, she has had extensive professional experience as a gallery director, curator, juror, panelist and workshop leader. Her work can be found in numerous significant private and public collections including the Philadelphia Art Museum, Museum of Fine Art, Boston, Minnesota Museum of American Art, Racine Art Museum, and Muskegon Art Museum, MI.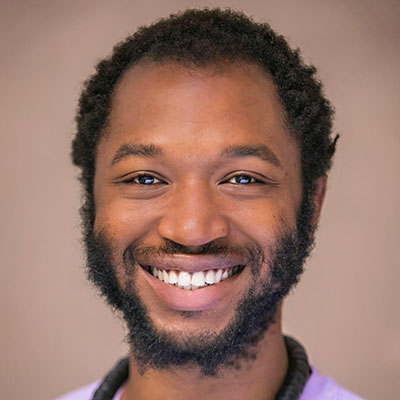 Basil Kincaid
Kincaid's family is his driving motivation and primary artistic influence. Quilting as a practice is saturated on both sides of his family dating back over 100 years. He strongly believes that quilting opens a portal for him to exist with all of his ancestors that maintained the practice and potentially beyond. Quilting within the black cultural tradition has always served as a revolutionary space of joy, courage, and community in direct contrast to social and financial subjugation. Through his quilts, he is interested in addressing his own generational trauma hand in hand with the generational continuation of oral or creative tradition and focuses on introspection and self-healing as a way to impact the whole.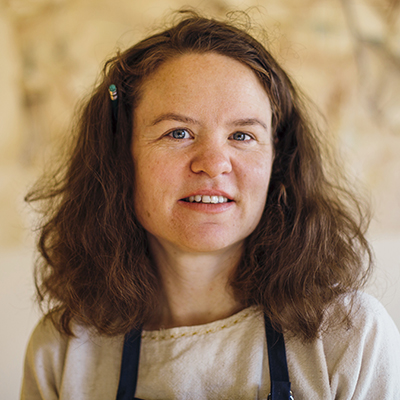 Hannah O'Hare Bennett
A paper and textile artist, Hannah is based in Madison, Wisconsin. Common themes in her work include landscape, earth, deep time, narrative poetry and materiality. During the time between earning a BFA in printmaking from the University of Kansas, and twenty years later, an MFA in textile design the University of Wisconsin Madison, she worked in food systems and organic agriculture that informs her current work. She spent the last year at residencies including: Kimmel Harding Nelson (NE), Madison Bubbler (WI), Tallgrass Prairie Residency (KS), Studioworks (ME), and Women's Studio Workshop (NY). She shows her work regularly, has taught at the Morgan Conservatory (OH), and serves on the Board of the Friends of Dard Hunter.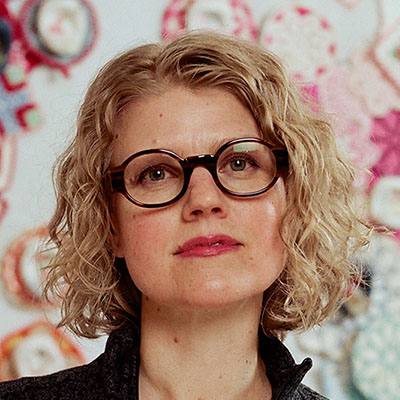 Amy Meissner
Anchorage artist, Amy Meissner, combines traditional handwork, found objects and abandoned textiles to reference the literal, physical and emotional work of women. She has shown internationally, with textile work in the permanent collection of the Anchorage Museum, the Contemporary Art Bank of Alaska and the Alaska Humanities Forum. Her background is in clothing design, illustration and creative writing. Portfolio and blog at www.amymeissner.com.
---
Beyond the Surface was generously sponsored by: