SDA 2017 Annual International Exhibition In Print
SDA member and non-member artists working in or inspired by fiber arts and/or textile media are invited to submit work for a juried issue of the Surface Design Journal, Future Fabrciation: SDA Annual International Exhibition in Print. Selected work will appear in print in the Winter 2017/18 issue of the Surface Design Journal (publication date  December 23, 2017).
Use the following links to learn more about the 2017 Annual Exhibition in Print:
---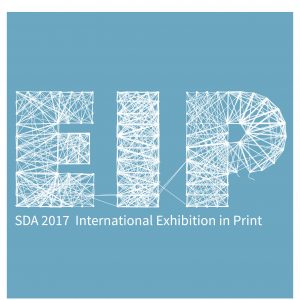 In celebration of SDA's 40th anniversary, this Exhibition In Print aims to recognize the diversity of talent working within the fields of fiber and surface design as well as other practices that utilize fiber and textile materials. This year's theme, Future Fabrication, asks artists to think about how innovations related to fiber and textile materials might shape our future. SDA warmly invites entries that consider advancements in technological innovation, material exploration, as well as provide a glimpse into the future through concept and form.
Artists and makers are encouraged to submit work of any size or format that demonstrates the innovative use of textile media, including nontraditional materials and techniques. In addition to traditional 2D and 3D forms, participants are encouraged to submit work that challenges and expands the contemporary definitions of textile/fiber-based art and design, such as digital art (design/animation), time arts (sound/video), performance art, conceptual art, land art, installation art, book art, textile design, fashion design, interior design, product design, and craft-as-social-practice.
---
Journal Overview
Guest Editor and Co-Juror Richard Elliott, will work with Co-Juror Kathryn Hall to select all work for inclusion in a comprehensive print and digital edition of the Journal with full and detailed images as well as artist statements and juror reflections addressing context and evolution of trends in contemporary textile arts.
---
Jurors
Richard Elliott (Editor and Co-Juror)
Richard Elliott is an Associate Professor and former program chair in the Textiles program at California College of the Arts in Oakland, CA where he has been teaching  since 1999. His work with image transfer and digital processes on paper, fabric and hog gut (sausage casings) investigates the abstract beauty of cellular structures, systems and patterns hidden within the human body. He lectures on his work, juries exhibitions, teaches workshops and is Secretary of the Board of Directors of the 45th St. Artists' Co-operative in Emeryville, CA. Elliott is a past recipient of a California Arts Council Artist-in-Residence grant for working in textiles with developmentally challenged adults at Creative Growth Art Center in Oakland, CA.
Kathryn Hall (Co-Juror)
Kathryn Hall is Curator at Houston Center for Contemporary Craft in Houston, TX. Her most recent curatorial projects include Annie Evelyn: Multiple Impressions and United by Hand: Work and Service by Drew Cameron, Alicia Dietz, and Ehren Tool. She has lectured on contemporary craft and has contributed writing to Metalsmith magazine as well as Studio Potter journal. She holds a BA in Art History from Wofford College in Spartanburg, SC and an MA in Art History from the University of Georgia in Athens, GA.
---
Eligibility & Entry Fee
This exhibition is open to all artists, nationally and internationally, with discounted entry fee offered to members of Surface Design Association (SDA).
$20 entry fee for members, $45 entry fee for non-members, up to 3 artworks/images.
---
Entry Procedure
Entries are to be submitted online through CaFÉTM Call for Entry website located at  https://www.callforentry.org/festivals_unique_info.php?ID=4517
---
Awards
SDA Awards for Excellence will be recognized in the following areas. Award honorees will be featured in the 2017 SDA Annual International Exhibition in Print.  (Award categories TBD).
---
Important Dates
July-September 22, 2017:  CALL FOR ENTRY THROUGH CAFÉ
October 2, 2017: NOTIFICATION OF ACCEPTANCE
October 23, 2017: Selected artists provide high-res images for publication
December 23, 2017: Publication of Winter Journal, 2017 SDA Inaugural International Exhibition in Print