The Bones of Building-Online Curated Member Exhibition
Call for Images
Our April 2021 Online Exhibition will feature selections from the Surface Design Association premium member gallery that address the curator's theme, The Bones of Building.
---
Use the following links to learn more.
---
The Bones of Building
Textiles have their origins in humankind's earliest inventions. Hunter-gatherers transported food with interwoven strips of bark and leaves. Upright branches, secured at their bases with stones, formed the entwined shells of the first handbuilt shelters. Traces of these rudimentary structures, born of necessity, can be found in every textile, throughout history, and to this day.
The artworks in this exhibition, both two- and three-dimensional, reveal their skeletal structures and the story of their making. Structural "bones" are evident—we see how parts are organized and connected. The physical manipulations of joining, fastening and intertangling materials persist as vital images in the artwork. They provide not only the physical architecture of the work, but are central to the expressive nature of the work. These nuts and bolts of construction may consist of stitches, knots, interlaced fibers, folds, hardware, unravelings, tanglings, rips, repairs and more.
---
Curator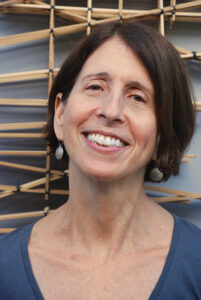 Mo Kelman is a sculptor, fiber artist, and Professor Emeritus of Art at the Community College of Rhode Island. A recipient of a U.S. National Endowment for the Arts Fellowship, Kelman has exhibited internationally, including the Cleveland Museum of Art's May Show; the British Crafts Centre; Korea's Cheongju International Craft Biennale; the International Shibori Symposia in Nagoya, Japan and Hong Kong; Brown University's Bell Gallery; and the Worcester Center for Crafts in Massachusetts. In 2012 she received an Artist's Fellowship from the Rhode Island State Council on the Arts. Kelman has taught workshops at Haystack Mountain School of Crafts, Maiwa, Snow Farm, North Country Studio Workshops, RISD, Fibres West (Australia) and Zijdelings (Netherlands). Follow Mo @mo.kelman
---
Requirements
Images eligible for consideration will be selected from the SDA Premium Member Gallery.
Deadline for uploading images is April 5, 2021.
---
Questions
If you have any questions or if you are interested in upgrading your membership level, please contact info@surfacedesign.org for details.
For instructions on how to upload images, click HERE