Dissolving Boundaries
---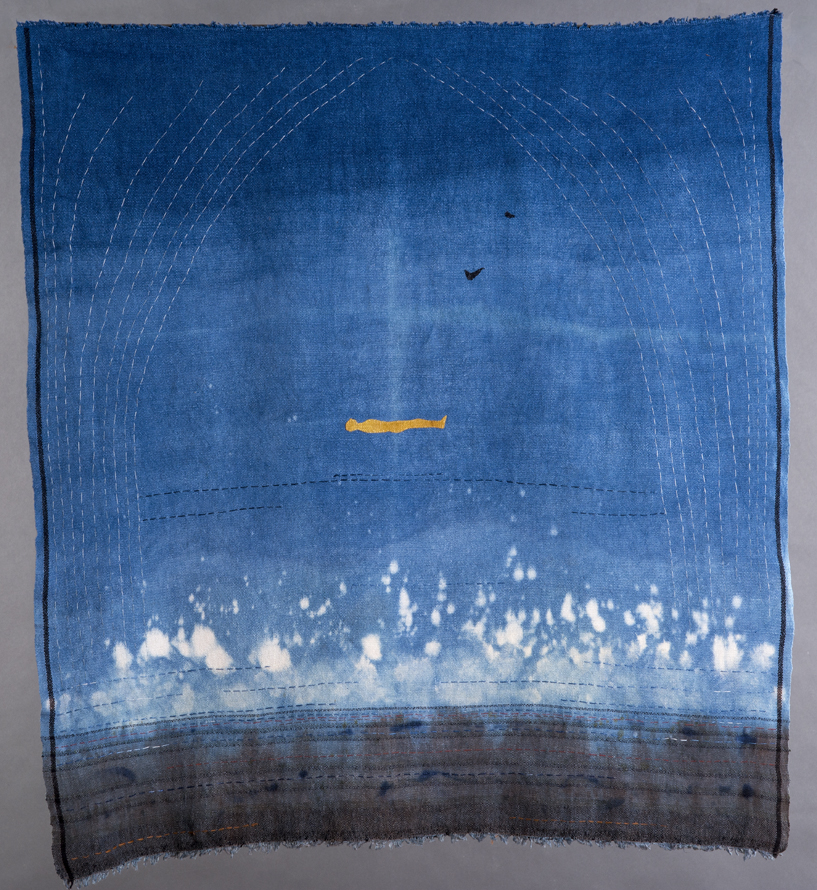 Artist: Sarah Haskell
Title: Dissolving Boundaries
Attribution: Dissolving Boundaries 2020 Sarah Haskell
Year: 2020
Materials: Handwoven linen, dyed with indigo and ceriops (mangrove bark).Embroidered with cotton and linen. Turmeric dyed appliqué.
Dimensions: 40" by 37"
Image Statement: In the center of this piece is a floating body suspended in a cathedral-like arch of embroidery stitches and a sea of indigo blues. Almost daily I swim to a small island in the protected waters of a local cove. Before I return to shore I roll onto my back to float. Fully supported by the salty water, held and cradled, I feel suspended as if in zero gravity. There is no perceptible sound save for my breath. This experience is as close to merging with oneness, or "Dissolving Boundaries" as I have experienced. Through my work I address universal and timeless themes such as longing, love, regret and grief by employing traditional textile techniques such as weaving, spinning and dyeing. Here the ground fabric is my handwoven linen which has been dipped in indigo and ceriops dyes. It has been bleached, rusted,painted and embroidered. I choose to work with organic materials such as paper, linen and cotton that are especially susceptible to change. Pushing this characteristic, I intentionally subject my textiles and threads to humidity, rust, abrasion, soil and sunlight. I find that this deliberate abuse of my "precious" fabrics confronts my own attachment to permanence and my futile attempts to halt the aging process in my own body. Change and metamorphosis, the common denominator for all life, are at the core of my artistic exploration. If there is one lesson to learn from Covid-19, it is that we are all vulnerable and mortal. I suggest that when we develop an awareness of our common vulnerability and our mortality, perhaps we will adopt a wider compassion for all – dissolving boundaries.