All Women Are Daphne, detail 2
---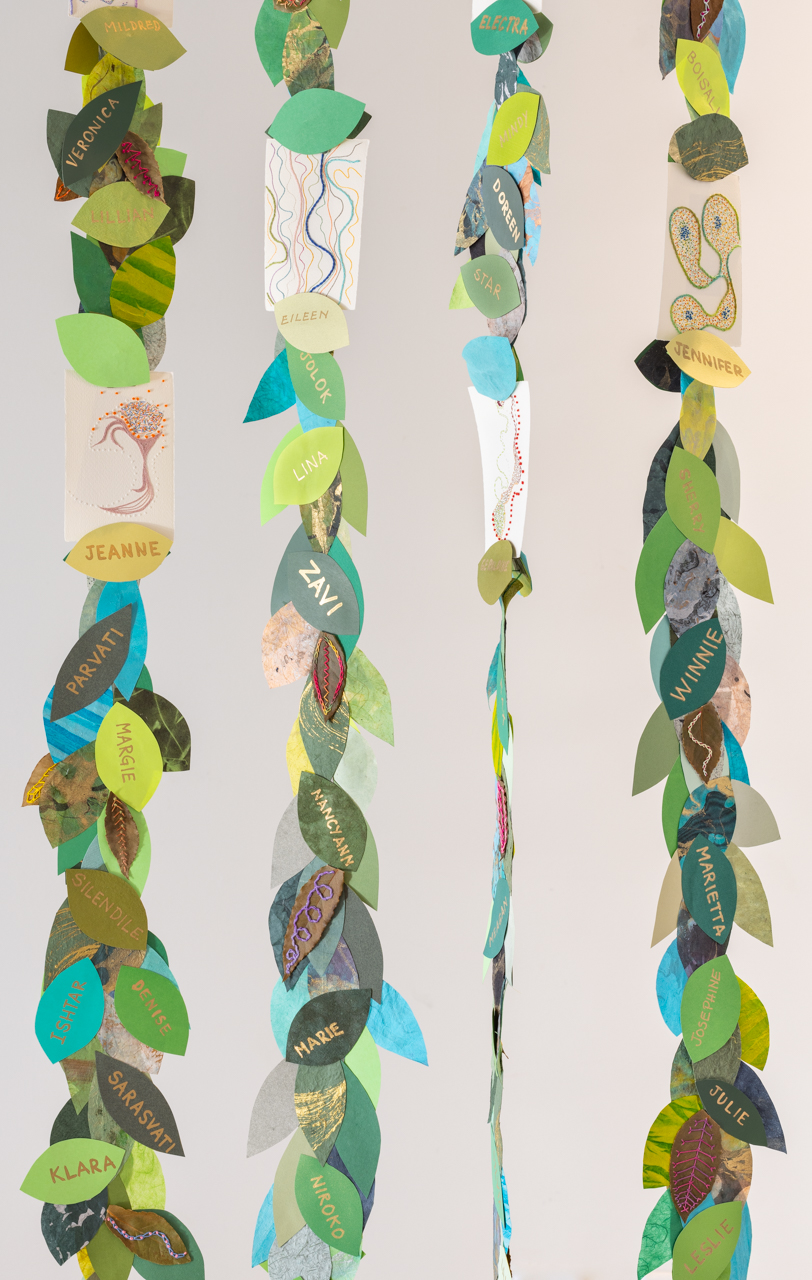 Artist: Dolores Slowinski
Title: All Women Are Daphne, detail 2
Attribution: All Women Are Daphne, detail 2, 2021, Dolores Slowinski, photo credit: Tim Thayer
Year: 2021
Materials: Paper, ribbon, thread, preserved fresh bay leaves, glue.
Dimensions: 9 ft. H x 8 ft. W
Image Statement: All Women Are Daphne celebrates women from all cultures and countries who are creative in surviving in a misogynistic world that is still trying to keep us in our place while exploiting our talents. It is made of paper leaves in shades of green and blue that represent Daphne's transformation into a laurel tree as well as her prior existence as a water nymph. They are all hand-cut from templates made from actual bay leaves. Over 680 names, hand-printed on paper leaves in gold ink, honor women from all cultures. It is important to name names. Blank leaves honor women who remain anonymous or non-existent in historical records. 45 two-sided, stitched cards are named for women in my family or whom I have met. An image of trees or natural environments is collaged on the back to tie the card to Daphne's story; the stitching on the front abstractly relates to the woman for whom the piece is named. Preserved fresh bay leaves, embody the mythical, transformed, and immobilized Daphne. Each is hand-stitched and placed in the garlands to honor women's handwork and culinary skills because we all stitch our lives together and feed our creative selves in all we do. River rocks, in the frame below the garlands, represents the rivers and streams with which Daphne is associated.