Delectable Mountains: The Water Woman's Song
---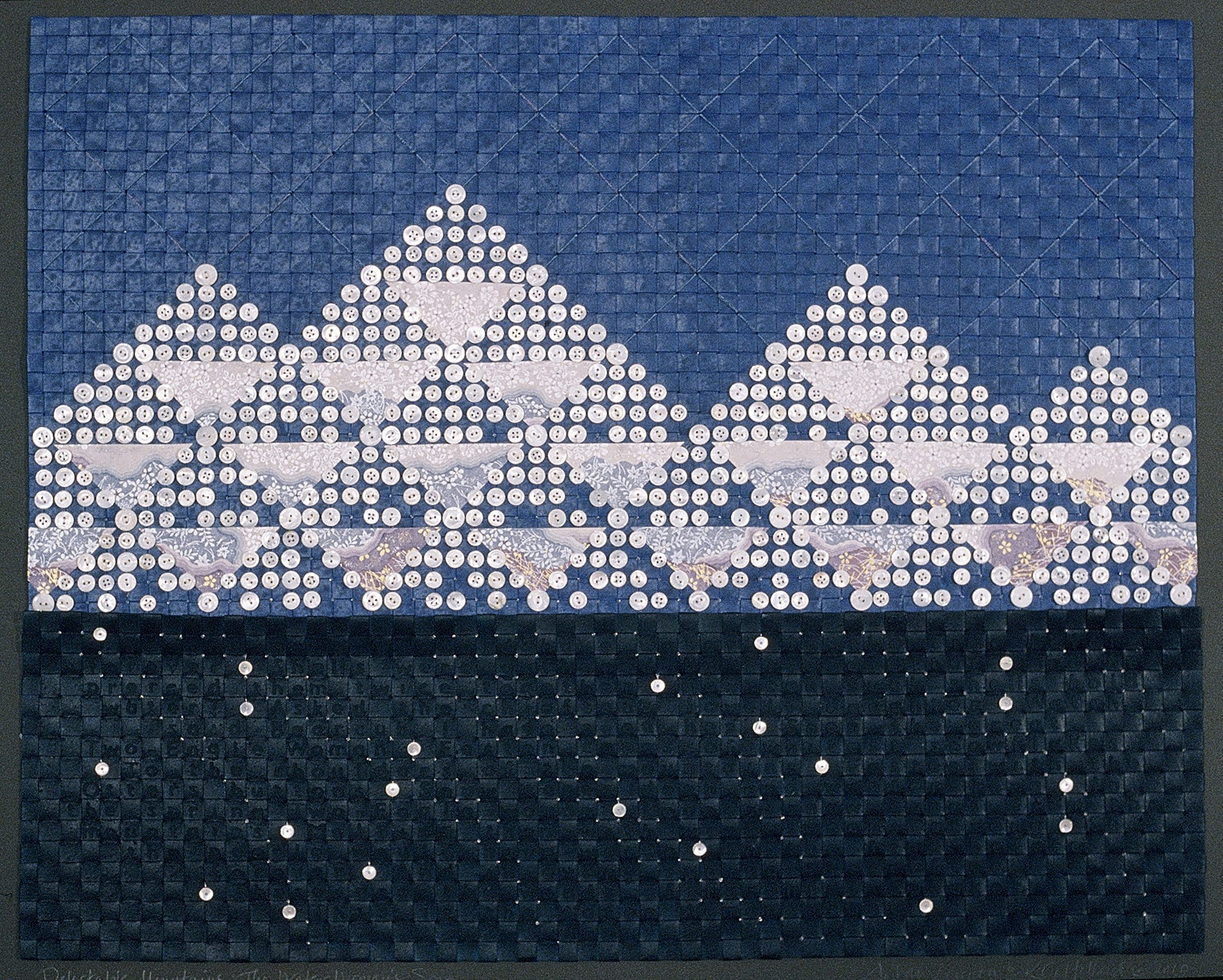 Artist: Alice Van Leunen
Title: Delectable Mountains: The Water Woman's Song
Attribution: Delectable Mountains: The Water Woman's Song 2010 Alice Van Leunen with poet Kelly Gill Holland
Year: 2010
Materials: Mixed media / Woven paper with paint, Chiyogami paper collage, stitching, glass beads, mother-of-pearl buttons, and poetic text by Kelly Gill Holland.
Dimensions: 30" x 46".
Image Statement: One of a series based on John Bunyan's "The Pilgrim's Progress." The shining Delectable Mountains were the place pilgrims rested before crossing the River of Death to enter the Celestial City. This work also refers to the button blankets of Northwest Coast Indian tribes. It was one of a number of works done in collaboration with poet Kelly Gill Holland. Her poem "Friend Otter Fashions the First Buttons" is in the lower part of the work: "This story tells how Friend Otter made the first buttons and helped Two-Eagle Woman bring water to the people. And it is why a pilgrim in the mountains may find shells there gathered by Friend Otter, even though his home is in the valley. So the people would have water / In the time before forever / Shells were gathered by Friend Otter / And he pierced them twice together / How can such shells hold water? / Asked the chieftain's lovely daughter / Watch, said Bearcub, I have seen her / Seen the great Two-Eagle Woman / Fasten capes of whitest snowflakes / To the shoulders of the mountains / Fasten with the otter's buttons / Snow capes deep and winter long / In the spring Two-Eagle Woman / Looses snow capes from the mountains / Melting them with wing-sweeps strong / So the people would have water / In the time before forever / And in every spring thereafter. / These are the words of Faithful Speaker / This is the Water Woman's song.