"The Art of Labor" Apply Now!
February 7, 2018
Surface Design Association is excited to announce our 2018 International Juried Members exhibition, The Art of Labor. The show will be held in partnership with the San Jose Museum of Quilts & Textiles (SJMQT) in San Jose, CA, from July 22–October 14, 2018. The act of labor is both physical and mental—an effort which is difficult and sometimes compulsory. From "slow fiber" to DIY processes, fiber art is steeped in the traditions of material appreciation and labor, of the time involved in making art, and of the effort required in innovative manipulation or techniques. Associated with this process is the value and worth of skill, production, and time.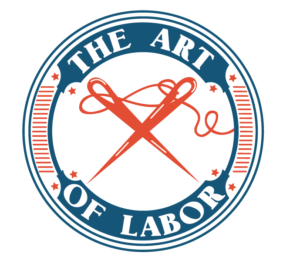 ---
Labor, in its multifaceted definition, can refer to everything from exertion and production, to organized workers and political parties, to the experience of giving birth. Since the Industrial Revolution, a key identifying characteristic of any community is the work of its people, their leisure activities, and subsequent roles in society. While some people's work appears to be easy, others are engaged in more difficult tasks.
Using the word "labor" as a point of departure, jurors Carole Frances Lung (Frau Fiber) and Amy DiPlacido will seek fiber, fiber-based, or textile-inspired work by artists exploring the many possible definitions of the term and its relationship to art, craft, and design.
JURORS:
Amy DiPlacido
Amy is a visual artist and curator based in Northern California whose work documents the passage of time and perception through installation, collage and drawing. She is currently an artist-in-resident at the Cubberley Artists Studio Program in Palo Alto, CA. As the Curator of Exhibitions at San Jose Museum of Quilts & Textiles, she has collaborated on shows involving historic, ethnographic and contemporary fashion and textiles. She has an M.F.A. in Fiber from Cranbrook Academy of Art and a B.F.A. in Fiber from Massachusetts College of Art and Design. She has exhibited her work at Westmoreland Museum of Art, Fuller Craft Museum, and Interlochen Center for the Arts.
Carole Frances Lung
Carole is a soft guerilla activist, artist, and academic living in Long Beach, CA. Through her alter ego Frau Fiber, Carole utilizes a hybrid of playful activism, cultural criticism, research, and spirited crafting of one of a kind garment production performances investigating the human cost of mass production and consumption, addressing issues of value and time, through the thoroughly hand-made construction and salvaging of garments. She has exhibited extensively nationally and internationally. Carole is an Associate Professor at California State University Los Angeles where she was recently named a Fellow for the Public Good.
AWARDS:
First place: $1000
Second place: $400
Third place: $300
Honorable mention: $100
SDA Award of Excellence: one-year membership to SDA
IMPORTANT DATES:
January 8–April 6, 2018: Entries submitted through CaFE
May 1, 2018: Notification of acceptance
July 1, 2018: Selected artwork due to SJMQT
July 22, 2018: Opening reception
October 14, 2018: Exhibition closes
November 14, 2018: All work received by artists
APPLY HERE: The Art of Labor Call 
The Art of Labor is open to all members of Surface Design Association working in 2D, 3D and video, with three submissions maximum no older than January 1st, 2014. Established, emerging, international, and student artist SDA members working in all media are encouraged to participate. Submissions are only $40 for members and $20 for student members!
If you have any questions, contact info@surfacedesign.org or call 707-829-3110.