"CIRCUS: Performers, Politics and Pop Culture" at NCCD
June 15, 2018
The National Centre for Craft & Design (Lincolnshire, UK) and artsNK is celebrating the 250th anniversary of Circus in Britain with a new show: CIRCUS: Performers, Politics and Pop Culture. The exhibition features a wide variety of live performances, aerial acrobatics, film, photography, circus ephemera and design, all within one immersive 'Big Top' style experience. Open now, CIRCUS is on display until July 8th, 2018.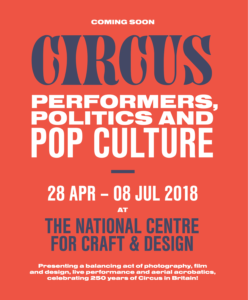 ---
The impact of Circus on pop-culture is highlighted through film, literature, music, and memorabilia, including Take That's infamous 'The Circus' album and tour. A hint of nostalgia is brought to the showcase with references to Circus inspired film such as Dumbo and the presentation of fictional literature by Dr Seuss "If I ran the Circus" and Enid Blyton's 'The Circus of Adventure."
A series of small showcases within the exhibition present elements of Circus design through posters, pop culture, and costume. Different viewpoints on the subject are also uncovered through the themes of Politics, Women in Circus, Equality and inclusivity.
Visitors can have fun clowning around with imagery from The Clown Egg Register whilst Peter Lavery's Circus Photography: 1968–2018 presents a curious and fascinating journey through the genre.
The exhibition features many different companies and styles, but two notable companies, Skinning the Cat and Ockham's Razor, were particularly innovative in the realm of circus costume design and creation.
Skinning the Cat
Formed in 1988 by Becky Truman, Skinning the Cat—Circus of the Sky (the UK's first outdoor aerial company) produced groundbreaking narrative and character-based shows, all with women-only ensembles and team members. The company, which toured internationally until 2012, established a unique style, which brought together Truman's skills as a performer, costumier, rig designer, and artistic director.
"I select projects that originate from character, emotion and movement. I strive to create the ultimate 3-dimensional portrait, using one or all of these disciplines to express an individual's personal experience."
–Becky Truman
Ockham's Razor
Formed in 2004, the members of Ockham's Razor met while studying at Circomedia, Academy of Circus Arts and Physical Performance in Bristol. They are an aerial theater company who combine circus and visual theater, specializing in original pieces of aerial equipment to create stories from the vulnerability, trust, and reliance that exist between people in the air. Rather than paint the circus performer as a superhuman character capable of impressive feats, they make work that draws on the human and the real, where the characters go through recognisable experiences, emotions, and conflicts which the audience can identify with and relate to.