"Crafting Community: Exhibition in Print" – Out Now!
January 25, 2017
Crafting Community: SDA Inaugural International Exhibition In Print received 412 entries from 13 countries, revealing the global reach of the SDA community. Jurors Mark Newport and Marci Rae McDade selected 40 artists in honor of SDA's upcoming 40th Anniversary, 8 of which being award winners. The artists featured in the Journal are a wonderful variety of material exploration and concepts—a showcase of this contemporary moment in fibers, textile media, and surface design.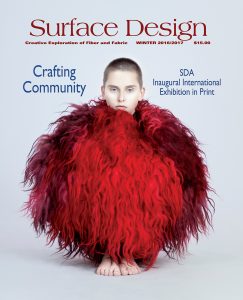 ---
Here's a little preview of what you'll discover…
1) International Innovation Award:
Anke Huyben creates haptic, lush soft sculptures to be photographed both with human figures as well as untraditional backgrounds. Commenting on Huyben's personal obsessions and insecurities about her own body these pieces are begging to be touched and interacted with.
2) Figure & Fiber Award:
J. Casey Doyle uses sculpture, performance, craft, and pop culture to create sociopolitical work about gay rights, equality, and himself. "Crafting Community" features stills from two video performance pieces, titled I AM MY OWN CHEERLEADER and I AM MY OWN MASCOT.
3) Craft & Community Award:
Installed on the street level BART transit plaza in San Francisco, Vic De La Rosa's La Gente De Tu Barrio textile posters use images of every-day Mission residents to freeze time and make the viewer consider the people they quickly pass by daily.
4) Tradition in Technique Award:
Gudrun Bartenberger-Geyer has pieces featured from her Circlewear series—felted and wool garments which explore how space and the body are transformed when nontraditional clothing is worn.
5) Conceptual Craft Award:
But if the Crime is Beautiful… by Lauren Kalman is a multi-media project comprised of photographs, wearable objects, sculptures, and installations that questions not only the decorated but also female sexuality.
6) Innovation in Technique Award:
NO, DON'T GET UP by Caroline Hayes Charuk is a set of three video works comprised of short, repetitive loops, which reference the repetition of everyday tasks and transformation through physical activity.
7) Next Generation Award:
Matt Lambert's interests lie in exploring assumed heteronormativity and the assumptions that follow. He then questions what happens when these polarities are forced together, like two of the same charges of a magnet.
8) Surface Design Award:
Meghan Volpe choses to become one with the bed—blending in with the wrinkles of the sheet, absorbing the quiet moments, and hiding from the misery.
9) Crafting Community also features 32 extraordinary artists working in a variety of media and themes. Here is a little taste of what else to expect:
10) The Outstanding Student Award Winners from the past year are also showcased in Crafting Community. There is a special feature on Katlin Shae (MFA candidate in Sculpture at the Lamar Dodd School of Art in Athens, GA) and Charlie Hayes (BA in Ceramics and Sculpture at Warren Wilson College in Asheville, NC). Shae's work focuses on how the macro and micro aspects to science, specifically the cosmos and quantum physics, can be applied to a the processes and sequences of weaving. Hayes' work uses a mixture of both weaving and ceramics to explore the aesthetics between different media.
---
To buy a copy of Crafting Community: SDA Inaugural International Exhibition In Print, go to the SDA Marketplace, or you can check out a free digital sample on our SDA Journal page.
Tags:
Anke Huyben
,
Art Wear
,
Caroline Hayes Charuk
,
Crafting Community
,
Creative Process
,
EIP
,
Embroidery
,
Exhibition in Print
,
Exhibitions
,
Fashion
,
Felt
,
Fiber
,
fiberart
,
Green Design
,
Gudrun Bartenbeger-Geyer
,
J Casey Doyle
,
Lauren Kalman
,
Mark Newport
,
Matt Lambert
,
Meghan Volpe
,
Member Buzz
,
Member Profiles
,
Members In Print
,
Mixed Media
,
Natural Dyes
,
Networking
,
Resources
,
Sculpture
,
SDA Awards
,
SDA Community
,
Textile Design
,
Weaving
,
Winter Surface Design Journal