Creative Process: Spinning an ART YARN with Inspiration from ravelry.com
December 29, 2010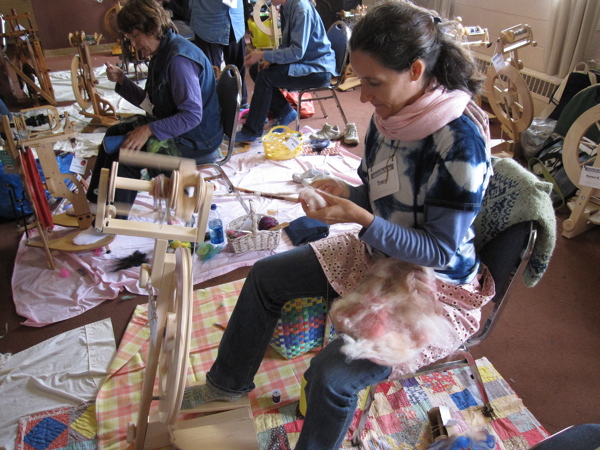 (Text by Tracy Hudson. Photos by Tracy Hudson, unless noted. Mouse over images for caption tags.-Ed.)
I started spinning in order to understand textiles better. I've been making quilts and collecting tribal textiles for about 20 years and all facets of textiles are integrated in my work: the material study and execution; the intellectual reflection and research. My education and many years living abroad have stimulated and sustained my interest in the cultural, social, and anthropological information contained and documented within textiles–particularly traditional tribal pieces.
So I began spinning to get closer to the textiles I observe and collect. For the first five years, I spun only on a drop spindle, exploring this ancient tool of daily life. My desire was not to produce large amounts of yarn, but to understand what it means to work in this way, beginning from the fiber itself and transforming it with hands into yarn and then cloth.  While researching traditional textiles, I use the spindle as a research tool, communicating with indigenous spinners through my spinning skills, which opens up their cache of knowledge and practice.
Living in Doha, Qatar, I have begun to utilize the Internet as a showcase for artwork and a meeting place for connecting with others with textile interests.  Ravelry.com has enhanced all aspects of my textile studies through various groups and the people I've met through them.
After joining Ravelry, I found people who were spinning conceptually, making yarn based on an idea or theme, choosing materials accordingly, feeding their intellects and emotions into the yarn – in essence, making yarn their art. This immediately changed the way I approached yarn, and I began to spin in response to the themes and image cues provided by Cindy Cole in the FF (Fiber Friday) and PC (Picto Create) groups on the site.
As a quilter, I tend to design by combining disparate elements in a patchwork, regardless of the medium. With no fiber festivals or yarn shops or easy online shopping, I was limited in my choice of fiber and learned to create within these limitations.  My early interpretive yarns reflected the serendipity of materials as the few things I'd managed to collect interacted with the random and delightful gifts from my fellow spinners.  This is how I discovered the striking generosity of the online spinning community. As soon as I mentioned a lack of materials, fiber started coming from all sides; sometimes as a swap, in exchange for oddments I have access to in Doha, but often as a pure gift from those who share my mentality that good stuff needs to be put to good use.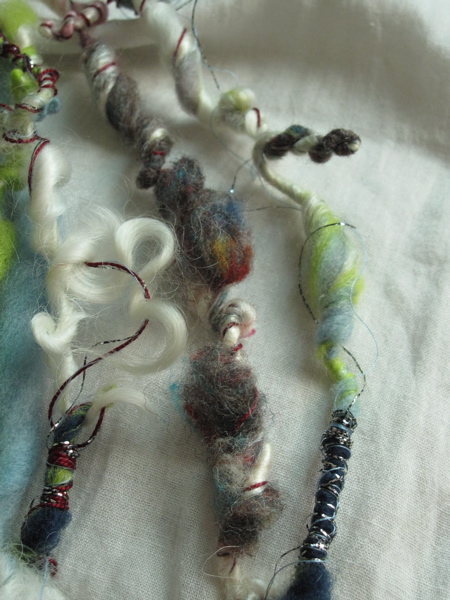 Not only in this exchange of materials, but also in the marketplace and gallery of ideas and beautiful work that is Ravelry, my own spinning was given a swift incubation, quickly growing to become my expressive medium of choice. By observing and discussing the work of brilliant spinners such as Karen Barnaby and Linda Scharf, I came to appreciate the dynamic power of yarn.  On the purely physical level, yarn is stored twist, so the capacity for creating events within the yarn–like moments which speak to emotional states or philosophical concepts–is very real.  Things happen in yarn: one can manifest chaos, controlled disorder, explosions, layers of trapped energy and half-expressed desires… all in a linear, narrative format, as the yarn moves forward in time.
While spinning, I find that I do not necessarily begin with a conceptual ground, but rather a mood, an ongoing train of thought, or a snatch of aesthetic depth generated by a turn of phrase.
The online forum of ravelry.com, including the Flickr photo website, has not only provided the community of artists who inspire and encourage my development, but has also given widespread visibility to my work, allowing me to influence others in turn. Through projects, stash, and forum posts, my work becomes directly available to an audience, on my terms. The photos are
mine, and I have styled my yarns in a way that gives them a certain voice, featuring details and catching light. I particularly enjoy the quality of landscape that yarn can acquire in a macro detail photo.
I can include stories or not, controlling how abstract or "pure' the object is in the viewer's perception.  Sometimes the breaking down of all barriers is part of the piece: naked exposure of flaws, failed experiments, disappointment. This feeds the sense of community, as others share in the lived process.
By the same token, my audience chooses me. Those who respond and seek out my work are those who appreciate and are drawn to my methods and aesthetic. Certain people check on my projects regularly, actively tracking my progress. In this way my work is not marketed, but rather finds its own viewers in a direct way. They see it and click, bookmark, "favorite" or "friend," making notes to themselves to come back and look again.
The positive feedback in turn provides motivation: I'm given the security that an audience will be there when I post something new. A resonance has been established – the pond on which a drop of water ripples out and touches the far shores.
Work is not geographically restricted on Ravelry. Whereas a local gallery or yarn shop garners a distinct, consistent following serving those who have settled into that area, for the world-wanderer this online space draws viewers, fans, and new friends from all corners. My yarn will be viewed and discussed in Scandinavia and Japan, Vancouver and Brisbane, Holland and Kansas City, my hometown.
While living in the US, I felt the necessity of being known locally in order to teach or share skills, knowledge and art in any way. Now, with the world wide web, I'm becoming known to the people who really matter—meaning people who are truly interested in me and my work– regardless of our respective locations. This may be the most gratifying aspect of showing work through Ravelry. The people who like me and my work find me, and they keep coming back to see what I'm up to. For someone who believes that art is about opening eyes, there is no greater reward than to hear people say I've helped them see something new.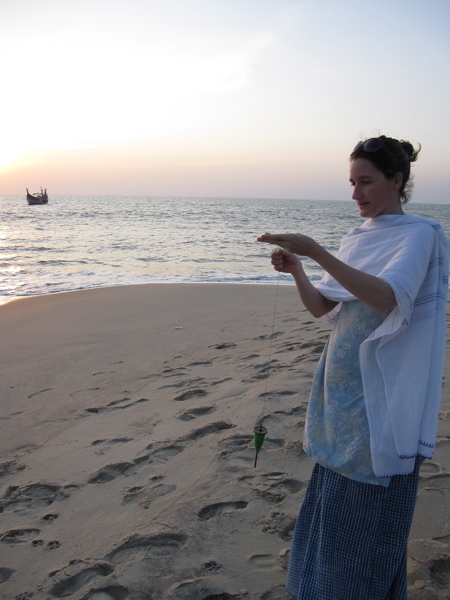 One can choose a focus and attract like-minded people quite easily on Ravelry. I established a group called Spindle Lore to consolidate and compare notes and discoveries about spindle use around the world, past and present.  This has been a rich ground from which relationships have grown around shared information and  enthusiasm.  The people I know from Ravelry have expanded my knowledge significantly. I work to keep up with all the new possibilities for exploration.
_________________________
Tracy Hudson completed a BA in Comparative Literature at Princeton University, then studied visual art (with an emphasis on fiber) at the School of the Museum of Fine Arts in Boston and the Kansas City Art Institute (her hometown).  Her husband teaches English as a second language, so she has lived mostly abroad–in Greece, India, Japan, Thailand and now Qatar–since marrying in 1993.  Hudson has taken advantage of the opportunities to study local textile production in the various places they've lived, so she has just begun to explore backstrap weaving with the intention of learning Bedouin style ground loom weaving while living in the Bedouin world. Visit her blog at einesaite.blogspot.com
Visit Ravelry at www.ravelry.com


Ravelry Groups mentioned above,
accessible to those who join ravelry.com:
Fiber Friday: www.ravelry.com/groups/fiber-friday
Picto Create: www.ravelry.com/groups/picto-create
Spindle Lore: www.ravelry.com/groups/spindle-lore
Inspiring Yarn Spinners:
Karen Barnaby: www.flickr.com/photos/kay_be/
Linda Scharf: www.stoneleafmoon.com
Laura Mayotte: www.flickr.com/photos/indigonightowl/collections/
Fiber source: www.yarnwench.com