Devotion: Sewing the Sacred Exhibition in Print, Out Now!
October 19, 2020
Surface Design Association is excited to announce Devotion: Sewing the Sacred our Winter 2020 International Exhibition in Print. Juried by Jovencio de la Paz and Lauren Sinner, this EIP poses the question: What does devotion look like in material form? With 239 artists submitting 1113 works from all over the world, we definitely had our work cut out for us in selecting our featured artists! As makers, we devote ourselves to our work and the relationship we have with it. Devotion can take many forms including trust, care, dedication, and love for a craft. There is an inherent slowness or rhythm to the making process. It is a laborious task where one becomes attached to and imbued within your work.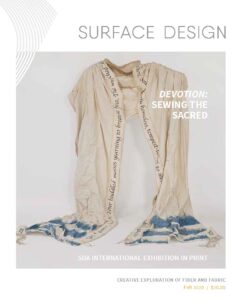 ---
Here's a preview of what you'll discover:
Guest Juror Award: Antonius-Tín Bui
"Throughout my work, I showcase pride by referencing intergenerational trauma, refugee memory and cultural meditation, using the ancient process of paper cutting, a folk art technique from China with various styles extending across the regions of Southeast Asia."
Surface Design Award: Phoenix McNamara
"I am fascinated by portals, journeys, and small, secret spaces, as well as magical artifacts of all kinds. I am deeply invested in the presence of the hand in all things, and am drawn to the place where the magical meets the mundane, where sacred and functional objects collide, often in a cloud of glitter. This has led me to having both an installation and object-based practice, creating enchanted talismans and environments in which to experience them."
Material Exploration Award: Noah Breuer
"This body of work examines the visual legacy of my family's former textile printing business, Carl Breuer and Sons (CB&S), founded 1897 in Bohemia… Through my 2016 visit to the factory's archive of fabric samples and designs held at the Czech Textile Museum, I have amassed a rich digital collection of primary source material in the form of scans and photographs."
Innovative Installation Award: Caron Tabb
"This body of work from my show "Of Two Places" addresses some of the universal challenges immigrants face after moving from their homeland and assimilating into a new culture. It is about finding a new home, having many homes, not feeling at home in the places that are your home and have been."
Modern Meets Traditional Award: Heather Beardsley
"December 2017, I visited Pripyat, the ghost town closest to the site of the Chernobyl nuclear disaster, where over the past thirty years nature that was destroyed by human hubris and incompetence has grown up to dominate the abandoned man-made structures. These pieces use this powerful juxtaposition as a lens to examine the current relationship between mankind and the natural environment. Since then I have continued to add images from cities around the world with the various architectural styles giving a global scale to this plant "invasion."
Innovation in Technique Award: Emily Yurkevicz
"More Than A Sum of Her Parts and 21st Century Altar use quilt motifs from New England, where I grew up. At four, my paternal grandmother taught me to hand quilt. To master this skill, I thought, was to earn her approval and admiration… The space and layers present in both works represent the depth of generational knowledge which informs individuals within the nuanced American identity."
Next Generation Award: Connor Dyer 
"The image of the fan is one of extreme devotion. Followers develop unique communities (fandoms) and engage critically and creatively with their object of devotion through discussions with other fans, writing (fanfiction), and artmaking (fanart). One of the ways fans express their devotion to a character or fandom is through the act of cosplay. Cosplay is a complex practice of costume construction and performance as a fictional character in a manner that is unique to each participant."
Devotion: Sewing the Sacred includes 22 Featured Artists, each with one page highlighting the amazing work our members create. Here's a sample of three Featured Artists: 
---
To buy a copy of Devotion: Sewing the Sacred: SDA International Exhibition in Print, go to the SDA Marketplace, or you can check out a free digital sample on our SDA Journal page.