"Domestic Spaces" — Out Now!
April 1, 2019
Surface Design Association is excited to announce "Domestic Spaces", our Spring 2019 edition of Surface Design Journal! This Journal focuses on those interior realms we create for ourselves and notions of how integral textiles are to the making of place. The various contributions reflect upon private (and public) domains and the personal aspirations of who we are as makers, curators, scholars and most importantly, devotees of fiber art.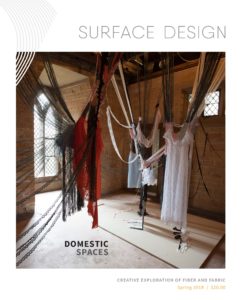 ---
Here's a preview of what you'll discover:
"Akiko Kotani" by Maggie Duffy explores Kotani's endeavour to see what would happen if small section of what she was working on was blown up to see its interwoven texture. This research sparked a desire to reduce woven patterns and to "paint" with fibers.
"The Uncanny Lucy Brown" by Catherine Harper looks at how Brown constructs woven sculptural installations and "anti-form sculptures" from her own extensive cache of vintage, second- hand and discarded clothing: shearing, stripping, tensioning and weaving the fragments of feminine life.
"Women's Work: Reflections" by Dr. Angela Clark examines the exhibition Women's Work and how it arose out of conversations with textile artists of British Columbia who shared the concern of the Italian Cultural Centre Museum about the degree to which female domestic textile work has been dismissed in contemporary culture.
"Words Matter" by Stuart Kestenbaum expands upon Kestenbaum's keynote speech from SDA's exhibit, Context: Language, Media, and Meaning at the Fuller Craft Museum in fall of 2018. In his speech, he explored the connection between words and makers, since the artists in the show used text in their work.
First Person features Liz Collins and Oloop's third collaboration together—Between Inside and Outside—which aims to reconsider textile's place in modern society
Legacy: "Marion Dorn Kauffer" by Elizabeth Kozlowski looks at the life work of Dorn Kauffer and her extensive career as a textile designer, creating boldly patterned resist-printed (batik) silk, linen cotton and velvet fabrics.
In Print: "Mending Matters" by Lauren Sinner reviews the book by Katrina Rodabaugh, which features tutorials, short essays, and histories on mending.
In Emerging Voices, Emelie Röndahl talks about her most recent project, Google Weaving Stop-time. Instead of being the artist working in solitude, she invited ~30 weavers from around the world to create rya tapestries in collaboration for the 4th Istanbul Design Biennial.
In Review: "The New Modern Domestics" reviewed by Victoria May looks at the exhibition at the Monterey Museum of Art, which gathered artists she felt continue a legacy of transformation, reconfiguring the discarded, overlooked, or ordinary into necessary statements about women reworking their traditional roles and the environment they inhabit.
In Review: "Anni Albers" at the Tate Modern reviewed by Janis Jefferies looks at the iconic weaver's huge retrospective featuring weavings, looms, materials, and more that Albers used.
---
To buy a copy of "Domestic Spaces", go to the SDA Online Store, or you can check out a free digital sample on our SDA Journal page.
Tags:
Akiko Kotani
,
Anni Albers
,
Catherine Harper
,
Conferences
,
Domestic Spaces
,
Dr. Angela Clark
,
Elizabeth Kozlowski
,
Emelie Röndahl
,
Exhibitions
,
Fiber
,
fiberart
,
Fuller Craft Museum
,
Janis Jefferies
,
Katrina Rodabaugh
,
Lauren Sinner
,
Liz Collins
,
Lucy Brown
,
Maggie Duffy
,
Mending Matters
,
Monterey Museum of Art
,
oloop
,
SDA Journal
,
Soft Walls
,
Stuart Kestenbaum
,
Tate Modern
,
Victoria May
,
Weaving