First Day at Confluence: A New Member's Experience
June 9, 2011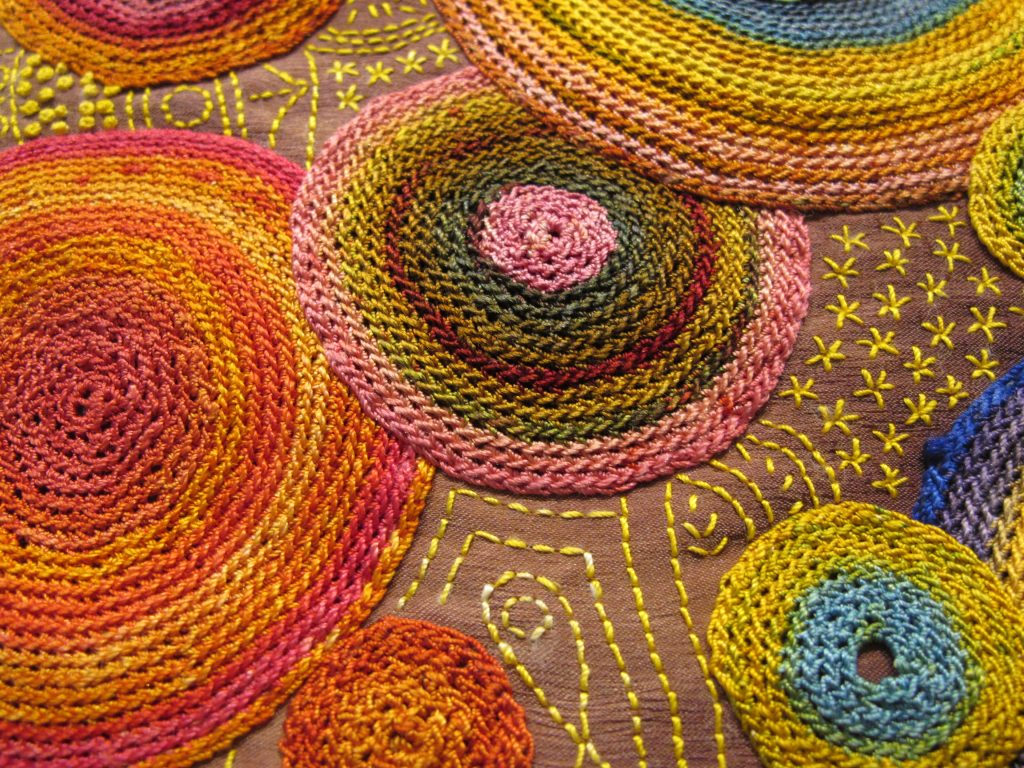 Sometimes I have really big ideas, and don't realize the reality of those ideas until it's almost too late. I spent the last several months with big plans to drive 11 hours straight through from Lansing, Michigan to Minneapolis for the #Confluence Conference. A week and a half ago I thought better of that exhausting idea. With help from my amazing partner and his internet sleuthing skills we picked up a last minute plane ticket with a layover in Milwaukee.  Come to find out that method of transportation was still pretty exhausting: It took 2 planes, a train, a bus and a short walk to arrive at the Radisson Hotel last night, but I enjoyed the adventure of it and made it safe and sound. It was a happy to be greeted by one of my previous professors, and a band of the board and staff. I had only worked with the group through teleconferencing and e-mail, with the exception of Della Reams (one of my previous professors) and Leesa Hubbell (who generously met up with me for tea last year while I was in NYC). What a relief to finally meet everyone face to face! The coffee was on and the conversation was great. We were finally learning about each other, and understanding each others' true presence and intentions!
This morning the Area Representatives met for coffee and breakfast. Although I'm not a rep, I was invited to join the conversation. Never a short winded group, we went on about our database drama, and challenges recruiting new members. Fortunately we were also able to celebrate the successful opening of regional exhibits by the Massachusetts/ Rhodes Island (thanks to Vicki Jensen), Maine (thanks to Katherine Harding), Kentucky (thanks to Jennifer Reis) and Northeast (thanks to Jeanne Beck) regional groups.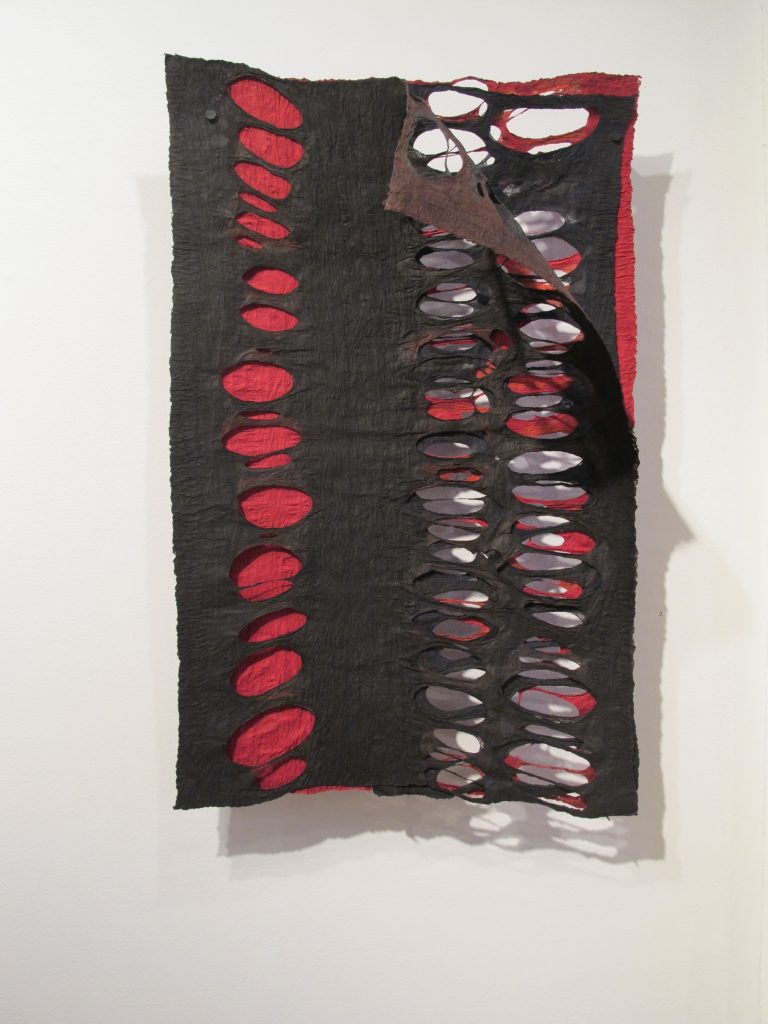 Gallery Day included 3 optional routes for tours through Minneapolis galleries which were hosting Surface Design Association Conference exhibits. I overheard rumors of bus troubles and long wait times. I was lucky to encounter no problems and enjoyed a day of inspirational artwork from my fellow members.
At the Minnesota Center for Book Arts Jiyoung Chung exhibited exhibited a show titled Whisper: Jiyoung Chung's Joomchi. The work in paper explored the Korean process of Joomchi, which seems to be half paper making and half felting. Jiyoung Chung used this process to create vivid and delicate pieces. My favorite pieces incorporated black and red pieces in several layers and explored the relationship between humans and the devine. Whisper Romance II-XXXI has a layer peeling back to expose what's underneath—a concept that I have been returned to throughout the day.
The Minnesota Center for Book Arts was a wonderful venue for Jiyoung Chung's paper medium. Along with the exhibit they had vintage printing presses on display that fit the atmosphere beautifully. Several members and myself enjoyed treats from the café, and I can confidently recommend their Mexican Chick Pea Salad as a great afternoon protein pick me up. I have to give a special kudos to the gentleman barista who recommended a peppermint and clove tea, as it did wonders to clear the cough I had this afternoon.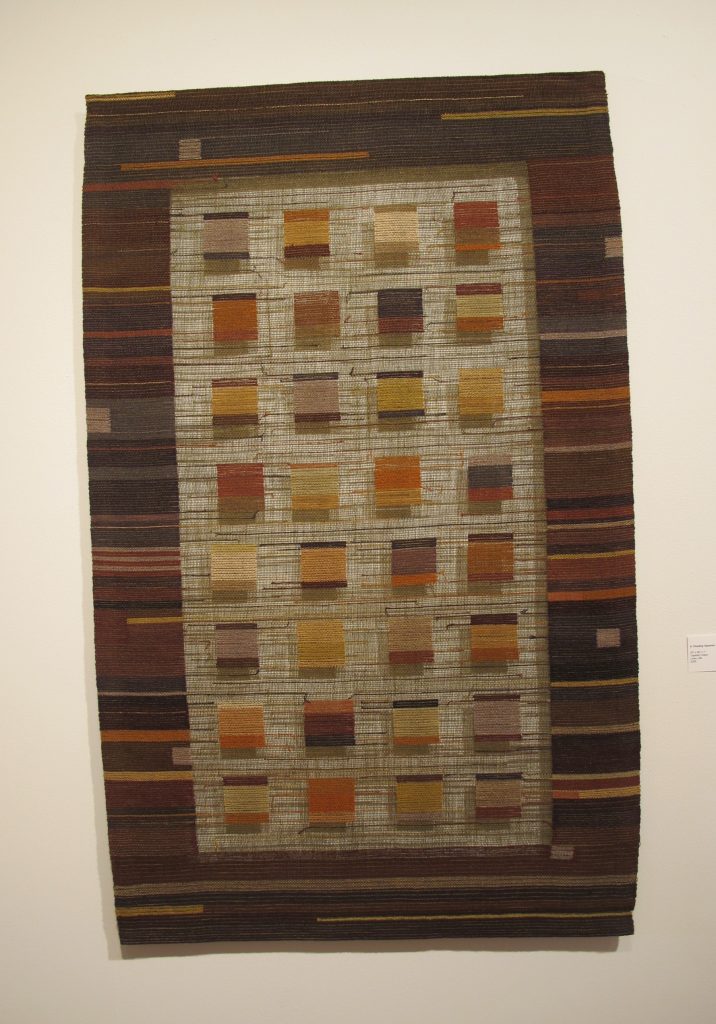 At the Traffic Zone Center for Art I met Morgan Clifford who was presenting her exhibit "Checks, Nets and Woven Grids". She was kind and open about her process and work in a variety of uncommon threads and paper from Habu which she dyes herself before weaving. The work in "Checks, Nets and Woven Grids" explores a healthy balance between open net like structures and positive space in the form of checks and squares. When speaking of her work Morgan Clifford explained her fascination with long weft floats which appear on the surface of her checks. We also engaged in a chat with Patricia Malarcher about the close relationship between a fiber artist and their materials, of which Clifford's work is an outstanding exemplar.
We were pressed for time so I only took a brief walk through of the MCAD Gallery, Minneapolis College of Art and Design. One installation that particularly caught my eye was a set of portraits recreated in wire by Karen Searle. The portraits are from a variety of eras spanning from the late eighteen hundreds to the present . Most portraits feature a timely hairstyle, and I found the hair to be a focal point in many pieces. Each piece is mounted with an old fashioned hair clip. I would love to speak to the artist and find more about her process. I have an inclination that the work speaks to hair styling as it is incorporated into expectations about womanhood. A few other members and I imagined that the artist went on a fun hunt to find the materials for her piece, specifically the vintage hair clips. Sometimes the hunt for the perfect materials can be half the fun of creating a piece of work.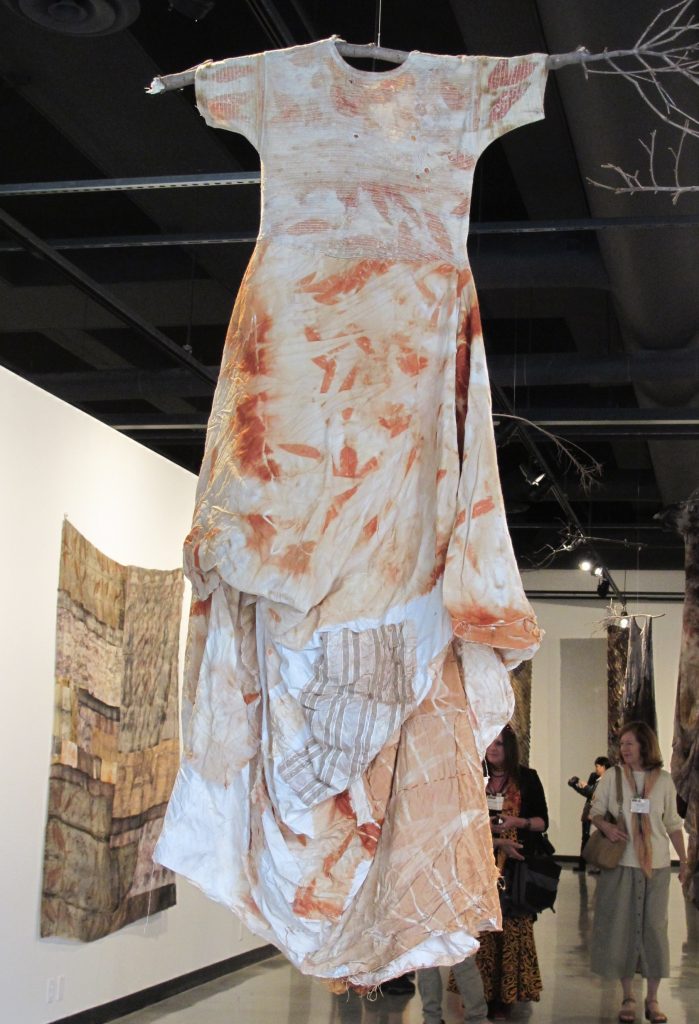 Our Gallery tour ended at the Katherine E. Nash Gallery at the University of Minnesota-Minneapolis. Here the show Merge and Flow was hung which included work from a variety of SDA members. 
Luck would put me in the right place to bump into Martha Brownscombe who was the first person ever to sit me down at a loom and introduce me to fiber art. It was an inspiration to see her creative use of encaustic methods, stitching and the incorporation of pebbles.
The experience at Nash Gallery was a bit overwhelming as well as inspirational. I could have spent the entire day at that one gallery in order to take it all in. Luckily the exhibit will be open through June 30th, so there is time to visit again and soak in the vast array of textile art.
In addition to the member show, the WindFallMaps by India Flint is on exhibit. I will forever covet and admire the whimsy of India Flint's work. Her gentle lines, secret stitching and earth tone palate tell me stories of woodland sprites and secret gardens. Who wouldn't want to dance free through the forest in an India Flint dress?
Tim Harding, Apparitions and Reflections on Water: Recent Works by Mary Edna Fraser, Linda Gass and Barbara Lee Smith are also on display at the Nash. Time, which is always in short supply at busy events, prevented me from spending more time exploring these exhibits. I am curious and intrigued by the collaboration between Fraser, Gass and Smith – three heroes of the fiber art world. I am hoping to catch up with these women later in the weekend to learn more about their work in Reflections on Water.