Focus On Fiber at Kaneko in Omaha, NE
February 27, 2015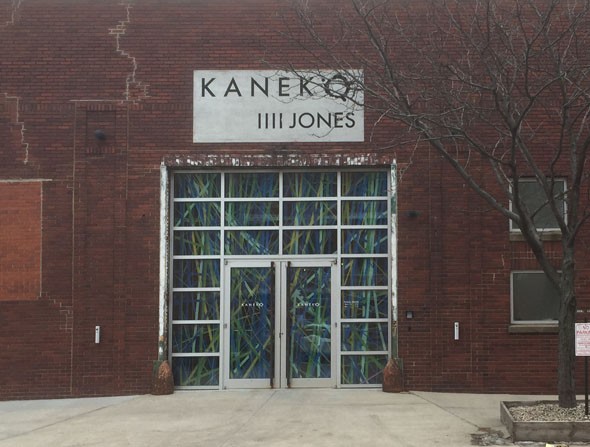 FIBER – a robust roster of fiber-focused exhibitions, lectures and workshops – opened February 6, 2015 at KANEKO in Omaha, Nebraska. The exhibitions will be open to the public free of charge until April 25, 2015.
KANEKO is a non-profit arts and cultural organization that explores, encourages and facilitates the creative process. Internationally known artists Jun and Ree Kaneko established this 'open space for your mind' in l998. It continues to grow, evolve and influence a broad age range in the Old Market Warehouse district of downtown Omaha.
The facility makes it easy for learning and art consumption at every level – with exhibitions, lectures, workshops and community interaction ongoing. Fiber artists worldwide are honored and respected in this comprehensive, multi-faceted presentation. Here are a few highlights from a surface design perspective.

Florabunda: Designing On the Surface is a collection of Hawaiian shirts from the golden age of the l950s through l980s. Early influences of indigenous tapa cloth shifted to print on woven cloth, then to kimono fabrics hand tailored for custom shirts on the island. By the l950's, these shirts had the world's attention with the "Made in Hawaii" brand for the tourist market.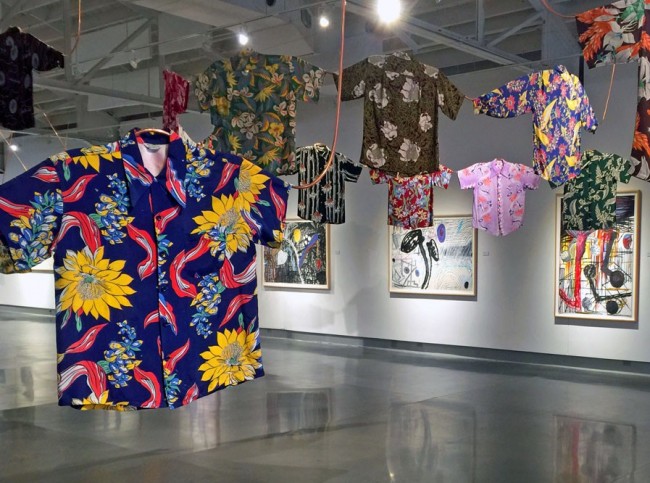 The demand for high impact, tropical floral patterning known as the 'ono' – or deliciously cool shirts – dominated. The examples displayed in this show (in multiples) became the modern aloha wear. Additional history about the Hawaiian shirt can be found at Aloha Funwear Company.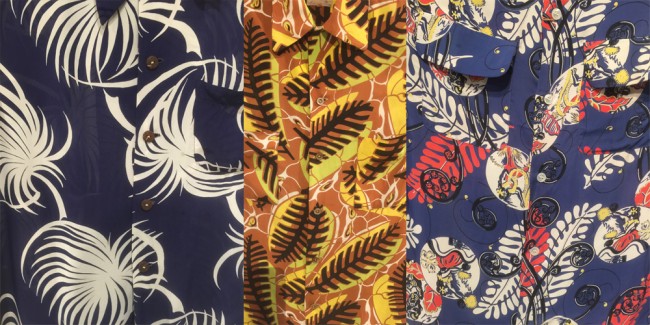 Fiber Legends is a tribute to international artists Sheila Hicks, a Nebraska native; Jon Eric Riis, a contemporary fiber artist and Asian textile scholar; and Nick Cave, a sculptor known for his Sound Suits used in performance and constructed from repurposed and vintage objects.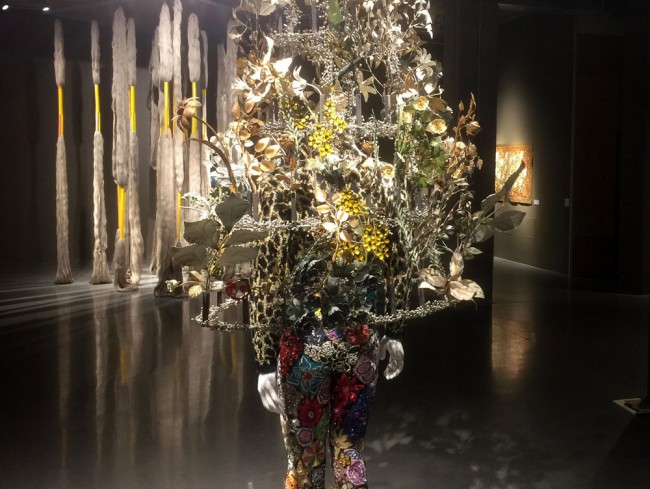 I had a chance to ask Riis which of his complex, monumental pieces presented the greatest challenge. He pointed to the union of opposing tapestries, Icarus II, which took careful masterful problem solving to join.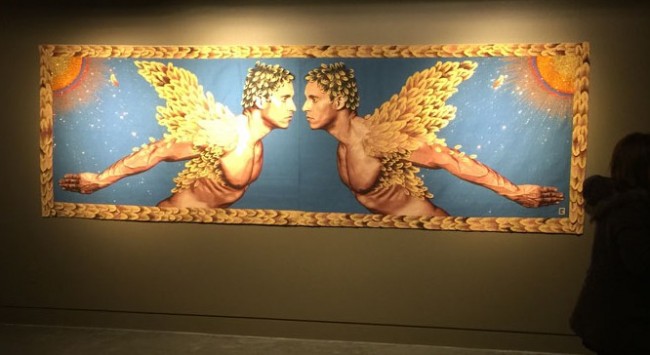 Global Threads consists of the works, collections and scholarship for several FIBER artists from around the globe, including Yoshiko Iwamoto Wada, Jessica Hemmings, Mary Zicafoose and Susan Knight. It includes selections from Wada's scholarly study collection of meisen, which refers to a woven cloth of mostly silk threads that is patterned with printed or resist-dyed warp or weft before weaving. Japan was just opening to outside influence and modern impacts played out in mass production and marketing in the early 20th Century. Wada will present a talk called Kitsch to Art Moderne: Meisen Kimono in the First Half of Twentieth Century Japan on March 12, 2015 from 7-9 PM and a workshop on Boro Indigo, March 13-15, 2015.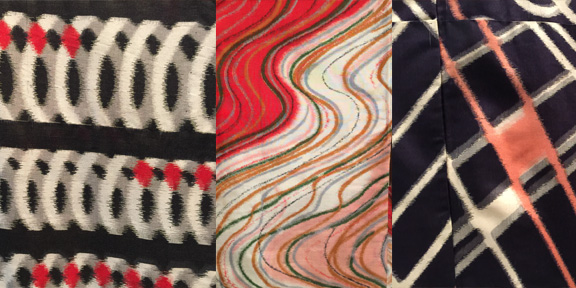 The Fabric of Survival: The Art of Esther Nisenthal Krinitz presents a deeply personal view from a woman that did not see herself as an artist. In l942, at age 15, Krinitz fled Poland to avoid the accelerating genocide. At age 50, she started 'simple crewel work on cheap fabric' to document her memories of early life in a Polish village; early family joys, then the fear and pain of surviving through war. Her 36 works represent an important historical record and display a clear artistic accomplishment done with simple fabrics, repetitive beautiful stitching and memories.
American Tapestry Alliance Biennial 10 show includes 37 works. Juror Jessica Hemmings notes that the historical role of tapestry was one of storytelling for a largely illiterate population, which points up our contemporary 'illiteracy' of short attention spans and difficulty concentrating or taking time to look for deeper meaning or processing what is experienced visually. This tapestry show pulls us in, forces deeper thought and teaches new ways of viewing.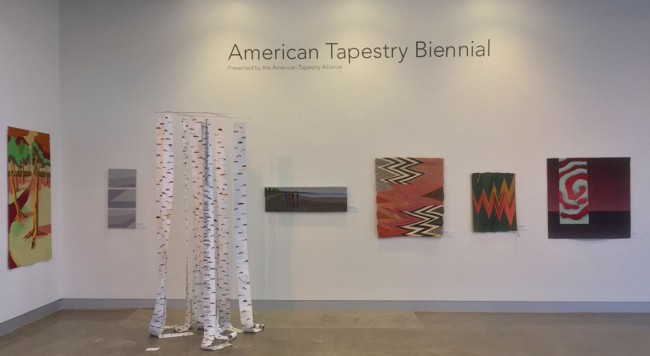 Here are a few quick examples:
Clare Coyle's small format tapestry, The Land Gives Us… communicates the marks made on the land through time. Her work shows 4 seasons of man's action of cultivation and cropping overlaid with runic writing that gives answer to her title along with huge ideas and huge thoughts in a mere 4 x 22 inch tapestry.

Barbara Brophy's work, Inspired by Rothko, is, at first glance, simply silhouettes on a contrasting ground.  Stepping closer, looking deeper, it becomes a tapestry movie. The skater's movements come alive. Their playfulness is evident; their friendships apparent, with, perhaps, even a distant group of tricksters – due to the masterful skill of a 2-dimensional tapestry weaver.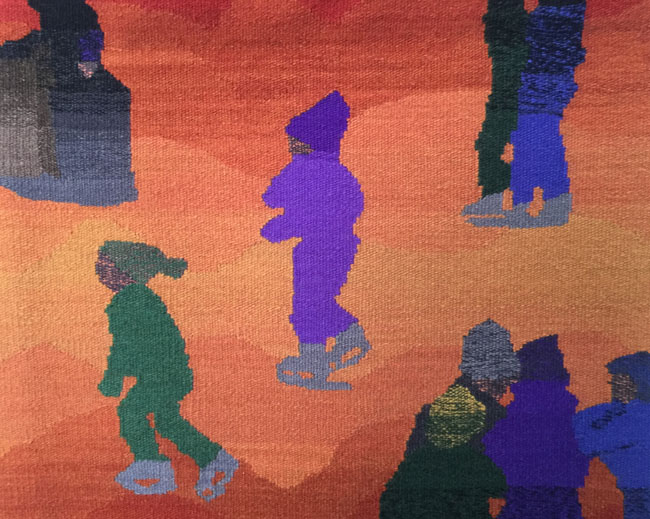 Ann Kocherovsky's work, Wishing Well, displays sophisticated, complex design with contrasting elements, symbolism and beauty. The reality of all this in a woven, constructed surface illustrates Juror Hemmings point: weavers are very thoughtful artists, plan way ahead and work for long periods of time with precision, mindfulness and deep attention to detail.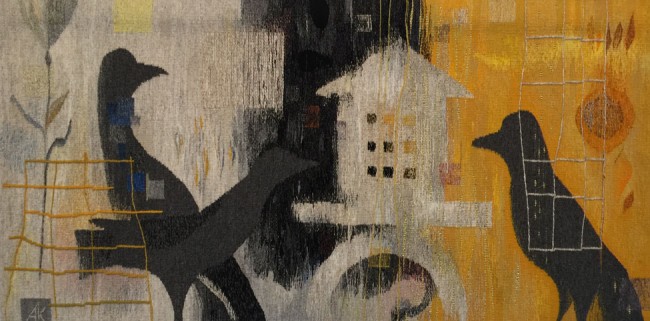 Check out additional FIBER-related events programming which includes tapestry and ikat workshop with Mary Zicafoose, Cultural Threads book lecture by Jessica Hemmings plus papermaking and bookbinding workshops by Bonnie O'Connell.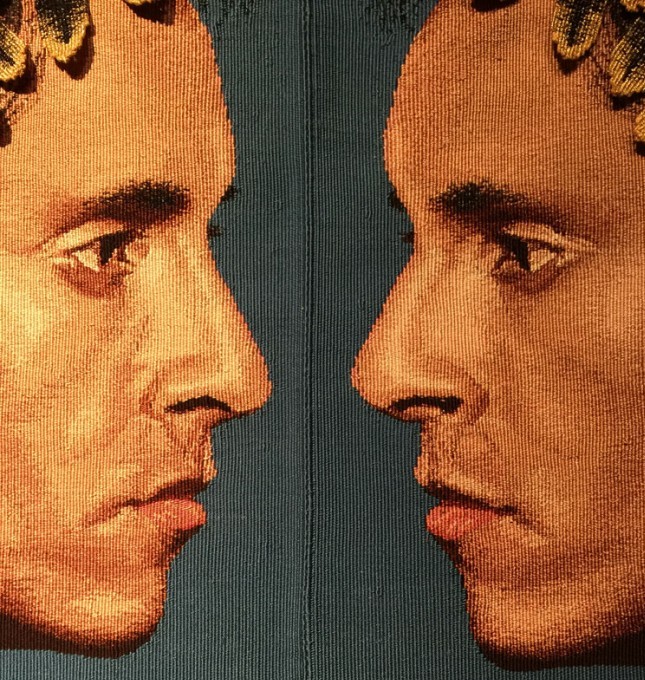 I know our mentors (and past SDA Presidents) Jason Pollen and Jane Dunnewold, among others, encourage us to push deeper, work more thoughtfully – and mindfully.
Viewing the many facets of FIBER can slow you down and provoke creative thought.
These individual FIBER exhibitions make up a whole that offers an unprecedented opportunity to experience and reflect deeply on the impact of textile media. They are truly worth your time and energy.
Hop on a plane or take a road trip. Jump into KANEKO – an open space for your fiber-focused mind. 
__________________________________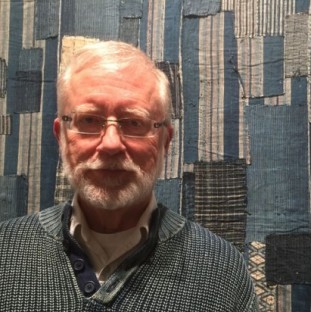 Jay Rich is an artist, textile researcher and writer living in Omaha, Nebraska. His carved board clamp resist dye research has been presented internationally.
An SDA member since l998, he has written  for Surface Design Journal and ShopTalk, a feature on studio practices and issues published in both the formerly printed newsletter and SDA NewsBlog online.
His current areas of research are exploring environmental issues, sustainability and the intersection between food, medicine and dye processes in the natural world.
Rich is also a practicing psychiatrist and continues to search for sacred natural space in our complex global chaos. He's pictured here in front of a Japanese boro cover from his collection – currently on view at Kaneko.
View his work on World Shibori Network site at shibori.org/members/jayrich