"Fringe: On the Edge of Fiber" — Out Now!
June 24, 2019
Surface Design Association is excited to announce "Fringe: On the Edge of Fiber", our Summer 2019 edition of Surface Design Journal! This Journal explores and expands the traditional boundaries of fiber arts with individuals and practices once relegated to the edges, now leading their respective fields in terms of innovation and intellect.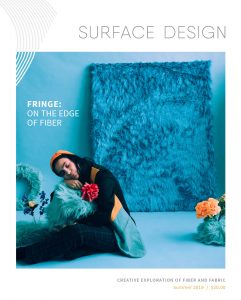 ---
Here's a preview of what you'll discover:
1) "Female Art Brut: From its Historical Beginnings to Contemporary Makers" by Monika Auch explores the vast range of work created by outsider artists working in textiles. From the beginning of movement in the 19th century to artists still operating in that realm today.
2) "Three Dimensions: Works by Analia Saban, Matthew Larson, and Steven and William Ladd" by Joyce Beckenstein looks at a new generation of artists creating in an era that experiences phenomena through the fog of virtual reality, Photoshop, Facebook posts and fake news.
3) "Uzumaki Cepeda: Faux Fur Fringe" by Holly Jerger spotlights the first-generation, Afro-Dominicanwoman, who is most known for her unapologetically colorful, faux fur installations reminiscent of domestic settings that evoke the innocence of childhood, New York bodegas, life in the Dominican Republic, comfort, and safety.
4) "Common Threads" by Betsy Greer looks at the international art-based project which uses a workshop model to create lasting, transformative kinds of therapy for people dealing with trauma in low-resource settings.
5) "Weaving Lab: Social + Science" by Lisa Vinebaum highlights the work done by Weaving Lab—a participatory and multi-sited project that brings members of the public together to explore scientific, social, and spiritual aspects of weaving.
6) Fiber In Film: "Beyond Mordants: Natural Dye Workshop Series IV featuring Michel Garcia" by Catherine Ellis reviews a wonderful DVD that shows various natural dye processes that don't require any mordants at all.
7) Spotlight on Education by Hui Li features work by students and faculty from the Department of Art and Crafts at Tsinghua University in Beijing, China.
8) In Review: "From Lausanne to Beijing 10th International Fiber Art Biennial" by Mi-Kyoung Lee reviews the ceremony, reception, exhibitions, critical dialogue, as well as the cultural and historic site tours that took place during the biennial. Exhibition events were held in multiple cities in China in the past, and after two decades it returned to Beijing, where the Biennale originated.
9) In Review: "Bondeye Between and Beyond" by Elizabeth Kozlowski reviews the series of sequined prayer flags by Tina Girouard—blending Caribbean, African, and European culture in her own Louisiana hometown. These flags reference a range of international traditions expressed in Vodou, from All Saints Day in France to New Orleans Mardi Gras, and Haitian Kanaval.
10) In Review: "Gudrun Sjödén: A Colourful Universe" by Mason Riddle reviews the colorful designs of Sjödén—inspired by nature and folkloric traditions and rooted in quality craftsmanship and sustainable design.
---
To buy a copy of "Fringe,", go to the SDA Online Store, or you can check out a free digital sample on our SDA Journal page.
Tags:
Analia Saban
,
Art Wear
,
Betsy Greer
,
Catherine Ellis
,
Common Threads
,
Creative Process
,
Elizabeth Kozlowski
,
Fiber
,
Fiber In Film
,
fiberart
,
Fibers
,
Fringe
,
From Lausanne to Beijing 10th International Fiber Art Biennial
,
Gudrun Sjödén
,
Holly Jerger
,
Hui Li
,
Joyce Beckenstein
,
Lisa Vinebaum
,
Mason Riddle
,
Matthew Larson
,
Members In Print
,
Mi-Kyoung Lee
,
Monika Auch
,
Natural Dyes
,
Outsider art
,
SDA Journal
,
Shop Talk
,
Steven and William Ladd
,
Textile Design
,
Tina Girouard
,
Tsinghua University
,
Uzumaki Cepeda
,
Weaving
,
Weaving Lab