Hot Topics @Confluence: Mary Edna Fraser Gets Down to Business
March 7, 2011
Business: Achieving Your Goals
Pre-conference 2-day Workshop
Tuesday-Wednesday, June 7-8
@CONFLUENCE: 2011 International SDA Conference, Minneapolis, MN
(Text and images by Mary Edna Fraser. -Ed.)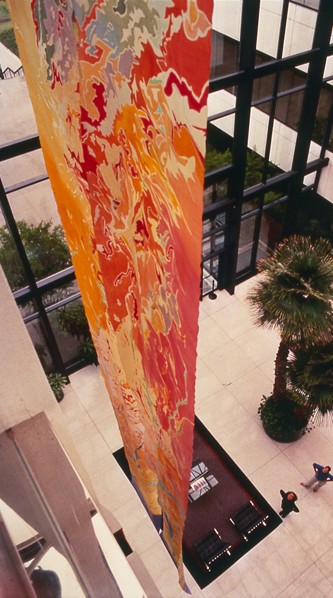 I live for the days when I get to immerse myself in art making.
To get to those days, I've had to master the business of art. It requires a stunning portfolio and endless attention to detail. Information technology changes rapidly, but there are enduring fundamentals you need to master whether you are dealing with private patrons or the largest museums.  Writing succinctly and communicating visually online requires understanding of best practices and tenacity.  This workshop will teach you how to polish your skills, manage your time and consider new options for promoting your work while approaching these necessary tasks in a systematic way.
It's a struggle to be an artist with budget cuts and fewer buyers in the current economic environment.  Even though I am an internationally recognized master dyer, being one is often a hand-to-mouth existence. My overhead has increased dramatically.  Initially I created art outside on sunny days. Now the studio is a gorgeous 35' x 24' building in my back yard.  In the 1970s the silks were priced at $30 per square foot. Now they are $300 a square foot–or negotiated for larger commissions.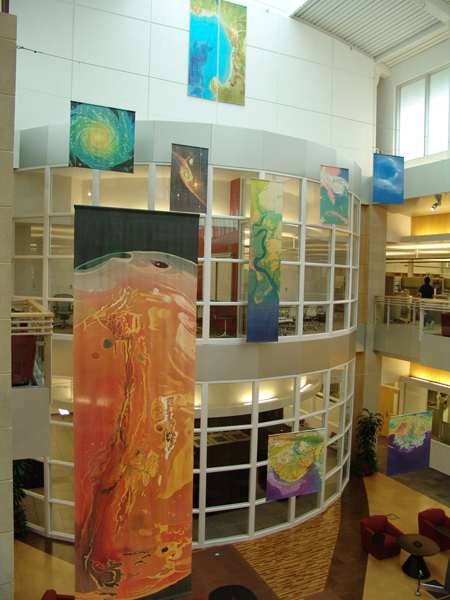 My batiks on silk have been the subject of over 100 interviews, 50 one-woman exhibits, and numerous films.  I was a charter member of the newly-formed Surface Design Association in 1977 after graduating in Clothing and Textiles at East Carolina University in North Carolina.  Many teachers helped me find my path and my voice. Jason Pollen, SDA President Emeritus, gave me stellar advice as a novice.  I now teach my process of large-scale procion dyeing in Australia, Indonesia; worldwide.  I taught my first portfolio presentation workshop at the Smithsonian in 1995.
Having hired over 20 assistants during my career, I've had the opportunity to mentor and guide budding artists on their own paths. My current assistant is actually smarter than I am in many areas and keeps my business up-to-date.  Accounting, media promotion and other tedious (to me) but crucial tasks keep the studio running. Though I am an aerial photographer, I also employ the services of professional photographers and framers and must manage those relationships as well. Some days are about cleaning out files, others are meant for answering mail.  Then I get to those days of pure creativity.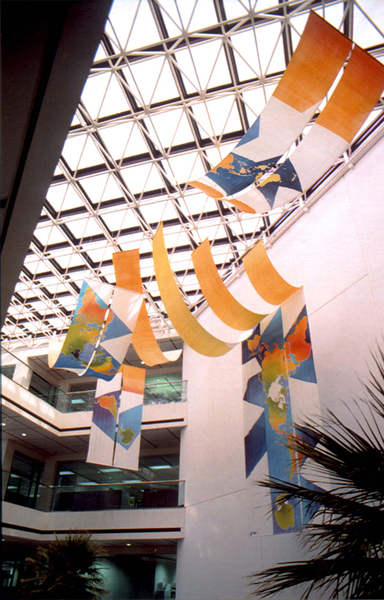 Most of my clients are friends who were willing to invest in my life. Managing contact information is a professional skill that requires daily attention. Then there is developing merchandise and marketing it. A variable price point strategy makes my work accessible to all.  I sell $5 magnets, $10 archival books, $60 scarves and giclée prints starting at $75.  Original works of art, including monotypes prints on paper, are also available for sale in my studio gallery.
My workshop can help you to strengthen your grip on the multi-faceted business of art while also managing your time to nurture the relationships that matter most. I have two grown daughters who are both artists surviving in this economy.
We live in a complex world.  Let me show you how to manage that complexity to create a haven of your own! Taking my workshop is an investment in your creative future. Register here

___________________________

Mary Edna Fraser is an internationally recognized artist working in the batik medium who has taught in Australia, Indonesia, and Taiwan.  Fraser merges modern procion dye technology on silk with aerial and satellite photography, maps and charts. Inspired by the terraqueous reaches of the continent–where realms of earth, sea and sky converge–she's been exploring threatened landscapes for more than a quarter century.  She is believed to have created the largest batik sculpture in the world, Global Perception, designed for a 5-story atrium.
Her art has been featured by Duke University, National Science Foundation, National Academy of Sciences, Smithsonian National Air and Space Museum, Peabody Essex Museum, and National Geographic.  Private and public collectors include, most notably, Elliot School of International Affairs at George Washington University, Heinz Center for Science, Economics and the Environment, New England Aquarium in Boston, American Embassy in Thailand, and NASA.
Visit her website at: www.maryedna.com
During CONFLUENCE conference in Minneapolis, view Fraser's work in Reflections on Water: Recent Works by Mary Edna Fraser, Linda Glass, and Barbara Lee Smith at Katherine E. Nash Gallery at the University of Minnesota, West Bank Campus. For complete Confluence information, visit www.surfacedesign.org