In Print: "Hidden Tapestry" By Debra Dean
June 20, 2018
Hidden Tapestry: Jan Yoors, His Two Wives, and the War That Made Them One by Debra Dean reveals the story of Flemish-American artist Jan Yoors—artist, photographer, painter, sculptor, writer, filmmaker, and tapestry creator. This biography recounts Yoors' rise to fame in New York City, his two concurrent wives, and how they wove his well-known tapestries.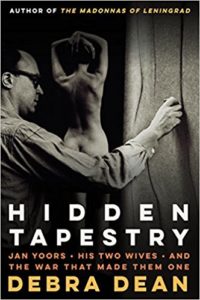 ---
At the peak of his fame in the 1970s, Yoors' photographs and tapestries inspired a dedicated following in New York. Though his intimate friends guessed the rough outline of his colorful life, Hidden Tapestry is first to detail his astonishing secrets. At twelve, Yoors' life took an extraordinary and unexpected turn when, lured by stories of Gypsies, he wandered off with a group of Roma and continued to live on-and-off with them and with his own family for several years. As an adult in German-occupied France, Yoors joined the Resistance and persuaded his adoptive Roma family to fight alongside him. Defying repeated arrests and torture by the Gestapo, he worked first as a saboteur and later escorted Allied soldiers trapped behind German lines across the Pyrenees to freedom. After the war, he married childhood friend Annabert van Wettum and embarked on his career as an artist. When a friend of Annabert's, Marianne Citroen, modeled for Yoors, the two began an affair, which led the three to form a polyamorous unit that would last for the rest of their lives. Moving to New York, the trio became part of the bohemian life of Greenwich Village in the 1950s.
Yoors' work brought him international acclaim, and in 1959 Art in America nominated him as one of the new talents in the U.S. Considered one of the most important textile artists of the twentieth century, his tapestries were twice selected as the US representative at the International Biennial of Contemporary Tapestries in Lausanne, Switzerland.
Hidden Tapestry possess an impeccable amount of research and detail into Yoors' life. The book highlights alternative lifestyles and touches on many different interests and issues including:
The re-examining and expansion of our definitions of marriage. After same-sex marriage, is polyamory the next logical step?
In the age of high-tech and ready-made, craft continue to grow in popularity reflecting a significant cultural shift, a pushback against corporate and anonymous forces, and a desire to make our daily transactions more human and meaningful.
New York's disappearing bohemians and artists: how escalating real estate prices in our cities threaten their lifeblood and diversity.
The unknown Roma gypsy heroes of World War II, and the complicated place of Romas in society today.
The importance of documenting and preserving the histories of individuals from across the globe in order to establish and build connections between people.
Jan Yoors Studio also released a short film from 1983 which documents interviews, studio work, and personal life interwoven into one story. This segment features Annabert giving a weaving demonstration.
---
About the Author:
Debra Dean is the bestselling author of four critically acclaimed books that have been published in twenty-two languages. Her debut novel, The Madonnas of Leningrad, was a New York Times Editors' Choice, a #1 Booksense Pick, a Booklist Top Ten Novel, and and an American Library Association Notable Book of the Year. Debra lives in Miami, where she is on the faculty of the Creative Writing Program at Florida International University.
Important Info:
312 pages (April 2018)
ISBN: 9780810136847
Tags:
Annabert van Wettum
,
Biography
,
Book
,
Debra Dean
,
Hidden Tapestry
,
History
,
In Print
,
Jan Yoors
,
Marianne Citroen
,
Review
,
Weaving