In Search of Textile Arts at College Art Association
August 7, 2014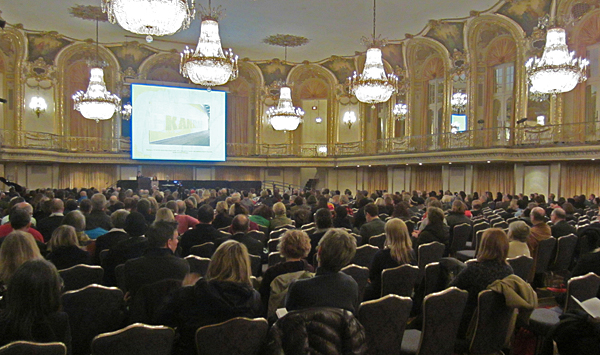 College Art Association's (CAA) annual conferences are just one of many member services that serve their mission to "advance the highest standards of instruction, knowledge and practice in the visual arts to stimulate intellectual curiosity and advance skills that enrich the individual and society." 
As a first-time conference goer, I was impressed with the variety of sessions and the excellent roster of presenters from near and far at the 102nd  conference which took place earlier this year in beautiful – albeit frigid – Chicago (February 12-15, 2014).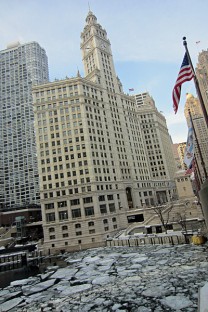 Over 4,000 artists, curators, historians, museum staff, writers, collectors, critics and students from 43 countries were in attendance for the diverse selection of creative educational events that featured over 200 presentations with contributions by nearly 800 participants.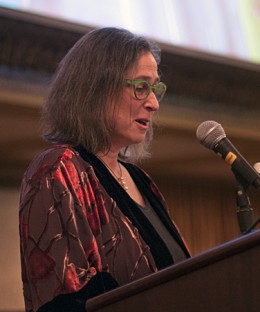 The conference kicked off with a thoughtful keynote address by renowned installation artist Jessica Stockholder (shown at right), followed by a gala opening reception at the newly-built Modern wing of the Art Institute of Chicago.
Exceptional textile-oriented pieces on display included the room-size installation Untitled (Scatter Piece) from 1968-69 by Robert Morris and Lee Bontecou's wall work Untitled (1960) with its ominous black hole made from stitched canvas, velvet, and wire.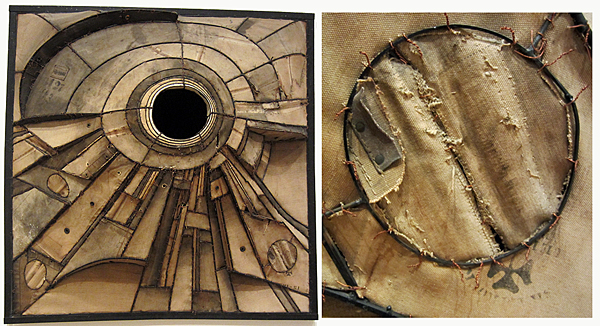 My interest in all things contemporary textile and fiber drew me to 2 sessions in particular. "The Decorative Impulse and the New Aesthetic Democracy" in the morning featured art critic Jenni Sorkin and Chicago's own conceptual artist and educator Anne Wilson, whose works are textile-based or inspired.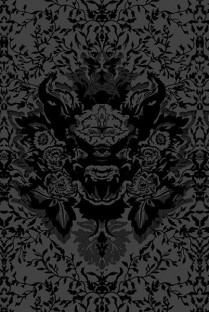 Wilson's talk delved into the historical significance of damask fabric, drawing connections to exciting new textile designers such as Glasgow's Timorous Beasties in the UK and  Brooklyn's Dan Funderburgh in the US.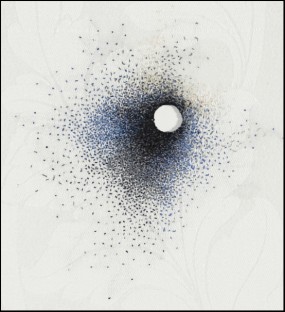 Wilson went on to share examples of her own recent work from the haunting Dispersions (nos 1-26) series, composed of vintage damask cloth and hand embroidered human hair.
Always on a hunt for new Surface Design Journal contributors, I spent my lunch hour attending "How to Get Published and How to Get Read." This panel of editors, on hand for CAA's popular Book & Trade Fair, offered excellent tips for writers at all stages of their careers. This year's fair included 108 international exhibitors showcasing everything from printed matter and digital resources to demonstrations and lectures.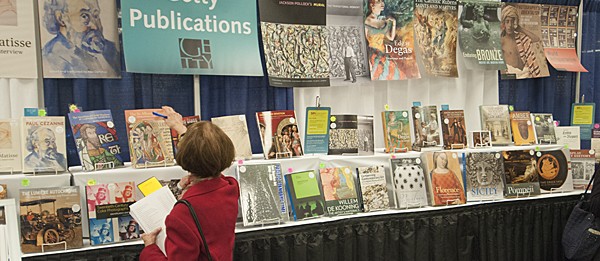 Throughout the conference, attendees also took advantage of several other top-notch CAA career services, including professional development workshops, mock interviews, portfolio reviews, and actual job interviews conducted by 56 employers on site.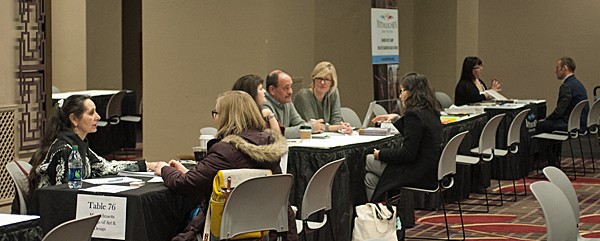 The riveting afternoon session "Crafting Community: Textiles, Collaboration and Social Space" was chaired by Canadian activist artists Lisa Vinebaum and Kristy M. Robertson – and part 1 of a double header presented by Critical Craft Forum.*  This fascinating selection of 20-minute lectures included "Insecurity Blankets" by Nicole Archer, in which she examined the use of hoods as a destructive garment of political control. Rowland Ricketts took the conversation in a more gentle direction with his talk "I Am Ai, We Are Ai: Confirming and Connecting the Collective Tradition of Indigo Dyeing in Japan."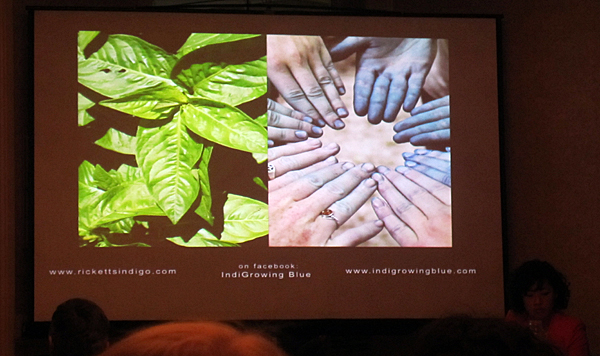 Concluding speaker Aram Han hit the socio-political-craft ball out of the park with her presentation "A Community of non-Citizens: Proving Worth of Citizenship through Stitching Samplers." Han, who emigrated from Korea to the US with her seamstress mother in the 1990s, is currently studying to take the US citizenship test. This process has helped her connect with other non-citizens to investigate "the politics of immigrant and artist labor" as well as the "lure of the American Dream."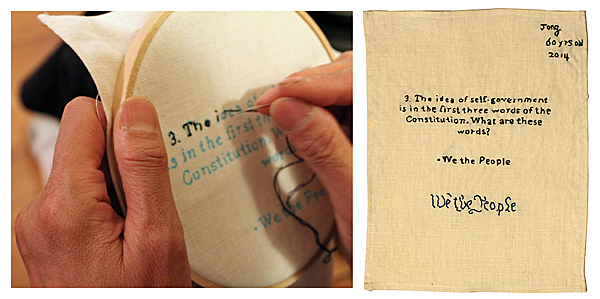 I was so enthralled with the intensity of her creative vision that I invited her to contribute an Emerging Voices article to Summer 2014 issue of Surface Design Journal, which explores the theme Korea: East & West. (Read Han's article on pages 54-55).
That evening was filled with art openings and special receptions hosted by the many factions of academia in attendance. Locally sponsored fiber-friendly events included a meet-and-greet tour of the new state-of-the-art textile facilities at The School of the Art Institute of Chicago. Just down the street, the group exhibition Interlacing Threads: Traditional Techniques | Contemporary Perspectives at Columbia College Chicago's Hokin Project campus gallery showcased recent works by Jerry Bleem, Annet Couwenberg and Laura Kina, to name just a few.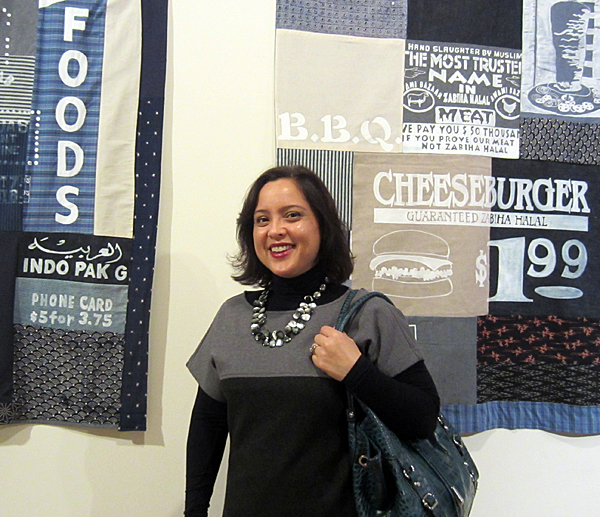 My first CAA conference experience came to a fun and refreshing end at ArtExchange, an open forum portfolio review in which nearly 40 artists shared their work in a wide range of media. Carol Cunningham, a CAA Travel Grant recipient, captivated passersby by eviscerating old stuffed animals to form new works of art. In her artist statement, she explained: "I strive to elicit self reflection and realization by playing the role of a villain."

 Although modest, the textile and fiber-oriented offerings in Chicago were among the highest in quality. I look forward to the 103rd conference in New York City (February 11-14, 2015). Proposals are already being accepted for the 2016 CAA conference. Find more information at www.collegeart.org.
*Editor's Note: Critical Craft Forum's co-founder Namita Gupta Wiggers will serve as juror for 1st International Surface Design Association Exhibition at Arrowmont School of Arts & Crafts in 2015 in tandem with Made/Aware, a 3-day intensive on socially engaged practice. Rowland Ricketts will be among many outstanding presenters. Check surfacedesign.org under CONFERENCES for updates as they become available.
______________________________________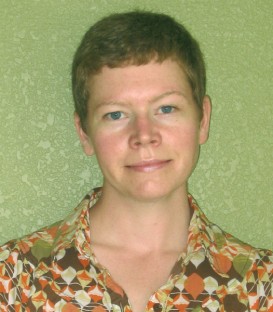 Marci Rae McDade is editor of Surface Design Journal and former editor of FiberArts magazine.
She received an MFA in Fiber and Material Studies from School of the Art Institute of Chicago and a BA in film and video production from Columbia College Chicago. She is also a mentor and instructor with the MFA Applied Craft + Design program (cosponsored by Oregon College of Art & Craft and Pacific Northwest College of Art) in her hometown of Portland, Oregon.
You can find her on Facebook.