Kickstarter Case Study 2: Thumbs-down!
August 29, 2010
(Editor's Note: For an introduction to Web 2.0 micro-donating site Kickstarter, please go to the related article Kickstarter Case Study 1: Thumbs-up! previously posted under Process & Business section of the NewsBlog.)
Kickstarter Isn't Always In "The Bag":
Bags for the People + Kickstarter = No $$$

Bags for the People is a young non-profit in its second year of operation; a year ripe with uncertainties, change and growth.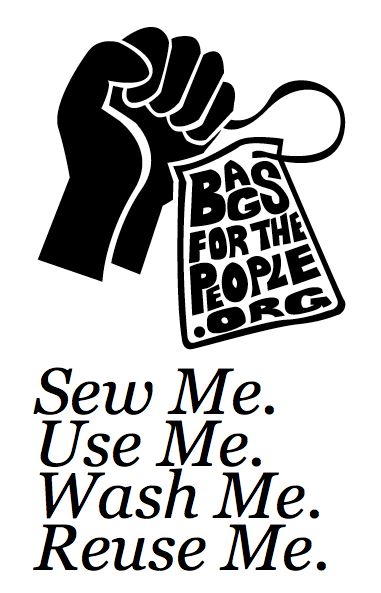 With a basic mission of protecting the environment by reducing plastic bag waste through reusable bag sewing workshops, everything seemed simple enough.  However, with the demand for the organization's services (leading workshops and participating in events) on the rise, shaping BFTP into an organization that can meet these demands has become increasingly complicated.
Challenges I've faced by sorting through these complications have allowed BFTP to grow and focus as an organization, giving rise to more workshop opportunities and a solid base of monthly community events.  There is one complication, however, that has been left unsorted.  The complication that every organization faces: funding.
BFTP has received and continues to receive sporadic donations and workshop fees, but with such irregularity that other funding options must be pursued.  An obstacle that limits our availability to funding is that BFTP lacks the 501(c)3 tax exempt status that would open the door to a seemingly wonderful world of grants.  Because of this we have had to look for alternative funding and Kickstarter appeared to be a viable resource for it.
I wanted to use the money that BFTP could potentially get from Kickstarter to fund our Sweatshop Social monthly reusable bag making events that occur at 3rd Ward in Brooklyn.  The events are free to the public and are part social gathering and part DIY-environmental-activist-crafting workshop.  The money was to be used to provide food, drinks, entertainment, instruction, and marketing for each event, allowing us to attract and work with a larger participatory audience.  After doing the Sweatshop Socials for over a year with virtually no money, the prospect of suddenly having a budget to work with was too good to be true.  Being able to pay people for their goods or services was a very novel idea.
With it's clean design aesthetic and wealth of successfully funded projects displayed for all to see, Kickstarter really makes you feel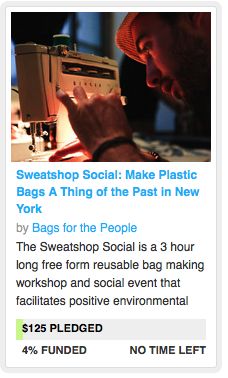 as though the money is as good as gold.  Before getting access to this gold, the Kickstarter staff directs you to the Kickstarter guidelines that explain the ins and outs of the website and how it can work.  Everything–including the project set up page–is very clear and easy to understand.  With these very concise instructions, as well as a place for a photo and for videos, setting up a project helps to organize and clarify your project's mission and goals.  The process is very user friendly.
Because Kickstarter is not a non-profit, they require each project to create reward levels–almost as if the donors are making a purchase as opposed to a donation.  This creates greater incentive for some, since many people like to "give" when they can "get" in return.  I, however, found it challenging to find a happy medium between amount donated and reward given.  If the donation level was too low and the gift too generous, I could end up focusing all my time supplying that demand while neglecting my other responsibilities.  I ended up using bags and bag
making kits as the reward for modest, but not low, donations.
While going through this process, I began to think I could just sell bags as a source of income–or even hold my own rigorous donation drive.  What if we don't quite reach our goal?  Kickstarter is all or nothing.  This may work for some, but for an organization that is already up and running that could use any money at all, just missing the mark is really frustrating. Persuaded by the number of apparent successes on the Kickstarter website, I nonetheless held my hopes high.  The project went live with 40 some days to raise the funds.  I sent the campaign to my mailing list, friends and to organizations BFTP partners with so that they could post it on their blogs/mailing lists.
During those 40 some days the project fell flat on its face.  Only 4% ($125) of our goal ($3,275) was raised.

What happened?  Why didn't we reach our goal?  I believe it stems from the fact that I wanted Kickstarter to be something it wasn't: a venue/organization to help artists and organizations gain visibility and attract funding for their projects.  In reality it is a venue/organization that helps artists and organizations organize their projects in a concise manner that can then be self-marketed.  This is a service that may be very important for a project, but may not be something that everyone needs.  I, for instance, already had the project organized; I simply needed help raising funds for it. This is something that Kickstarter does not do.  You, as the project creator, must perform all the leg work and solicitations.  You must go "door to door" so to speak, which for me was very challenging as I tried to juggle the day-to-day operations of BFTP.  It made me wonder: why would anyone even need Kickstarter?
If you are organized and ready to do a full-on marketing blitz, you won't need Kickstarter.  A simple PayPal account or, if  you're selling items (pledge rewards!), an etsy.com account will do just fine.  However, if you like the way Kickstarter packages and organizes projects – and let's face it, we all need a little structure every now and again – then go for it.  Just don't expect to sit back and watch the money roll in.
To view the Bags for the People Kickstarter campaign, click here
___________________________________
Glenn Robinson is a Brooklyn transplant from Southern California who has escaped the world of digital design to enjoy nature and human contact. He can be reached through BFTP at glenn@bagsforthepeople.org