Link About This: Yarn Bombs, Baskets, Edgy Toile + More
October 31, 2012
Yarn Bombing Makes Its Mark Worldwide

A while back, I included a link to a tree wrapped in yarn as a charming oddity.
As you probably know, tagging outdoor objects with yarn has since become a movement with a name – Yarn Bombing – aka Yarnstorm Grafitti. According to Wikipedia, International Yarnbombing Day was first observed in Canada on June 11, 2011.
Deadly Knitshade is the "nom de knit" of Lauren O'Farrell, an early-adopter and UK practitioner of craft grafitti to whom coinage of the term "yarnstorming" is attributed. She transformed an archetypal British red telephone box into Dial M for Monster (known to his friends as Muncher) as part of BT (British Telecom) ArtBox project to raise funds for a charity. Her guerrilla knitting collective's site is Knit the City.
Magda Sayeg of Houston, Texas, is considered the Mother of Yarn Bombing. She founded Knitta Please (the noun"knitta" was inspired by the slang "gangsta") in 2005 and her website is a must-see! She's working on documentary about yarnbombing; view the teaser here:
Finally, check out a New Zealand-style yarnstorm here:
Mobilia Gallery: An Illustrious Array of Artists + Textiles (& Baskets!)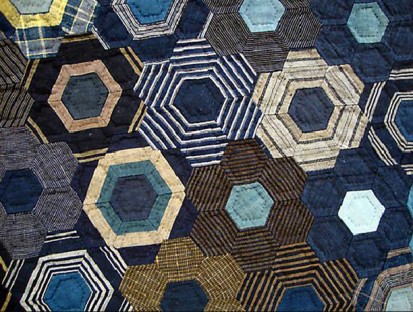 A search of Mobilia Gallery's database of artists yields links to 17 detailed pages of work using textile media.
Some pages have statements + lots of images – like SDA Member Donna Rhae Marder's page – with 59 images of her extraordinary sewn-paper pieces including a dozen detailed close-ups. Some pages just have just a few pictures – like 3 images of SDA Member Lois Russell's baskets or 5 examples of Ann Coddington's twined pieces with eerie eyes.
A few pages have captions you can see by moving the cursor across the top of the photo, but most don't give you any information about the individual works. The work is well worth seeing any way. Click on the thumbnails 1 at a time to see them larger.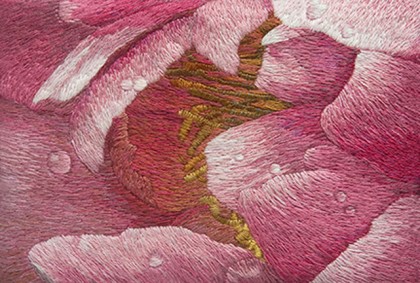 Some of my other favorites are SDA Member Elizabeth Whyte Schulze's coiled/painted pineneedle and raffia baskets; Tomie Nagano's hand-sewn quilts (shown above); Linda Behar's tiny, rich embroideries (at right); and Ellen Moon's one-of-a-kind clothing featuring a range of techniques. Most of the pages don't have links to artists' websites, but you can google them.
Mobilia Gallery's site also features links to its current and previous EXHIBITIONS with lots of great pictures. Especially interesting are Contemporary Visions of Surface Design – Textile as Painting/Painting as Textile from early 2012 and The Vessel Redefined: Contemporary Basketry from 2011 – as well as shows for many individual fiber artists.
V&A's Video Channel Features Edgy Urban Toile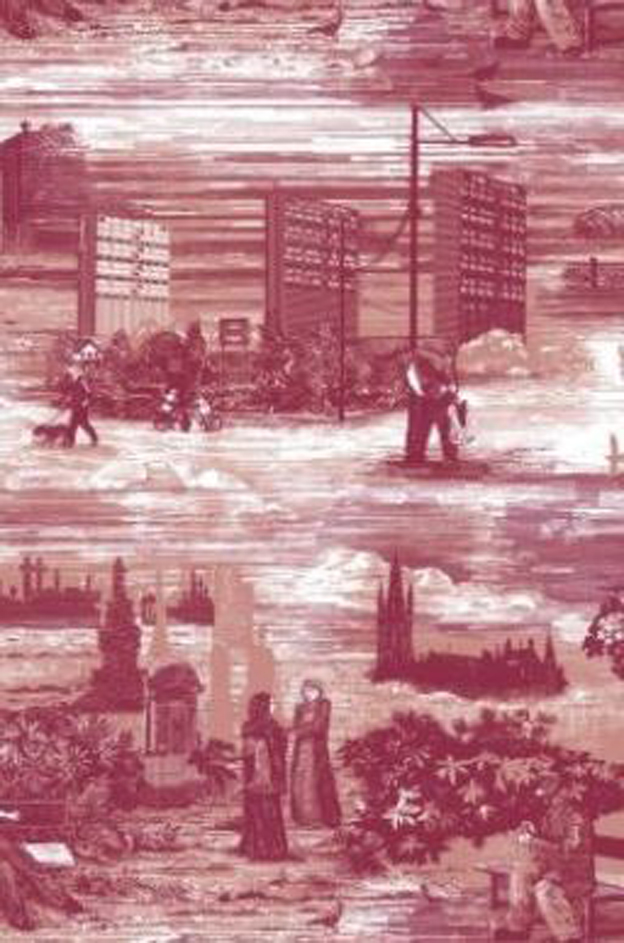 This link takes you to London's Victoria & Albert Museum online video channel and specifically to one of their films featuring 2 Scottish designers, Alistair McAuley and Paul Simmons, whose Timorous Beasties textile studio is famous for producing a contemporary versions of 18th c. textiles – like their Glasgow Toile on which "junkies and vagrants replace traditional images of 18th-century French peasants…"
In the menu on the left, under "Textiles", there is another interesting film about quilt maker Natasha Kerr.
The whole site is fascinating (although I did get lost a few times) and will generously reward exploration and study.
Check out a series of videos called Fashion in Motion about current designers.
If you come to a screen that requires you to register, it's quick and easy.
HAND/EYE Online: Textiles for a Better World
This link takes you to the homepage of Keith Recker's Hand/Eye Magazine, an independent, international publication (in both digital and print formats) that focuses on artisans, small businesses and ethical practices. It features dozens of articles of interest to textile lovers and makers – especially as regards sustainability issues. Design and fashion are also well-reported.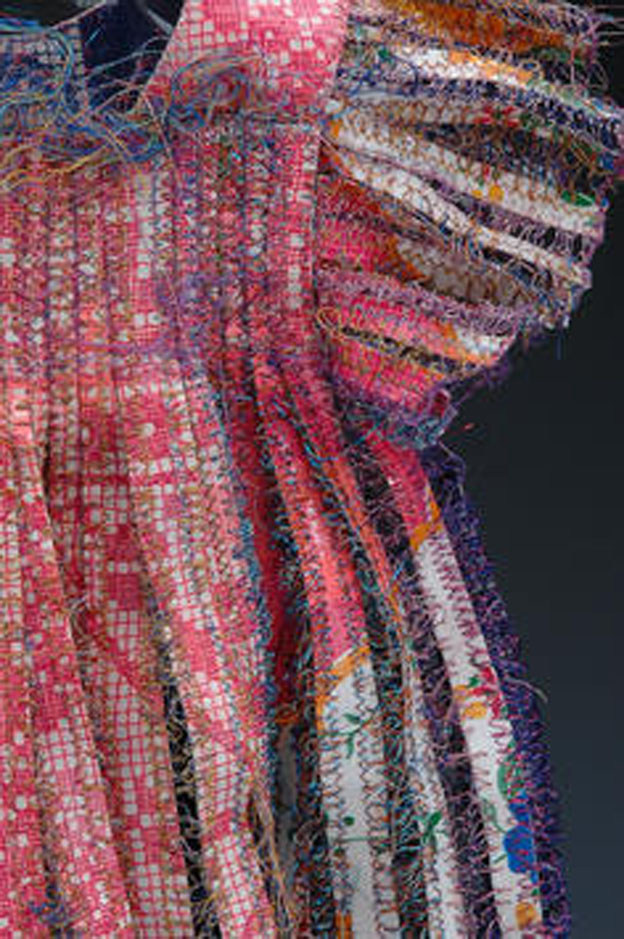 Scroll down the home page and you will find links to illustrated, sometimes lengthy, articles about a wide world of topics. And there are more to be found in the menu at right top – Materials and Processes, Heritage and History, Sustainable Fashion, Effective Philanthropy, Inspired Reading and much more.
Each article has a slide show to the right. The pictures about the woad dyeing workshop are great – and the article is very, very detailed.
The article I loved the most is about Donna Rhae Marder, who is also mentioned in an item above about Mobilia Gallery.
(Editor's Note: Rumor has it that Hand/Eye in print is closing shop. We can only hope the online magazine is viable, since it is certainly beautiful – and served as inspiration for SDA's own NewsBlog.)
Curator Crow's Color Improvisations Quilt Show Goes International
Color Improvisations is a show of contemporary quilts curated by Nancy Crow in 2010 – and still traveling. She invited 26 quilt makers from North America and Europe to improvise on the theme of color in a 2-year process, after which she selected "50 large and unique works, all exciting and new in every sense of the word."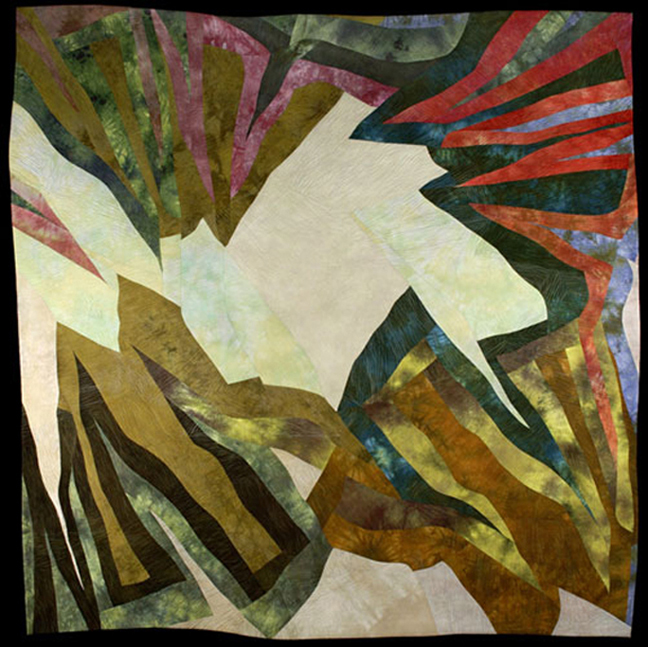 The show's website has a link for "exhibition photos" that takes you to a flickr photostream archive to see installation shots from the first venue. Click on "Slideshow" to see the whole photostream – including a short video.
You can control the speed of the slideshow by going to "Options" and you can activate the captions by clicking on "Show info." That feature is especially useful when the individual artists are shown, each in front of her work. If you want to see more of a particular artist, go back to Color Improvisations website to the list of artists and where they are from. From there, you can link to their individual websites (14 of the 26 artists have links). A favorite selection of mine by is shown here. See more of Bonnie M. Bucknam's work at www.handwerktextiles.com.
The exhibition will be shown in Europe through Spring 2013 with any additional venues announced via Nancy Crow's website. From November 1 – 4, it will be at The Knitting and Stitching Show of the Royal Dublin Society (RDS) in Dublin, Ireland; from December 6 – March 10, 2013, it will be at the Textilmuseum in Neumünster, Germany.
Tags:
Basketry
,
Craftivism
,
Dyes
,
Exhibitions
,
Member Buzz
,
Quilts
,
Sustainability
,
Textile Design
,
Textile-philic Galleries
,
UK Textiles
,
Yarn Bombing