"Longing for Home: Stories of First Generation Australian Women" by Sofie Dieu
March 24, 2021
Between October and November 2019, I organised a series of embroidery workshops in the Eastern suburbs of Melbourne. This Community based project, Longing for Home, aims at acknowledging first generation Australian women through their creative work and social connection.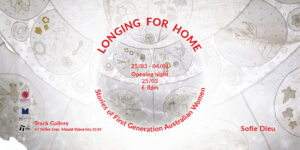 ---
Earlier in the year, the idea to produce a collective wearable artwork based on skill sharing, personal narratives, and slow stitching had slowly emerged. I had spent a month at Lizieres Cultural and Resources Centre in France researching my connection to my ancestors' land in Picardie. I reached a point where I questioned what my own experience meant to others. How was it any relevant to my Community and society at large? 
As a new Australian, I am well aware how other women like me play a pivotal role in their family, on an inclusive, well-being and creative level. Through caring for themselves and others, through their ability to network, women become the foundation and glue of a strong, healthy Community. This hard work and long-term endeavour is most often unrecognised as after arriving in Australia, women undertake it silently. As an artist, as a woman and as a first generation Australian, I wanted to publicly celebrates this incredible commitment.
With the support of the Victorian Immigrant and Refugee Women's Coalition, the City of Monash and Kingston Arts I was able to run 43 workshops in various spaces such as Westall Hub, Cheltenham Community Centre, Clayton Community Centre and Mount Waverley Hub. Every week for eight weeks, each session was attended by 50 women. We talked about womanhood and displacement, the joys and difficulties to make Australia our new home and found so much in common despite our different background and age. In the context of immigration, we teased out the emotionally charged meaning of home, and draw on personal narratives and creativity to translate our own experience. 
To interpret these different aspects of a new found life, I introduced symbols and their meanings each week to the workshop participants. Women picked up the designs they felt attracted to, often reinterpreting them to fit their own story. I would then demonstrate how to embroider each symbol using various stitching techniques including appliques, blanket stitch and even crochet. Some designs were introduced by the women themselves to refer to their specific culture and memories. Migrant birds, ivy and trees show to be very popular to portray immigration, perseverance and adaptation. The tree in particular resonated with many. Being a native pine or being born from imagination, it appeared to be a powerful symbol of what it means to live in a new country as if a tree's roots represent the origin of the embroiderer, its leaves and branches show how her life has spread beyond the borders of her birth country. 
Women selected the fabric, thread and pearls they wanted to work with. They also decided on the composition, dimension of each symbol and overall rendering of the artwork. Each embroidery therefore tells a different narrative that have been gathered in the book "Longing for Home, Stories of First Generation Australian Women."
Each embroidery has now been assembled to form a 320cm (126″) diameter dress. A year ago, during a residency with Falls Creek Arts and Culture, I performed the dress along the creeks, rivers and falls of the Alpine region. A series of painted photographies and a video performance have since been created and along with the dress, this new body of work will tour in Victoria and New South Wales this year. The first stop is where it all started at the Track Gallery in Mount Waverley. The exhibition will run from the 24th of March until the 4th of April. I could not have hoped for a better location to close the (embroidery) loop.
---
—Sofie Dieu has a Bachelor in Textile Design and Sculpture. In 2016, she graduated from Montpellier III University with a Master in Visual Art and Contemporary Practice. She currently teaches design theory at Monash University.