Made/Aware: Summer/Fall 2015 Surface Design Journal
December 3, 2015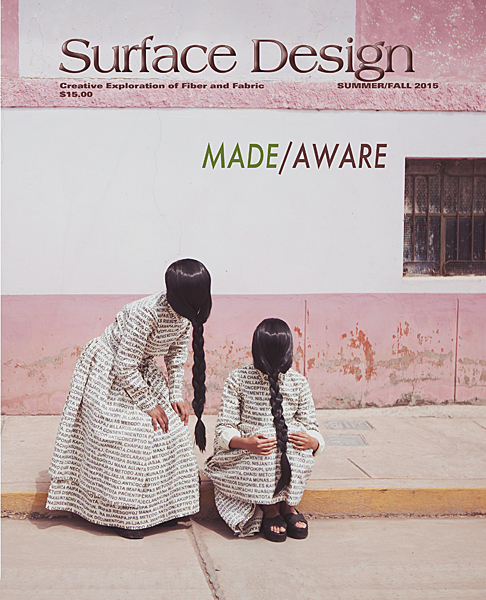 This issue introduces many of the exciting eco-friendly and politically active artists, designers, and educators who inspired attendees of the *Made/Aware: Socially Engaged Practices SDA Craft + Concept Intensive 2015, hosted by Arrowmont School of Arts and Crafts in Gatlinburg, Tennessee (October 8-11, 2015).
In addition to in-depth talks, panel discussions, and workshops, attendees enjoyed seeing dozens of select pieces from *Materialities: Contemporary Textile Arts, the first international exhibition of SDA Members' work juried by Namita Gupta Wiggers.
The roster of influential textile artists and entrepreneurs included: Catharine Ellis, Carole Frances Lung, Charllotte Kwon, Rowland Ricketts, Laura Sansone, and Yoshiko I. Wada, to name just a few. Keynote speaker, artist, author, and advocate Mary Fisher shared her story of making a lasting and impactful difference in the lives of others working with artisans in Africa to create the 100 Good Deeds collection of handmade jewelry. "Live with joy and purpose, and you will inspire others, understand love, and be delighted to serve."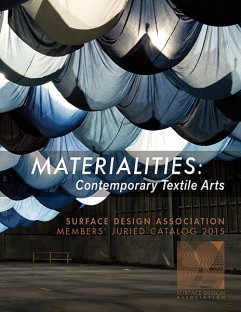 Visit SDA NewsBlog to read more about Made/Aware intensive and Materialities exhibition/catalog.
All current SDA members enjoy free access to the digital version of this special publication, which celebrates the exceptional work of 91 SDA members from around the globe. The gorgeous print edition can be purchased online in SDA Marketplace.
To read a sample of this issue, visit the Journal homepage.
To purchase this issue, visit SDA Marketplace (online).
To subscribe to Surface Design Journal, join SDA today! Now in print and digital formats, SDA Journal is one of many outstanding benefits you will receive with membership in our international textile-arts-inspired community.