"Marigolds & Unicorns" Surface Design Journal Out Now!
December 20, 2019
Surface Design Association is excited to announce "Marigolds & Unicorns," our Winter 2019 edition of Surface Design Journal! This Journal features imagery and articles all focusing on plants and animals represented in textile art. "Humans, out of necessity and desire, have cultivated a (mostly) symbiotic relationship with the flora and fauna that cohabitate this planet. If we look to our past, it would be difficult to find an art historical period that wasn't filled with imagery of the plants and animals in a particular landscape." – Elizabeth Kozlowski, SDJ Editor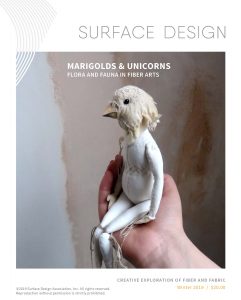 ---
Here's a preview of what you'll discover:
1) "Art of Susanna Bauer" by Mike Holmes looks at the meticulously crocheted leaves Bauer creates with insights into her studio practice and material choices. 
2) "Mythologies of the Pale Rook" by Keira Brown features work by Scottish artist Johanna Flanagan, who began creating textile dolls four years ago while living in Norway.
3) "Douglas Baulos: Surviving the Wreckage of Everything" by elizabet elliott explores how Baulos utilizes craft and folk traditions in paper and book making, ceramics, weaving, and more to create site-specific installations, wall collage, and assemblages.
4) "Ruth Jones: Tapestry Artist and Interpreter of the Mystical Unicorn" by Angela Clarke spotlights the tapestry artist who interprets early Flemish and Aubusson traditions to create work that is deeply personal and critical of society.
5) Exposure features a  gallery of SDA's Massachusetts/Rhode Island Regional Group member's work, all of which met with SDJ's Managing Editor, Lauren Sinner, over the summer for a wonderful series of studio visits and chats.
6) Made Aware by Bethany Taylor tells her story of delicately interconnected ecologies—full of interaction, loss and constant change—as humans tragically and belligerently progress into a man-made mass extinction. 
7) In the Studio by Carol Eckert features her project Memento Mori, a series of dead birds from all over the world, coiled from cotton and linen. 
8) Informed Voices: "Flora and Fauna Motifs in Scandinavian Knitting" by Eva Zethraeus and Anna Bauer looks at the lesser-know, but equally important, Scandinavian knitting patterns of plants and animals.
9) Curatorial Perspectives: "Flora and Fiber in the Collection of the Ruth Funk Center for Textile Arts" by Keidra Daniels Navaroli looks at how shifting perspectives on art, craft, and design within curating and collections changes over the years.
10) Fiber In Film: "Craft in America: QUILTS" reviewed by Leora Lutz previews the episode (coming out December 27th, 2019) that features stunning historical and modern quilts and, includes Susan Hudson, Michael A. Cummings, Victoria Findlay Wolfe and Judith Content.
11) In Print: "The Conscious Closet: The Revolutionary Guide to Looking Good While Doing Good" by Betsy Greer reviews the book that teaches you how to feel more in control about what you own.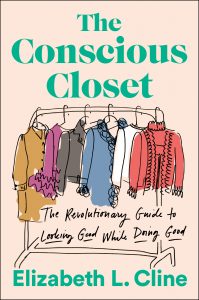 12) In Review: features both "Where Were you at Night" reviewed by Janis Jefferies and "America Weaves" review by Erin Thurlow. 
---
To buy a copy of "Marigolds & Unicorns," go to the SDA Online Store, or you can check out a free digital sample on our SDA Journal page.
Tags:
Angela Clarke
,
Anna Bauer
,
Bethany Taylor
,
Betsy Greer
,
Carol Eckert
,
Craft in America
,
Douglas Baulos
,
elizabet elliott
,
Erin Thurlow
,
Eva Zethraeus
,
Fauna
,
flora
,
Janis Jefferies
,
Johanna Flanagan
,
Judith Content.
,
Keidra Daniels
,
Keira Brown
,
Leora Lutz
,
Marigolds & Unicorns
,
Michael A. Cummings
,
Mike Holmes
,
Nature
,
Ruth Funk Center for Textile Arts
,
Ruth Jones
,
Scandinavian Knitting
,
Susan Hudson
,
Susanna Bauer
,
the Pale Rook
,
Victoria Findlay Wolfe