Nature Bound: Spring 2014 Surface Design Journal
May 6, 2014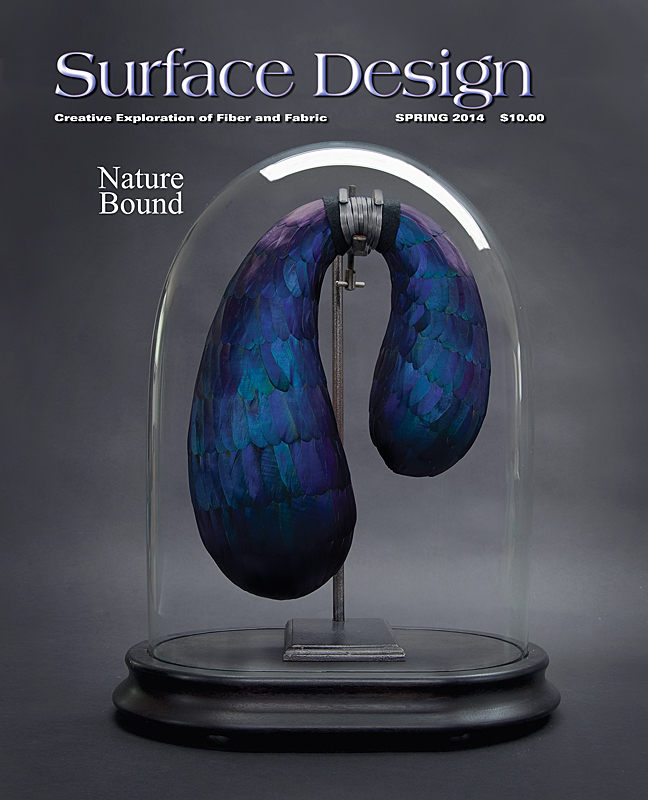 Wrapping my head around the "Nature Bound" theme of this issue, my thoughts have returned often to the phrase "Good design needs to embody ethics." These are the wise words of Rohan Chhabra, featured artist in the Emerging Voices
A kind of conceptual friction is at the heart of many of the stories in this issue. Without exception, we are all part of the circle of life, inevitably bound by the laws of nature. What we do with our limited time and energy—how we choose to interact with the planet and contribute to its conservation, or not—is entirely personal. But the clock is ticking.
From environmental activists to lovers of the great outdoors, this issue is bound to offer a range of captivating articles!
To read a sample of this issue, visit the Journal homepage.
To purchase this issue, visit the online SDA Marketplace. 
To subscribe to Surface Design Journal, Join SDA today! Our quarterly  print publication is one of many outstanding member benefits you will receive with a membership.
Find related links to this issue's profiles and features below.
Kate MccGwire:
Unexpected Beauty

Accumulation plays a central role in determining the scale of each piece. Kate MccGwire's sculptures tend to be large—very large considering what is involved to gather her materials. Size is determined by the amount of feathers available to her at a given time. 
Kate MccGwire's work will be included in Birds of Paradise at ModeMuseum (MoMu) in Antwerp, Belgium (through August 24, 2014); in The Tourists at Felbrigg Hall, Gardens and Estate of the National Trust in Norfolk, England (through October 31, 2014) and in Wonder of Birds at Norwich Castle Museum & Art Gallery (May 24–September 14, 2014) in Norwich, England.
Harvest: Shannon Weber

Creative process and product are inextricably linked. For Oregon artist Shannon Weber, both are determined by environment. Working at the water's edge, be it river or ocean, she harvests her materials directly from the wild—beaver sticks, kelp, willow, driftwood, fishbones. Weber incorporates manmade detritus she discovers along the way, such as worn beach plastics and bits of rusted metal unearthed along trails near burnt-out mills. Forms rich with texture and embellishment echo themes of harmony and dissonance between humans and the natural environment.

Interpreting Nature: Piecing Abstraction

Pablo Picasso famously claimed that there is no abstract art. "You must always start with something. Afterwards, you can remove all traces of reality." Nature has been a core source of inspiration for four contemporary quilt artists whose practices have remained firmly vested in piecing. The boundaries of recognizable form can be pushed, but from within a revered genre that possesses a history. Inspired by nature, Heide Stoll-Weber, Pat Pauly, Mary Lou Alexander, and Connie Carrington have all pursued piecing techniques for years, honing their skills to enable greater personal expression.
Sandra Jane Heard:
Wound & Wound
By Christopher Merlo

In the work of Sandra Jane Heard, the wound is wound. Literally, silk thread, yarn, and linen are wound around allegorical wounds inflicted by man upon nature. Her work is not meant to be a tongue twister but rather an eye opener as she spins a cautionary tale with each of her narrative sculptures.
Sandra Jane Heard's  solo show Rust-Belt-Muse is on display at River House Arts in Perrysburg, Ohio (May 9 – June 25, 2014).
Marking the Way Home

For Roz Hawker, Isobel McGarry, Judy Keylock, and Brece Honeycutt, home is the place that informs their practice as well as the place where their work is formed. They share a love of plants and the joy of gardening. All have, at one time or another, been my students.They all use the ecoprint technique that results in a natural design, created when plant parts, such as leaves, bark, or flowers, are bound with cloth or paper in the presence of heat and moisture. The work of each artist is clearly distinguished by its maker's hand, as well as the bio-region that supplied the dye material. Remaining true to the "eco" principle that underpins the process, each avoids the addition of traditional synthesized mordants. Instead, they rely solely on the offerings of nature, supplemented only by metals found during their wanderings and water delivered through the kitchen tap.
Read India Flint's related article "What's In Your Bag: A Heads-Up On Bio-Hazards" on SDA NewsBlog.
Mark Mitchell:
Fashioning Eternity

In the elegant drape of silk charmeuse, the structure of a perfectly fitted shoulder, or the detail of a hand-crafted button, Mark Mitchell's work straddles the line between costume and fine art, life and death. His flamboyant costumes for burlesque performers have the design and fit of runway gowns. But the work that compels him is quieter and far more provocative: a line of hand-tailored garments in which to bury the dead.
 To watch the award-winning video about Mark Mitchell's Burial exhibit at Frye Art Museum in Seattle, Washington, visit vimeo.com/77758138.
Bound by Brazil:
Mozart Guerra's Animal Logic

Mozart Guerra's sculptures are subtly subversive, with a style that communicates strategically, pleasantly, and effortlessly. His work portrays the ambiguous relationship between man and nature, one of simultaneous admiration and destruction. 
Mozart Guerra is represented by Klaus Steinmetz Contemporary in San Jose, Costa Rica. Paulina Ortiz is President of Iberoamerican Textile Network.
Nature (Un)Bound:
Maria Nepomuceno
By Stefano Catalani

Brazilian artist Maria Nepomuceno uses store-bought materials and ready made objects, such as ropes, necklaces, beads, porcelain dishes, paint brushes, terracotta, cement, and bricks, to create organic installations that evoke nature's pulse of propagation and proliferation.
Maria Nepomuceno is represented by A Gentil Carioca Gallery in Brazil and Victoria Miro Gallery in London.
The Design of Nature
By Michelle Fifis

In an 1881 lecture "Some Hints on Pattern Designing," Robert Morris stated that his ideal pattern held "unmistakable suggestions of gardens and fields." Moved by naturalistic elements of beauty, innate structure, and relatable motifs, he changed the course of the design world. Generations of designers have been impacted by his vision.
William Morris Gallery, London
Victoria & Albert Museum, London
Michelle Fifis is founder of the textile-design professional development site PatternObserver.com.
Emerging Voices: Rohan Chhabra
By Rohan Chhabra

"Good design needs to embody ethics. The ability to use design to inform and reform social and ethical issues is something that really interests me. I am trained as a fashion and industrial designer, but I have a keen interest in wildlife conservation that drives the narrative of my work."
Rohan Chhabra  will be celebrated as a Wildlife Artist of the Year by David Shepard Wildlife Foundation in June of 2014 at the Mall Galleries in London.
To read a sample of this issue, visit the Journal homepage.
To purchase this issue, visit the online SDA Marketplace. 
To subscribe to Surface Design Journal, Join SDA today! Our quarterly  print publication is one of many outstanding member benefits you will receive with a membership.