On Campus with Kaino: Get Your Student Work Out There!
November 3, 2010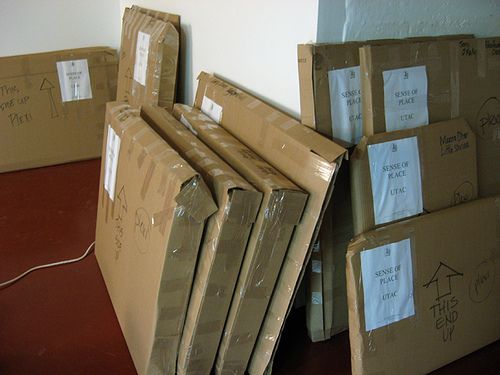 Good student-level work is missing from art shows, galleries, runways and competitions.
Why?
We hesitate.
We are afraid.
We don't make the time to enter.
We have got to be brave!
Here is how and why we should begin looking, creating and entering:
Having entries accepted for exhibition in art/craft shows, galleries,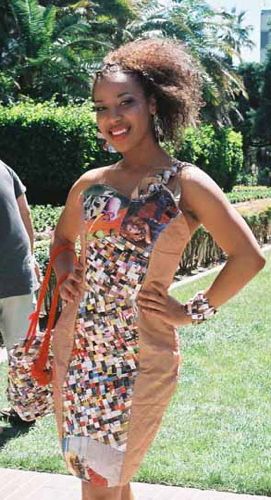 museums, public runway shows, charity auctions, etc. strengthens our resumes and list of accomplishments.
Many galleries are happy to partner with students; "calls for entry" are often advertised through art stores, art magazines, journals, member-only galleries, associations and guilds like SDA and HGA. Sometimes there are specific "calls to student artists" (see links below). Many charities have runway shows and auctions that benefit the community–and that can benefit our resumes. Getting work out there boosts our qualifications for getting the arts-related, creativity-centered positions we hope to land out there in the "real" world.
Here are the three most important ways to get our work out there:
1.    FIND THE RIGHT PLACE
Check out the website or if possible, the actual location.

If it's a gallery, make sure your work, your aesthetics, your medium—
or multi-media–are a GOOD FIT.

Make sure your work RELATES TO THE TITLE or guidelines posted.

Confirm that gallery/competition/show is open to student work.

Calls for entry usually state clearly if student work is accepted or not.
2.    FOLLOW THE DIRECTIONS!
This is the biggest reason submissions are TURNED DOWN.

Sending the wrong image sizes, too many images, incorrectly completed forms
or entering the piece in the wrong section of the call for art will sabotage your efforts.

Be sure your image matches the actual artwork shown!

Often very explicit directions for sending artwork must also be followed.
3.    FIND THE RIGHT PRICE
Be ready and willing to sell your work and get your name out there.

Rarely will early pieces sell for what they are worth.

If you are not ready to sell, say so: NFS.

Get help with pricing from local SDA members or professors so you hit it right.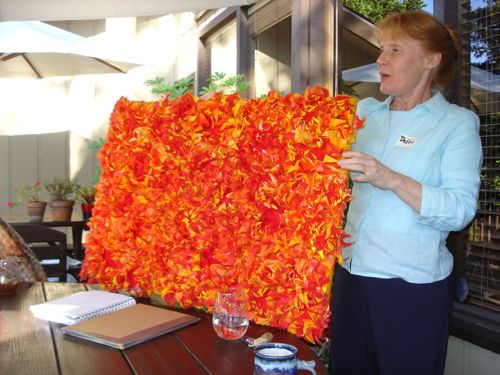 START EARLY: Recent student work may fit a call for entry, but much of it will need to be created in response to the title of the show and the guidelines. Start early, find a good photographer, then ENTER!
GET A SECOND OPINION: If you want another opinion from artists with experience beyond qualified professors, think about asking your local chapter of SDA when it meets. Ask about attending and bringing your work for an honest and constructive critique session. This can also lead to mentoring as well as partnerships and collaborations for future artwork—and it builds a friendly post-graduate network.
GO LOCAL: Don't be shy about calls-for-entry on your own campus and surrounding galleries—this is the most obvious and appropriate way to test the waters.
DEVELOP A THICK SKIN: Don't get discouraged if your first attempt is not accepted or if it does not win first prize. Any show that accepts a work becomes a viable line/item on a resume.
SHARE YOUR RESOURCES TO MAXIMIZE  OPPORTUNITIES: If you have local, national, and international calls for entries to share with other SDA student/members, please post them in comments below.
SHARE YOUR SUCCESS: If you have entered and shown, please send low-resolution images of yourself and your work. This article is illustrated with a few of my pieces; please send yours. We want to see what you've been creating and share your success.
Be BRAVE and DO IT!
GUIDELINES FOR CURRENTS, the juried student competition at
CONFLUENCE: 2011 International SDA Conference,
are available to download at
dev.surfacedesign.org/documents/2011Conf/2011StudentsShowGuidelines.pdf
JOIN US! Undergraduates or graduates who are enrolled in an art or design program
during the 2010–2011 school year are eligible to participate.
All entrants must be SDA members.
FUND-RAISING/SILENT AUCTION OPPORTUNITY
for New England/CT SDA members:
www.hunthillfarmtrust.org/index.php?/gallery/#ppf
INTERNATIONAL Calls for Entries:
calltoartists.websiteanimal.com/#
OPPORTUNITIES FOR STUDENTS

can be self-posted on the

Bulletin Board
under COMPETITION DEADLINES

(on the current SDA website)

are published in the

SDA Monthly eNews email when information is available.


Please make sure your current email address
is in the SDA database in order to receive this member benefit.


info@surfacedesign.org
The REDESIGNED SDA website (debut January 2011) will include
a more user-friendly calls-for-entry section.
Please stay tuned for further information on improved opportunities
listings for SDA members once the new website is launched.
____________________________________________________________________________

E. Kaino Hopper is currently pursuing her MFA at the University of California/Davis. A seamstress for many years, she designs an award-winning clothing line called It Works For Me for women with both lowered and full mobility.