SDA 2013 Members' Show Award Winners Circle
September 6, 2013

Of SDA's many member benefits, the biennial members' show (held in conjunction with our conference) is one of the most popular and highly-valued. Savor images of the 6 award-winning entries from in•ter•face Connections below – along with comments from both judges and each of the winners.
Profound thanks to Nicole Amri and her superb staff at SAY Sí Gallery in San Antonio for partnering with SDA to fulfill our mission to educate and advocate for the textile arts via exhibitions that engage an ever-expanding audience across borders and generations.
Jurors Statements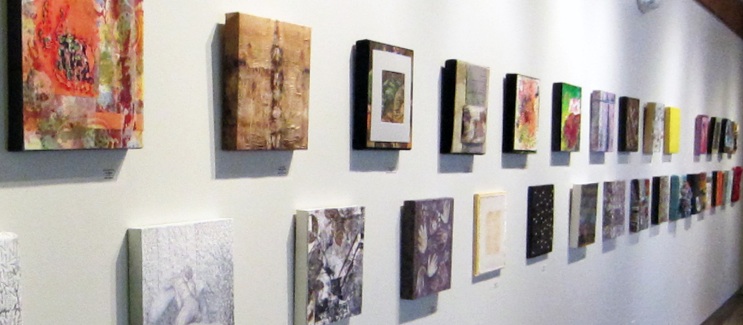 SDA Journal Editor Marci Rae McDade (MRM):
One step inside the beautiful SAY Sí Gallery space in San Antonio and I knew I had my work cut out for me as a juror of this show. It was truly inspiring to see recent work by so many dedicated and passionate textile artists willing to share their creative vision. As an MFA alumni of the more conceptual Fiber and Material Studies Program at the School of the Art Institute of Chicago, my criteria were
1) innovative interplay of materials/techniques with professional presentation
2) engaging narrative/conceptual content
3) ability to push the prescribed design parameters in new and unexpected directions.
SDA Digital Publications Editor Leesa Hubbell (LH):
I've seen many SDA member's shows during my 37 years as an SDA member; this 2013 show hit a sweet spot of format + venue. The 12″ x 12″ works hung in double and triple rows around the changing angles of the space really amplified the textile talent assembled there. It was a delicious challenge to first agree on the judging criteria and then draw on my 30 years of textile and fashion design experience to deliberate with Marci to select 6 awardees.
Joy Stocksdale Best in Show ($700)
Constance Chapman:  Paper, Fabric and Thread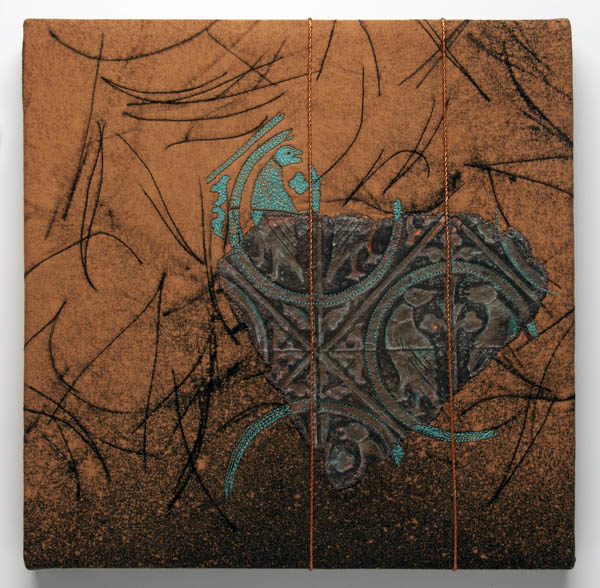 LH: This piece was like a powerful magnet that kept attracting me to it. It is an exemplar of the mixed media making that has energized current textile arts practice. Constance not only submitted a fascinating and compelling composition, she also demonstrated mastery of professional communication skills by taking the time to write a thank you note for receiving the award. Good reputations get built with social as well as creative intelligence.
MRM: Constance Chapman's entry hit all 3 goals with her combination of hand-cast paper, dyed fabric, felt, machine embroidery and couching of copper metal cord. With its mysterious tribal/archeology vibe and earthy color palette, it was a clear choice for Best in Show. Speaking with Constance via email after the conference, I was gratified to learn that it was the very first piece of this kind she had attempted. Her gamble on submitting more adventurous and experimental work paid off with positive feedback and funds to continue the series.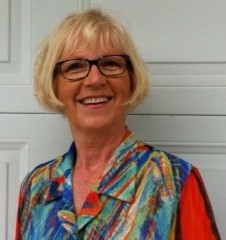 Constance Chapman (from Sechelt, British Columbia, Canada) comments: My work is often inspired by the materials themselves. For this show, I immediately wanted to connect cast paper to fabric with thread and metal. The small format size for this show initially seemed challenging, but once I started I worked quickly and intuitively and it was very freeing. Creating texture is always my goal. Inspiration and focus come from reading, my photographs and found objects. 
I've been connected with Grouse Mountain Quilting Guild, Vancouver Guild of Fibre Arts and now SDA for about 12 years. My formal education in art started with the Foundation Year at Emily Carr University in Vancouver and later I graduated from Textile Arts Department in Capilano University in North Vancouver. It has been great to connect with some of the actual people in SDA since winning the award. 
Second Place ($400) 
Debra Smith  Conversations with Carolyn, #13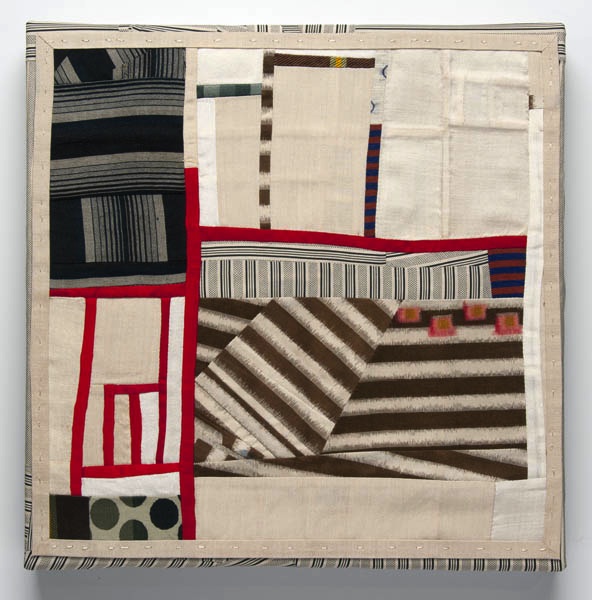 MRM: Debra Smith's quilted piece captured my 2nd place vote with its intense yet playful piecework. I returned to it several times during the judging process to enjoy the map-like qualities of the composition and confidence with which she executed the intricate design. The fragments of fabric and conversational theme of the piece also reminded me of the great Claire Zeisler, who created a wonderful series of tiny stitched cloth objects (just for fun to keep her hands busy) when she talked on the phone.
LH: This composition also had a hypnotizing effect on me. I was compelled to turn and seek it out from wherever I was in the gallery. It always delivered a very satisfying aesthetic experience. It is, quite simply, a gorgeous composition, impeccably executed.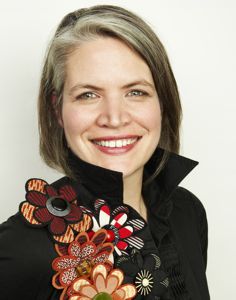 Debra Smith (from Kansas City, Missouri) comments: I am not a poet or someone who draws, but I feel that my use of vintage textiles as a medium brings a history, a weight, a poetry to the work before I even begin to cut, sew and piece the work back together. Allowing the work to intuitively flow through me, the end result is similar to a drawing or poetry. 
The 12″ x 12″ format was not too far of a reach for me, but having to attach it to a canvas was the challenge. Not a typical way that I work, I found that by covering the canvas with my pieced fabric it created a more cohesive conversation with my work. 
I became an SDA member while working for Jason Pollen in 1993. 
It is quite an honor to be recognized by my colleges in a field that I am so passionate about.
Third Place ($300) 
Adrienne Sloane  Splash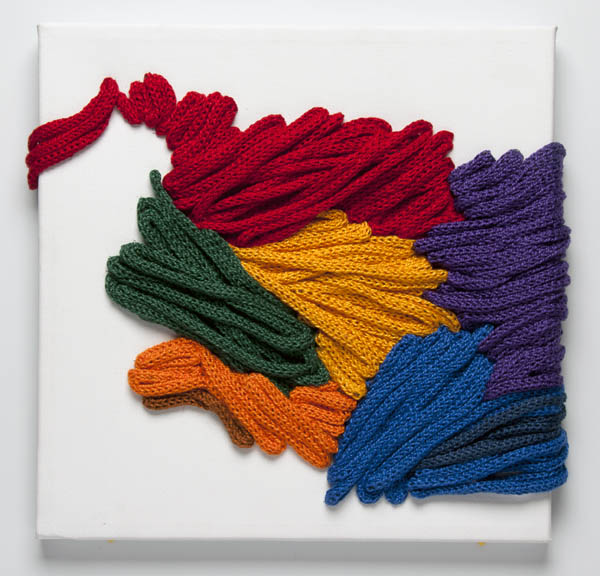 LH: I was won over by Adrienne's humor, technical sleight-of-hand and the subtle references to visual arts history like abstract expressionist stain painters Morris Lewis – all packed into (and flowing out of) a 12″ x 12″ square. Really exceptional concept, technique and execution. 
MRM: For 3rd place, Adrienne Sloane's vibrant machine-knit entry oozed a cheeky sense of humor that I could not resist. Boldly taking a "less is more" approach to the 12-inch-square design challenge, I admired the gestural and painterly qualities even more after I learned that it was submitted by an artist who tends to create more complex and political knitted constructions.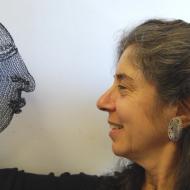 Adrienne Sloane (from Watertown, Massachusetts) comments: As a long-time SDA member (and MA/RI regional representative), I like the challenge of the bi-annual formats, which often inspire me to think differently about how to approach my work. The conundrum I set for myself this year in thinking about knitting and a 12" by 12" canvas was to come up with a textural and painterly approach. My recent work with I-cord and wire inspired a natural transition to conceiving of each length as a paint stroke. 
I was honored to have my piece receive the 3rd place award at the SDA Conference in San Antonio.
Honorable Mention ($100)
Katherine Davis  Traffic pattern interface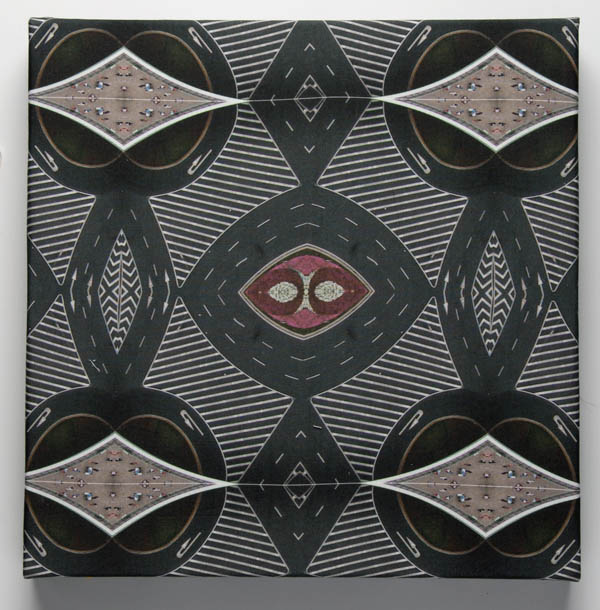 MRM: Katherine Davis's piece was chosen for Honorable Mention in large part due the artist's willingness to let design dominate surface. The absence of intricate handwork in lieu of a clean digital textile print was both encouraging and refreshing. As textile artists, we tend to forget that our designs (drawn, painted or computer-generated) can often stand alone as visually compelling works of art.
LH: Software programs that put an image into kaleidoscopic repeat with a few mouse clicks are fun – but you can always tell that's how they were created. The power of this image is in the editing – and the mix of scale. From afar, it feels tribal and totemic. Up close, you see that it is composed of tiny people and traffic markings. From near or far, it's a worthy example of digital design.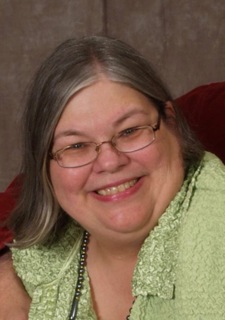 Katherine Davis (from Atlanta, Georgia) comments: This award means a great deal to me because I just graduated with a BFA in studio art/textiles.  Receiving honorable mention for my work inspires me to work toward my dream of becoming a textile artist.
I love taking pictures, especially when traveling. I find it interesting to digitally select one element from a photo, turn it into a design, and have it printed on cloth. It is amazing how the design can be reflective of the photograph yet different at the same time.
This design element was street markings in Shanghai, China.  It was a nice memento of the study abroad trip without being the typical tourist shot.
SDA Award of Excellence
Sharron Parker  Colorplay XVI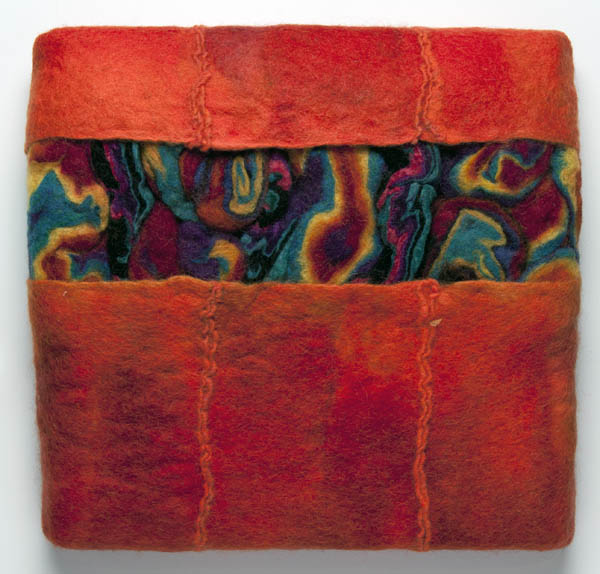 LH: Felt-making has really captured the imagination of many fertile minds and hands – and Sharron's work is important among them. Wrapping the format in dense, vibrant orange felt then inserting a psychedelic slice of color-soaked pattern in the middle? Technical mastery and imagination were neck in neck in this winner.
MRM: Sharron Parker won my vote for SDA Award of Excellence with her colorful felt construction. The wet-felted wool seemed to organically outgrow its square starting point, making it irresistible to the eye (…and touch).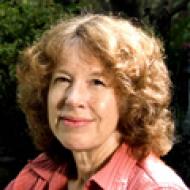 Sharron Parker (from Wake Forest, North Carolina) comments: This is the latest piece I've done in a series based on unpredictable patterns I get by layering many colors of dyed, unspun wool, felting them, and then combining slices with flat felts I've made. The possibilities are endless.
I'm pleased the piece was recognized because I'd love to tempt more fiber artists to try feltmaking. I've been a feltmaker 33 years and have never tired of experimenting with the medium.
Beyond the Boundaries Award (California Fibers) $250
Naomi Adams  Duality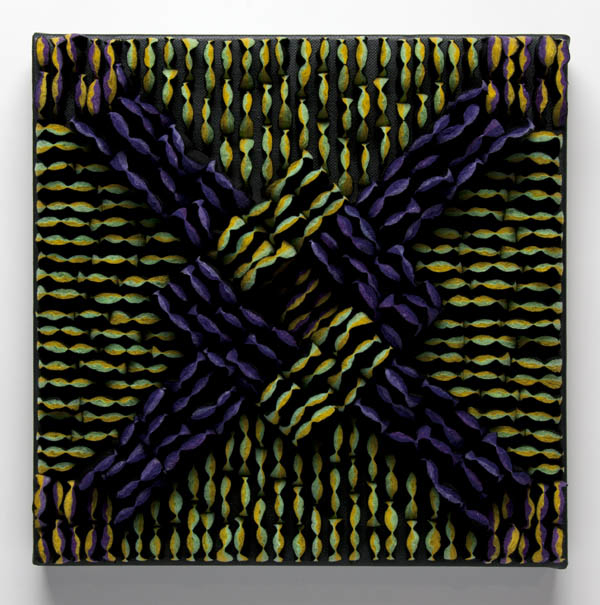 MRM: This new award easily went to Naomi Adams for her intriguing 3D Op Art design made with dozens of multi-colored felt discs. Arranged in an arresting X-pattern, this construction pulsed energy like a beacon, capturing both my curiosity and admiration.
LH: Naomi's construction broke the tactility meter; it was very difficult to resist touching it! This small scale expression of her signature dimensional quilting technique really met the challenge of the format by literally bursting its boundaries. But whether experienced in 3-D or viewed as a photograph, the interplay of color, texture and pattern are rich and strong.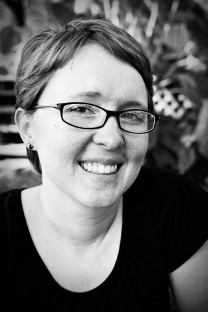 Naomi Adams (from Pocatello, Idaho): I joined SDA in 2010 as a graduate student at University of North Texas – with encouragement from my graduate fiber art professor, Amie Adelman.  My piece in the show is a small version of the technique I utilize in my body of work that consists of art quilt reconstructions. I really loved seeing the exhibit in San Antonio and am honored to be a member of a great community. I am Assistant Professor of Art at Idaho State University and also SDA Grants and Awards Administrator  – a volunteer position. 
Jurors Closing Remarks:
LH: We deliberately chose winners across a wide variety of textile media and process – since that spectrum of expression is fundamental to SDA's mission and membership. I am grateful for the opportunity to spend time communing with the collected imagination of SDA's membership.
MRM: Judging such a large outpouring of talent is never easy but the process was extremely gratifying. Individually, each award-winning piece Leesa and I came to agree upon is exceptional; as a group, they offer a wonderful glimpse into the unlimited creative potential all of our members possess.
Stay tuned to SDA NewsBlog for images + commentary about in•ter•face Fabricate Members' fashion show and Linked Up Student Members' show.
Online galleries featuring complete archives of all entries to 2013 shows will be available on SDA website by 2014.
Want even more? Review SDA 2011 Confluence members' shows via SDA website conference archive.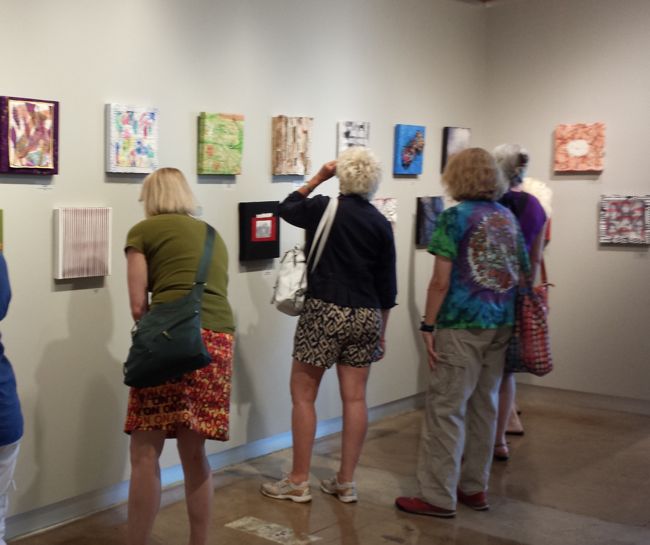 ________________________________
Juror Bios from in•ter•face conference brochure:

Leesa Hubbell's life-long engagement with textiles and pattern has dematerialized into the words and pixels that express ideas about them. Once an art major with a fiber focus, Hubbell has morphed from being a NYC-based designer of MTV interiors (with a certificate in Interior Design from Parsons/The New School), commercial textiles and batik-driven fashion made in Bali into a writer, vintage trend forecaster and tenured adjunct professor at Fashion Institute of Technology. As editor of SDA Digital Publications, she creates SDA's blog-a-zine-style NewsBlog and eNewsletter in the studio of cyberspace.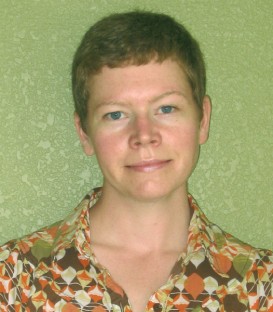 Marci Rae McDade is the editor of Surface Design Journal and former editor of FiberArts magazine. She received an MFA in fiber and material studies from the School of the Art Institute of Chicago and a BA in film and video production from Columbia College Chicago. As a practicing fiber artist and independent curator, McDade has exhibited her own work nationally in solo and group shows and curated numerous contemporary art exhibitions over the past decade. She is currently an instructor and mentor in the Applied Craft & Design MFA program (co-sponsored by Oregon College of Art and Craft and Pacific Northwest College of Art) in her hometown of Portland, Oregon.