SDA Book Club, April "Build a Flower"
April 3, 2020
This month's SDA Book Club spotlights a fun book to help you stay occupied during this time at home. "Build a Flower" by Lucia Balcazar goes over the tools, techniques, designs, and more when it comes to making paper flowers. Chances are, many artists have some type of paper lying around, and this book provides techniques for using different types of paper to make flowers. Available both in print as well as digital, this is an excellent way to pass the time while also learning a new technique.
---
"Build a Flower" by Lucia Balcazar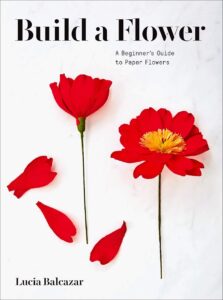 "Paper flowers are ideal for any crafter: The results are stunning but the steps to get there are achievable at any skill level. 'Build a Flower' will teach the basic techniques needed for crafting paper flowers, building upon skills as it moves through a select number of flowers and focusing on key tips: what type of paper works best, petal shapes that work for multiple flowers, how to assemble, and more. With photographs and step-by-step instructions as their guide, readers will learn to build five flowers, variation ideas for their coloring, and final arrangements. And the designs and ideas will inspire crafters to think beyond the vase—paper flowers as gifts, as decorations, and more. This beginner book will open the door to a wide variety of possibilities and will help establish a new audience well versed in the craft, returning time and again to this book's pages for inspiration and encouragement."
Publisher: ABRAMS
Date: March 24, 2020
ISBN: 978-1-68335-881-7
Buy it on Amazon (also available on Kindle)
If you've read this book, leave a comment and let us know what you think!
---
Do you have a recommendation for a recent fiber-related book you think should be included in SDA's Book Club? Email SDA's Managing Editor, Lauren Sinner, to let her know!