SDA Book Club: "Fray: Art and Textile Politics" reviewed by Faith Hagenhofer
July 31, 2020
This month's SDA Book Club features of review of Fray: Art and Textile Politics by Julia Bryan-Wilson and reviewed by Faith Hagenhofer.
---
Fray: Art and Textile Politics by Julia Bryan-Wilson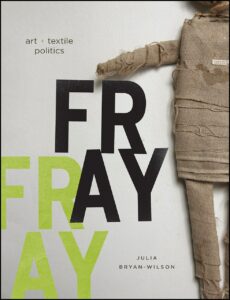 It is essential to read the Introduction to Fray, as Julia Bryan-Wilson outlines the very considered, serious academic work ahead. While it may appear so, this fabulously illustrated book is NOT for the coffee table, but rather for uninterrupted reading and thinking! In three chapters Bryan-Wilson considers "a handful of potent moments of textile making" (p.5) from the 1970's, '80's, and 90's, exploring their activist potentials. As this is one author's work it isn't a series of case- studies, but rather a constructed discussion. 
By looking at sets of artists using textiles and fiber methods, and amateur handwork practitioners and makers she thinks about and makes a reader think about the distinctions between them, and the blurred lines of High and Low art. The former sets out to make Art using fiber materials and methods; the latter uses fiber methods and materials privileging the statements over the work itself. Fray examines the drag costumes of San Francisco's Cockettes, Harmony Hammond's horizontal gallery rug-like textiles, Cecilia Vicuña's Quipu based conceptual/hand works, anonymously made Chilean Pinochet-era Arpilleras, and the AIDS quilt to poke at assumptions of judgement and hierarchy in amateur, folk, vernacular, hobby, "crafted", art work and labor. Although these are the major points of discussion, Bryan-Wilson's detailed scholarship engages in the broader roots in each example.  
How do textiles hold politics? This question is asked of the AIDS quilt in particular (p.214) but could be asked of all the works discussed in Fray. At various points in Fray, when writing about the labors of handwork, Bryan-Wilson touches on individual making and group/community making. It's reverse—that in making together community is created -feels like it could be the stuff of a different research work entirely.  
This book is language-rich as well, considering and reconsidering numerous textile and fiber metaphors, and lots of thinking about queerness and the role of gender in fiber/textile handwork. 
World-making is perhaps what all these artists have in common, pushing whatever is in the current (literal) fabric of life into new, once seen, never unseeable. And yet the very ordinary every-dayness of fibers, fabric and textiles give us all equal access to the points of departure. "Textiles continue to ask questions about how fibers and cloth are charged with the complex task of memory keeping, even as…" they get threadbare. (p.178) This is a very central theme. Those who work in the medium know too well that textile art pieces, protest pieces and or daily sartorial "drag" in all ways and always are ephemeral. They will pass, lasting only in bits, memory and small records—cloth in a painting, photograph or carving. In Fray, published in 2015, I appreciated seeing the question, which I will take as a measure from hereon, "Do textiles emerge with intensity in times of disaster, or do they retreat?" Bryan-Wilson's answer is that they "live at the edges of crises," in the fray.
–Faith Hagenhofer, is a fiber artist, shepherd, retired librarian, and has been involved with Surface Design Association for more than a dozen years. She serves as the South Puget Sound (Washington, US) SDA contact.
---
Publisher: The University of Chicago Press (buy here)
Date: October 2017
ISBN: 9780226077819
If you've read this book, leave a comment and let us know what you think!
---
Do you have a recommendation for a recent fiber-related book you think should be included in SDA's Book Club? Email SDA's Managing Editor, Lauren Sinner, to let her know!