SDA Book Club: "True Colors: World Masters of Natural Dyes and Pigments" reviewed by Faith Hagenhofer
June 19, 2020
This month's SDA Book Club features of review of True Colors: World Masters of Natural Dyes and Pigments by Keith Recker and reviewed by Faith Hagenhofer.
---
True Colors : World Masters of Natural Dyes and Pigments by Keith Recker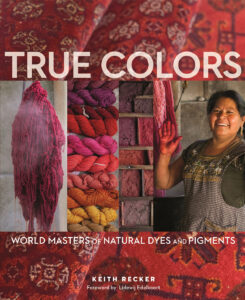 True Colors, is a journey! With chapters organized as a rainbow, from blue through purple and the rest, to green, one travels the planet's continents (but for Antarctica) as well. The geographic journey is not linear, visiting master dyers in remote rural areas, small towns and utterly urbane settings. In his introduction Recker says that "Because color and human experience move hand in hand, its stories are as complex as we are." Each dyer's context and story is generously delivered alongside luscious photographs of their places and processes. For many of the dyers theirs is a work of the spirit, of connecting to and with an aspect of nature–plant, earth, water–and it is work that embeds them in, feeds and is fed by their engagement with community, often with an entire family at work. This magnificent book documents the hard physical labor involved in a dyeing life. The discussions of social change and environmental impacts are as moving as those about particular colors, mordants, minerals and dyestuffs. The Ayoreo weaver/dyers for example, who are indigenous to the Gran Chaco in South America (Bolivia/Paraguay/Argentina) founded their collective in order to offer an income alternative to sex work for their women.
One "red" chapter offers the story of a Japanese dyer, the late Kikuo Morimoto, who established the Institute for Khmer Traditional Textiles in the aftermath of Cambodia's civil war, relearning and then sharing some of the older textile patterns by studying their depiction carved into the temples of such places as Angkor Wat.
Additionally, not every color in this rainbow is reflected in a dyer's work; there's a goodly number of pigment workers, whose colors end up in other objects of home décor. Atelier NL designers Sterk & van Ryswyck are sand collectors, which works for their designer glassware.
Australian dyer India Flint's reprinted list of "9 Things to think about" is excellent, and includes advice like: Know your plants, Acquaint yourself with the local weed list, as well as Use scrap metal mordant, and Time is your friend (Things improve when you are patient).
Sasha Duerr's process is described thus: she "treats botanical dyeing very much like cooking, offering a few rules and a base of necessary information to stay safe and on the right track." This beautiful large format book informs as much through its photographs, taken by many photographers, as it does with Keith Recker's narrative. And so, one almost feels that with a true heart and the advice of these two women one might just follow the recipes that appear to be there in the full color, excellently captioned double spreads that are throughout True Colors. Or one might just enjoy this feast of a book.
–Faith Hagenhofer, is a fiber artist, shepherd, retired librarian, and has been involved with Surface Design Association for more than a dozen years. She serves as the South Puget Sound (Washington, US) SDA contact.
---
Publisher: Thrumbs Books (buy here)
Date: September, 2019
ISBN: 978-1733510851
If you've read this book, leave a comment and let us know what you think!
---
Do you have a recommendation for a recent fiber-related book you think should be included in SDA's Book Club? Email SDA's Managing Editor, Lauren Sinner, to let her know!