SDA Grant Winner Spotlight: "mended"
February 8, 2017
Winner of SDA's Small Events Grant, mended: A Traveling Exhibition of Contemporary Textile Art featured the work of twenty-five SDA members from British Columbia and Yukon sharing their stories through creative expressions of mending and repair. Over the course of a year, the exhibition traveled to three different locations, each featuring demo sessions to engage the public and share stories.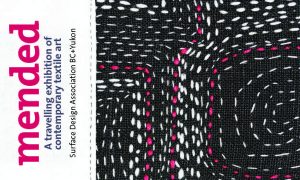 ---
Relationships, a broken heart and socks can all require mending. Have you improved something by mending? Recovered from an injury? Mended your ways?
The first show took place at Il Museo at the Italian Cultural Centre in Vancouver, British Columbia, Canada from March 17th-May 15th, 2015. Following that, the exhibition traveled to FibreWorks Gallery in Pender Harbour, British Columbia, Canada from August 25th-October 4th, 2015. The final iteration of the show took place from April 29th-May 28th, 2016 at Place des Arts in Coquitlam, British Columbia, Canada.
An SDA Award of Excellence was presented to Michelle Sirois-Silver for her work Extraction 8, 9, 10. Michelle's process-based works combine hand-hooking, screen-printing, and stitching to create deconstructed images. She utilizes screen-printing to take her pieces into the unknown, and her stitching attempts to unify the overall image.  The materials and techniques inform one another, layer upon layer.
"An important part of my practice embraces the past… Making the hand hooked works connects me to the past in a way that is hard to put into words.  It doesn't constrict or inhibit my work in anyway.  What it does is simply acknowledge that I am part of a continuum.  I am able to do what I do because of a legacy created by thousands who came before me.  It's fundamental." 
In order to increase public engagement at each venue, demo sessions were offered in stitching, mending, and embroidery, while experiences and stories were shared about healing and repair. Place des Arts received a grant for school children to come to the exhibition and take an hour long, hands-on workshop. In over a two week period, the exhibition connected with two-hundred and seventy-nine kids ranging from nine to eighteen years old. The children were taught cultural examples of mending, demonstrations of different stitches, as well as hands-on stitching experience. Each student got to leave with a sample of their own embroidery that they learned throughout the workshop.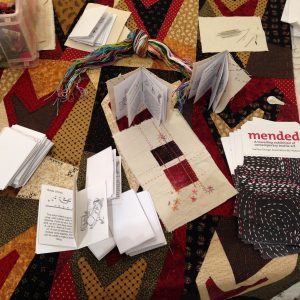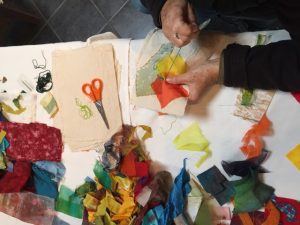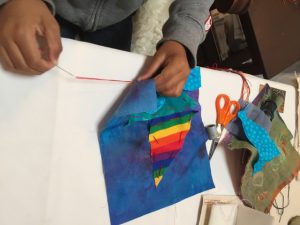 A direct result of this exhibition included five SDA British Columbia members' work being presented at the Third Annual Feminart Exhibition at the Conservatorio Santa Marta Montopoli in May 2015. The presentation featured a photographic display of five members as well as a video highlighting the mended exhibition.
---
SDA Members included in exhibitions:
Judy Alexander, Cher Cartwright, Constance Chapman, Linda Coe, Susan Duffield, Eleanor Hannan, Anni Hunt, Linda Ingham, Jennifer Love, Judi MacLeod, Barbara McCaffrey, Catherine Nicholls, Freda Pagani, Susan Purney-Mark, Morija Reeb, Brigitte Rice, Thomas Roach, Kristin Rohr, Dawn Michelle Russell, Shamina Senaratne, Michelle Sirois-Silver, Jill Sullivan, Lilly Thorne, Sheila Wex, and Patt Wilson.
---
To read more about SDA Grant Winners, check out Surface Design Journal's "Crafting Community: SDA Inaugural International Exhibition in Print" on both the Marketplace or Digital Edition.
Tags:
Conservatorio Santa Marta Montopoli
,
Creative Process
,
Embroidery
,
Exhibitions
,
Fiber
,
fiberart
,
Member Buzz
,
Member Profiles
,
Mixed Media
,
Networking
,
Place des Arts
,
Resources
,
SDA Awards
,
SDA BC Yukon
,
SDA Community
,
Textile Design
,
Weaving
,
Workshops