Spring 2021 SDJ: Looped & Knotted: Contemporary Basketry, Out Now!
April 26, 2021
Surface Design Association is excited to announce Looped & Knotted: Contemporary Basketry, our Spring 2021 edition of Surface Design Journal. This issue, developed in collaboration with the National Basketry Organization and Guest Editor Carol Eckert, explores all the different ways artists express enthusiasm for basketry – a tradition that spans the globe and takes many forms.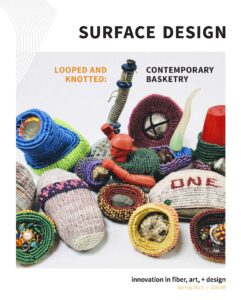 ---
Here's a preview of what you'll discover:
"Weaving History With Gullah Sweetgrass Baskets" by Corey Alston examines the history Sweetgrass basket weaving and its ties to the Gullah Geechee people– a Creole culture created as Africans of different tribes and communities adopted colonial traditions in the American South.
---
"Where Do We Go From Here: Four Tales Of 2020" by Heather Sealy Lineberry looks at how four basket and fiber artists (Lisa Telford, Leon Niehues, Pat Hickman, and Lois Russell) have responded practically and emotionally this past year, and it has impacted their productivity, ideas, materials and forms.
---
"Innovative + Intertwined: Indigenous Basketry Today" by Manuela Well-off-man, chief curator at IAIA Museum of Contemporary Native Arts (MoCNA), shares with us innovative, complex and thoughtful contemporary Indigenous basketry by Shan Goshorn (Eastern Band Cherokee), Kelly Church (Anishinabe; Ottawa, Chippewa and Potawatomi), Terrol Dew Johnson (Tohono O'odham), and Aranda\Lasch.
---
"Two Takes On Basketry From Northern Europe" by Monika Auch explores the contrasting approaches and techniques of Dutch maker Esmé Hofman and her Norwegian colleague Hege Iren Wiken.
---
This edition's Exposure department features galleries from the National Basketry Organization and Surface Design Association.
---
Curatorial Perspectives by Monica Guilera & Tim Johnson showcases their exhibition: LOOKOUT, celebrating the best of European basketmaking at the Museu De La Pauma (Tarragona, Spain) in 2020.
---
Informed Source: "The Woven Moonjar" by Hyunsoo Alice Kim features her research into the history of the moon jar and Kim's explorations into creating woven versions of the ceramic pieces.
---
Legacy by Patricia Malarcher highlights the work of Dorothy Gill Barnes (1927–2020), an internationally recognized adventurous artist whose creations in wood might attain the scale of sculptural installations. Barnes was also renowned as a teacher with a passion for working outdoors, ready to experiment with whatever materials a landscape provided.
---
First Person: Norman Sherfield creates works that are constructed with a simple overhand knot formed around a core of waxed linen threads. With variations of this knot, repeated over and over, he is able to create a variety of shapes, textures and color patterning.
---
Made Aware: Sarita Westrup's work is rooted in sculptural basketry techniques and bricolage,  inspired by the Rio Grande Valley of the South Texas-Mexico borderlands, where she was born and raised.
---
In The Studio: Sui Park's organic and biomorphic forms are created in many ways. She finds the shapes constructed with fiber art methods particularly attractive for their narrative and aesthetic qualities. In other words, they are delicate, touching and moving.
---
In Print: "The Fabric Of Civilization: How Textiles Made The World" by Virginia Postrel and reviewed By Vivien Zepf, which remedies how we think about textiles, and the many factors that helped us achieve the abundance we enjoy today— the ingenuity, the innovation, the brainpower.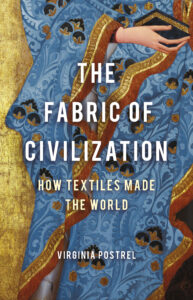 ---
In Dialogue: D Wood talks with Arlene Mcgonagle about how she started making baskets, where her inspirations comes from, her teaching, and more!
---
To buy a copy of Looped & Knotted: Contemporary Basketry, go to the SDA Marketplace, or you can check out a free digital sample on our SDA Journal page.