Summer 2021 SDJ: Spontaneity and Play in Fiber Art, Out Now!
July 12, 2021
Surface Design Association is excited to announce Spontaneity and Play in Fiber Art, our Summer 2021 edition of Surface Design Journal. Fiber and textile work can often require large amounts of forethought, planning, and precision. This edition of Surface Design Journal celebrates the improvised, playful, and spontaneous way many artists have chosen to pursue when making their work. From installations to wearables, and so much in between, we hope this Journal gives you some respite from the world, and inspirations for your own practice.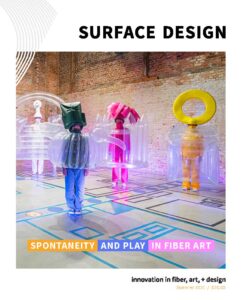 ---
Here's a preview of what you'll discover:
"Craig Calderwood: Stuffed But Not Contained" by Rebekah Frank: "She finds inspiration in the endless creative possibility of combining 'low' craft, 'functional' craft and 'kitsch.' These terms may have negative associations for some; however, Calderwood readily embraces their meanings and uses them to her advantage. The dense, obsessive patterning of her work reads as decorative, sometimes like wallpaper, other times more quilt-like. Her figures often wear intensely patterned clothing, featuring floral or striped motifs and their faces are usually obscured."
---
"Détournement: Daniel Fountain" by matt lambert: "Waste objects become my kin and through my artistic practice, I scavenge them, surround myself with them and make new from them in order to comment on the disposability of marginalized (queer) subjects. As part of my PhD, I photographed all of the objects I was finding just to develop what I called a 'material archive' – showing how these worn and broken things became 'queer kin' to me."  
---
"Double Play: Angelika Werth And Amanda Mccavour" by D Wood: "The re-creation of play, pleasure, smiles and laughter are gifts from the heads and hearts of artists like Angelika Werth [and] Amanda McCavour…. Their work makes a huge difference in our lives, by enhancing our cultural knowledge, enriching our visual experience and pushing the boundaries of what's possible within the realm of art in Western culture."
---
"Jovencio De La Paz And The Soft World Of Machines" by Amy Mutza: "Integral to the artist's process is what they term 'computational creativity.' De la Paz programs digital tools and plays with existing software to find ways to relinquish formal control to the computer…. A 'weave draft' is created digitally using image-processing software like Photoshop or a Jacquard design program. Every pixel of the image is mapped onto an individual thread within the textile."
---
"Fully Formed" by Jane Groufsky: "Much as how the collaboration [with Brenda Ronowicz] came about in the first place, serendipity plays a key part in the formation of each work. A piece of carelessly dropped fabric suggests the exact missing element, or a flaw becomes a feature."
---
This edition of Exposure spotlights the range of materials, techniques and aesthetics that Spontaneity & Play can achieve. Our members continue to explore and push the boundaries in fiber art, and this gallery is just a sample of the way artists can approach this theme. Featured artists include: April DeConick, Monika Haeussler-Goeschl, Amy Susan Keefer, Susan J Lapham, Milena Quesada Lutz, Katie Richardson, and Charles Schwall . 
---
Emerging Voices: Saige Devlin: "Although I have been dyeing fiber with natural pigments for several years, I do not keep a scrapbook of colored swatches and recipes to meticulously document how each hue was achieved, in hopes of someday repeating the results. Rather, I recognize and accept that I have little control over what comes out of my dye pot, and this is what excites me about the process. I get to let the materials speak and marvel at the unexpected beauty they become." 
---
First Person: Sebastian Sochan: "Encountering materials has always been a starting point for my sculptural works and objects. It's this fascination with their properties and associations that becomes a catalyst for my playfulness and experimentation. My first instinct is always to test and stretch materials to their limits in order to discover the full potential of what I'm working with. The possibilities of texture, color and form drive my decision making and design process. My work explores intimacy, closeness and the complexity of queer relationships through a personal lens."
---
In The Studio: Séverine Gallardo by Franck Guyon (translated by Susan M. Clark): "Strangely and paradoxically, this work is both monumental and miniscule. One must be knowledgeable about tints and colours, thicknesses and textures, and have the patience to embellish, tease, adorn, embroider, and work with luxurious materials such as pearls, sequins, shimmering threads, metallic sequins, feathers, and fish skin leathers."
---
Informed Source: "Trusting Play: Yuka Oyama's "Survivaball Home Suits" by Jessica Hemmings: "As a relational jewelry artist, Oyama makes objects that test just how much trust we might share with others if our identities are concealed. Working in a scale far larger than we typically expect of jewelry, her focus is not on the traditional connections jewelry often signals, but instead how performance and play may recover some of the acute disconnections of contemporary life: the degeneration of human-to-human emotional communication and an increasingly eroded sense of belonging."
---
In Dialogue: "From Across The Room: Johnathan Lyndon Chase" by Karen Patterson: "Philadelphia-based artist Jonathan Lyndon Chase explores the ways in which Black, Queer bodies navigate everyday spaces. Incorporating aspects of their own biography with elements of fantasy, Chase's highly charged paintings often include domestic materials such as bedsheets and clothing, revealing an undercurrent of intimacy and tenderness." 
---
Our In Review department features 3 exhibition reviews: "Flights Of Fancy: Fashion And Function In Circus Performance" reviewed by Jessica Hemmings, "Rosie Lee Tompkins: A Retrospective" reviewed by Samantha Lyons, and "Sonya Clark: Tatter, Bristle, And Mend" reviewed by Caroline Kipp. 
---
To buy a copy of Spontaneity and Play in Fiber Art, go to the SDA Marketplace, or you can check out a free digital sample on our SDA Journal page.