Symposium Review: "Trace Evidence" @NCSU/Raleigh
May 31, 2011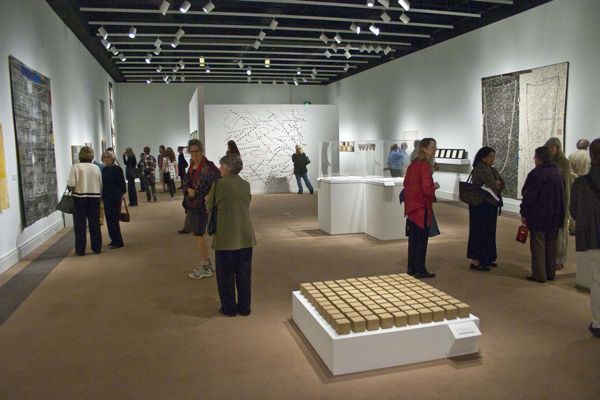 The recent Trace Evidence Symposium at the Gregg Museum of Art and Design, North Carolina State University Raleigh, offered a 360-degree perspective on the making process. Set against a dozen artist-panelists' comments on content embedded in their artwork, Glenn Adamson's keynote remarks asserted the critic's role of plumbing objects for meaning.
Held March 25-26 in conjunction with the exhibition Traces: Mapping a Journey in Textiles , curated by Barbara Lee Smith, the gathering drew 175 participants, most from around the state with a scattering from up and down the East Coast.
Panels organized by Lynn Ennis Jones, Gregg's Curator of Educational Resources, included artists from the exhibition; NCSU fiber faculty members; and people engaged in creative community projects like a local ballet company.
The Traces exhibition featured nine artists whose skills and visions have been honed over decades. It will be reviewed in a forthcoming issue of the Surface Design Journal. Here it's enough to mention its validation of process as a pathway to art. That could also be said of Pull of the Moon, a companion exhibition of Barbara Lee Smith's recent pieced and sewn landscapes in an adjacent space.
Artists' disclosures about sources of inspiration opened windows onto internal and external worlds. Family histories and adventurous travel, closely observed natural phenomena, responses to local and global events, all flow into the alchemy of their artmaking.
Places near and far were among the influences named. Marian Bijlenga spoke of being excited by fragmentary details around her—shadows, fish scales, marks that chairs leave on floors; Dorothy Caldwell shared images from trips to Australia's remote territories and Canada's Arctic where she immersed herself in exhilarating colors and textures and discovered amazingly innovative artifacts; Susan Lordi Marker vividly described a Midwestern prairie alive with the sounds of insects and frogs.
Some artists cited influential childhood experiences. Kyoung Ae Cho, who often uses wood as fabric, recalled a memorable forest in her native Korea. Vita Plume told how her family left Latvia for Canada after WWII; she grew up learning Latvian crafts and customs in readiness for the family's expected but never realized return to their homeland. Carol Ann Carter remembered her mother's bag of beads and its impact on her imagination.
Concerned about the environmental condition of a Seattle watershed, Lou Cabeen studied maps that recorded its changing course over time; the maps' configurations inspired a major art work.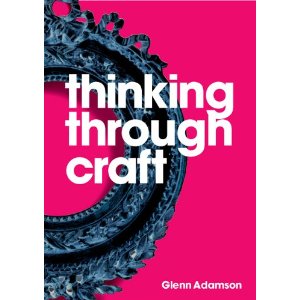 Glenn Adamson is Deputy Head of Research and Head of Graduate Studies at the Victoria and Albert Museum and the author of Thinking through Craft. His talk, "Affective Objects: The Re-invention of Craft," followed his interest in theoretically challenging the art world's persistent anti-craft bias. For example, he discussed the late woodturner David Pye's cogent distinction between "worksmanship of risk" where the outcome isn't known at the start, and "workmanship of certainty" in which the end is calculated at the beginning.  Jackson Pollock's unorthodox methods epitomize risk, and so does a handmade bowl with an irregular form. A perfectly symmetrical manufactured vessel represents "certainty" guaranteed by calibrated tools. Adamson hinted that putting risk on the side of fine art implies "a higher soul" but didn't predict a new hierarchy.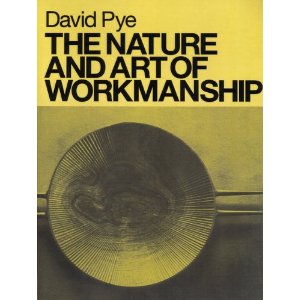 Literally, and as a metaphor for art value, "cutting-edge" refers to a rupture in a status quo, Adamson stated. Object-making can serve that function, he said, noting that textile history was often aligned with political issues. As an example of a recent endeavor related to the economics of production, he described Anne Wilson's categorically ambiguous Wind/Rewind/Weave project at the Knoxville Museum of Art. There, people took turns at a warped loom, each weaving a stripe of unprescribed color and size in a continuous cloth—it became a "portrait of a community" made from factory surplus.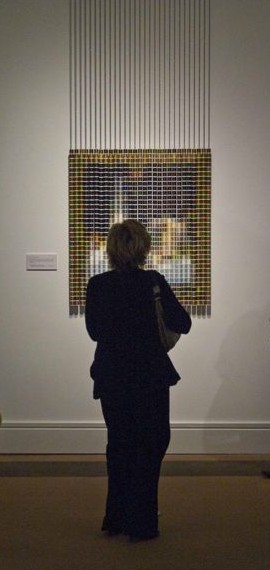 Elaborating on the concept of affectivity in relation to objects, Adamson referred to Mike Kelley's use of "stuffed animals as brushstrokes" in poignant installations.
Skilled workers often are embedded in systems where they have no control, Adamson said. However, he knew of a group of Russian workers with a surprising "felt connection" to faulty equipment that kept breaking down, and had a love for their jobs. He mentioned art projects that "can't exist without protest"—e.g., painted polka dots on abandoned houses in Detroit that were slated for destruction.
The provocative authority of context came across in Adamson's account of an artist-provocateur who employed a group of Bolivian shoeblacks—men who were disrespected in their own culture—to paint shoe polish to leather panels which were then shown in an art setting.
CONCLUSION: Adamson reaffirmed that craft is repressed in our culture and makers are ignored.
"Thinking things through at MoMA isn't enough," he said.
_____________________
Check the Gregg Museum website for availability of the recorded symposia proceedings.