Tale of 2 Triennials: Lodz + Riga
September 14, 2010
Nancy Koenigsberg's Tales from the Triennial in Lodz
(All Lodz photos courtesy of Nancy Koenigsberg)
I attended the 13th International Triennial of Tapestry in Poland during a trip sponsored by Friends of Fiber Art International .  5 American artists were invited to showcase their work at the Triennial and I was delighted to be one of them. My colleagues were Lanny Bergner, Tim Harding, Regina Benson and Mary Zicafoose.* 130 artists from 51 countries were featured and their work was beautifully installed in the Central Museum of Textiles, a former textile factory.  The remodeled interior is now made out of glass and steel–a wonderful contrast to the 19th century brick exterior.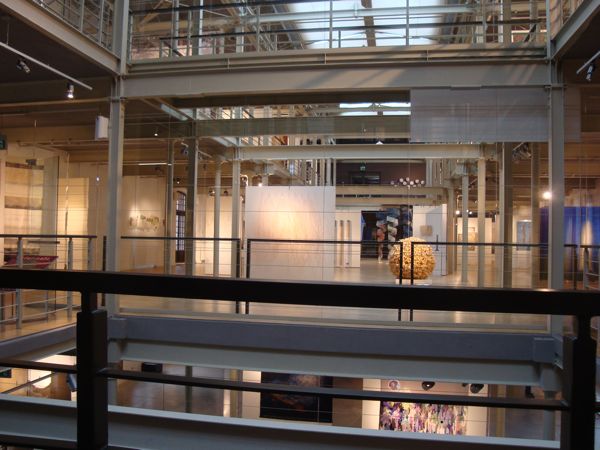 This trip was very special. I left the USA knowing only 4 people: the tour director, Camille Cook, (who was accompanied by her husband) and Karen Ziemba, Camille's assistant, who also traveled with her husband. I ended up meeting several artists from Poland and other parts of Europe as well. Several of them turned out to know my first fiber mentor, Gayle Wimmer, from the New School (NYC) and other friends in France and the UK.
Poland was absolutely wonderful.  We traveled to four cities:
Gdansk, Lodz (where the triennial took place), Krakow and Warsaw. Gdansk and Warsaw were largely destroyed during WWII.  The old parts of the towns have been rebuilt to look as they did in the early 20th century, which was actually how they looked centuries earlier.
The Triennial showcased work in every conceivable material: paper, metal, silk, wool, linen, synthetics. I admired a fascinating piece made out of wood–toothpicks to be precise–by . The toothpicks had been attached to make long strands, which were then rolled into a ball.
We visited a number of exhibitions, artist studios and galleries. Many
of them gave us beautiful catalogs. I was  particularly struck by the work of Wlodzimierz Cygan, who won the Gold Prize in the 2007 Triennial. His large black works done on many sided frame looms were extraordinary. Another highlight was the memorial showing of work by Andrzej Rajch that included pieces I had seen in the Lausanne Biennial many years ago. His large trompe l'oeil compositions, which look like bodies under striped blankets, are really magical.  I saw beautiful, though somewhat typical, Eastern European tapestries from past decades as well as mixed media pieces that reflect more contemporary trends.
We saw many inspiring exhibitions and textiles in Warsaw. They were all over that city–and each was included in an illustrated catalog.  An identifying banner beckoned outside each of the participating galleries and museums.
I could easily have stayed longer in Poland!
*(The works by SDA Members Koenigsberg, Benson, Bergner and Zicafoose can be seen in the NewsBlog Spotlight section of this blog, entitled SDA Member Hot Spot and posted on May 25, 2010. -Ed.)
The next (14th) International Triennial of Tapestry will be held in May, 2013. A comprehensive Triennial catalog was published and may be purchased from Friends of Fiber Art International. For information on availability and to order, call (USA) 708-246-9466.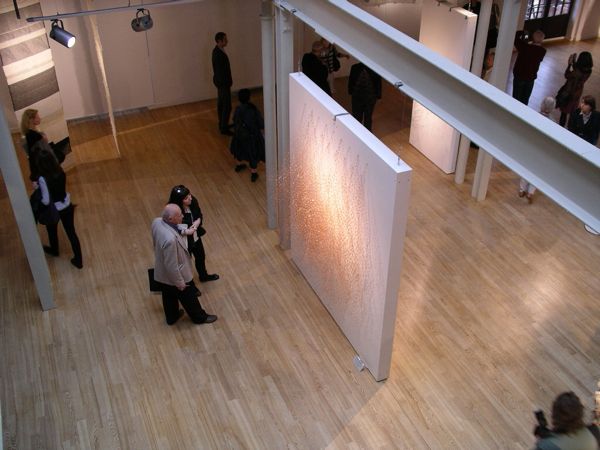 __________________________________
Nancy Koenigsberg has exhibited widely in the USA, Europe and Brazil.  Her work can be found in many collections both private  and public. She is a founding member of the Textile Study Group of New York ( www.tsgny.org ).
_______________________________________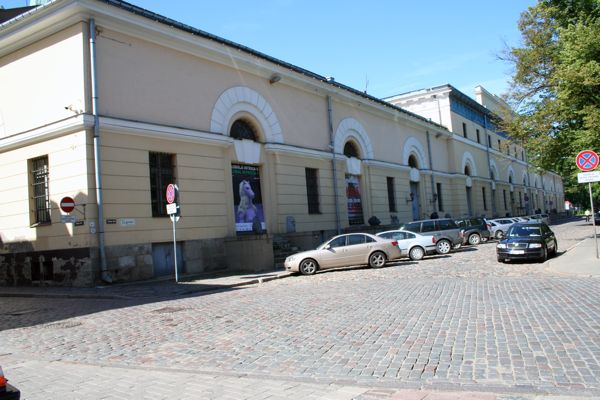 Ann Nyberg's Tales from the Triennial in Riga
I come from Sweden, so I was able to attend the opening of the 4th Riga International Triennial of Textile and Fibre Art Tradition & Innovation: Global Intrigue II exhibition that was held at the Arsenals Exhibition Hall of the Latvian National Art Museum.
The theme of the exhibition was announced and explained by this placard: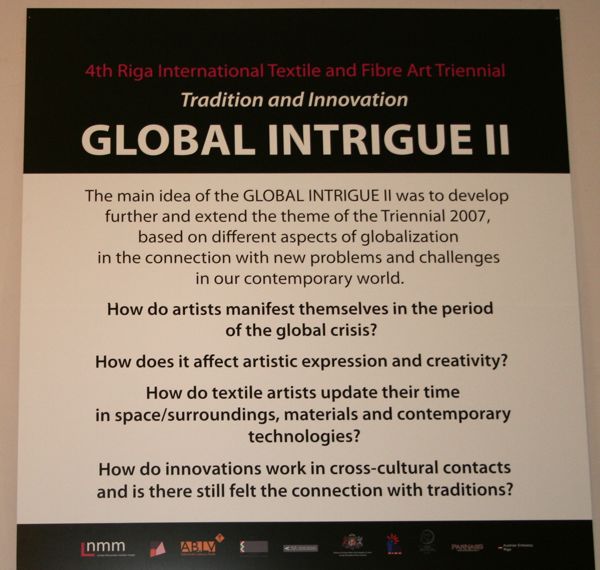 The opening started with a press conference. The panel included 3 (out of five) members of the jury including Velta Raudzepa, the Project Manager from the LNAM's Museum of Decorative Arts And Design.
After the press conference the show was open to the public. There were a great number of visitors. Journalists who cover art for a variety of publications spoke to the artists who were present and took pictures.
Work by Shelia Hicks, formerly of the USA, was shown by special invitation (she lives in France today). Maximo Laura from Peru also exhibited work by special invitation.
Artists from USA were Don Burns, Marjorie Durko Purjear, Joan Scultze (SDA) and Naomi Wanjiku Kenya/USA (SDA). (Linda Colsh, SDA member from Belgium, also had work in the show. Colsh, Nyberg and Schulze entries can be seen in the NewsBlog Spotlight section of this blog entitled SDA Member Buzz: The Catch-up Round posted on August 27, 2010.–Ed.)
I must add something that tells us how small the world is today. I was in Pittsburgh in April, participating at Fiber Art International 2010, when I met Birgitte Amarger, who was also exhibiting. And now here we are–both exhibiting in Riga!
The exhibition was very beautiful and well-composed with 68 pieces of art installed in the very large museum hall. Size and scale of the works varies, but most were large. Lots of colour as well as black and white in the form of installations, sculptures and wall art. The theme seemed to create a kind of religious atmosphere.
In my work State of Universal Chaos, I was searching to find a way to express thoughts, questions, feelings about the themes of Global Intrigue II. I found a chaotic world. I felt the contradiction between contemporary human life and nature. I let the crayon go free in a landscape where colours and form give the directions for building the landscape.
Crayon was transferred into fiber material, together with questions like: What are we doing to the earth? Where is everyday awareness? When nature is unbalanced, so is the human. Many directions, fears, solutions and confusion went through my mind and were expressed in organic material like wool, linen, silk and cotton. I was captured in a chaotic world, feeling the conflict between human and nature. State of Universal Chaos was growing in my hands.
The solution became a fusion of structuring everyday life in mixed techniques and showing inner feelings through many colours and forms.
_________________________________
Ann Nyberg has textile work on exhibit all over the world in 2010, from Sweden to the USA to Latvia to Beijing (6th International Textile Art Biennale From Lausanne to Beijing, Henan Museum of Art, Zhengzhou City, Henan Province, China opening October, 2010). She is a member of several Swedish artists organizations as well as SDA.  Her website is www.annnyberg.se