Teaching Art: A Spectator Sport That Includes Cheering
August 31, 2015
 Spectator Sport?
I didn't think those two words fit anywhere into my artist resume.
Until I began to pick over some of the language: balls, sticks, fields, players, goals, speed, discovery. Fair. Unfair. Patience. Courage.
It turns out, my work as a teaching artist runs with the broader meaning of these words. Including huge episodes of wild cheering.
My work is with dye, ink, silk, cotton, linen, thread, paper, scissors and with an ongoing lively stream of humans.
My collaborators are hospitalized pediatric patients, 6th graders, teen poets, refugee children, women in rehab, homeless families, library patrons and cancer patients.
Together we make art.
Often filling large walls and neglected spaces. Projects have yielded dozens of story quilts, mixed media textile collages, hundreds of exuberant pop up books, art scarves, puppets and sculptural cloth installations.
I learned to sew at age 5. I learned to be experimental with cloth and paper after college. Attracted to the cacophony of volunteering in elementary school art rooms when my own children were young, I pushed beyond those borders – creating pop up studios in my quest to bring textile art to many other communities.
I invite you to see what I watch happening when a favorite theme – when text becomes textile – is tackled by players across those communities.
COMMUNITY CLOTH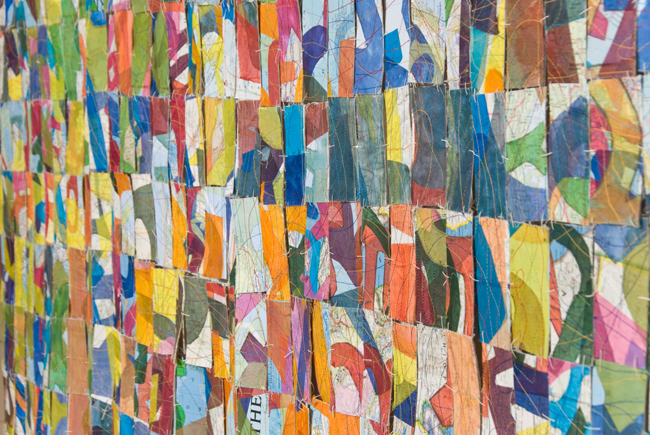 Community Cloth at the Newcomer School, Greensboro, NC (2010) 180" w X 60"h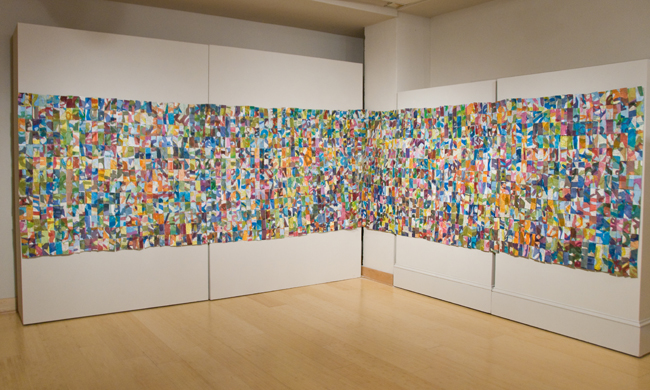 This project engaged 75 middle school youth who were new immigrants or refugees from around the globe. Materials were international maps representing 52 nations. Words in dozens of languages were cut out from hand dyed silk organza then layered, fused, machine and hand stitched. (Grants from NC Arts Council and Greenhill Center supported this event.)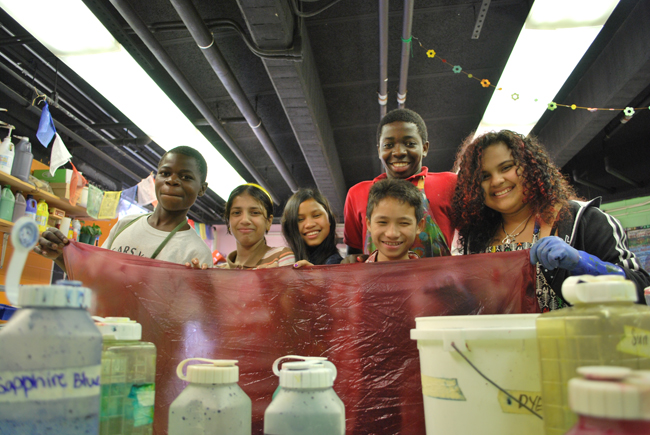 Over and over again, I have seen fragile communities strengthened by doing, by making, by diving in. By engaging too contribute to the goal of finishing something monumental.
BETWEEN THE LINES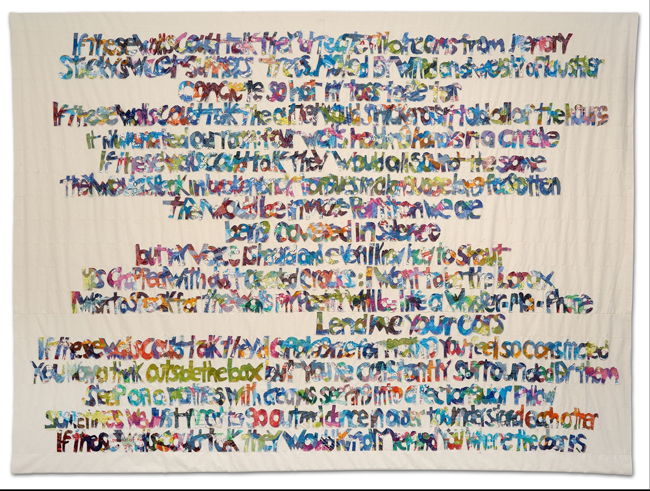 Between the Lines, Chapel Hill, NC (2012) A collaboration with Sacrificial Poets (spoken word teaching artists) was installed at Chapel Hill Public Library. (114" w X 65" h)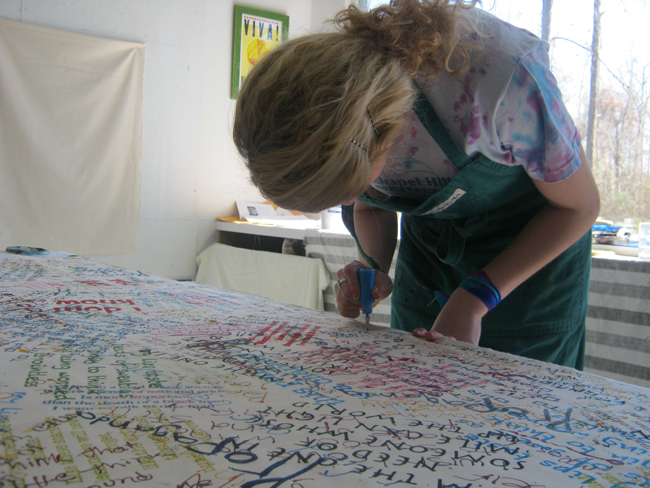 This project engaged local teen poets to develop an original poem on cloth. It was supported by a grant from Orange County Arts Commission, NC.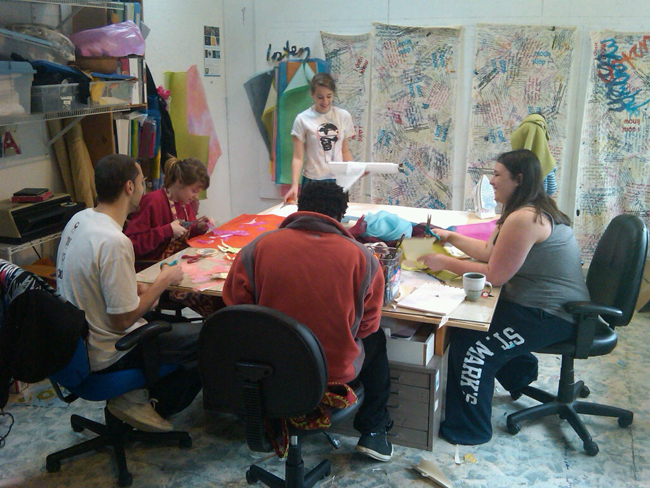 Orange County teens committed dozens of lines of their original poetry to cloth by way of screen printing and textile inks on silk organza. This collaborative poem considering the question "If these walls could talk…" was written and then cut from the communal cloth and applied with machine stitching. It fused the thoughts of a roomful of youth poets, all discussing and contributing to the idea of voice and community.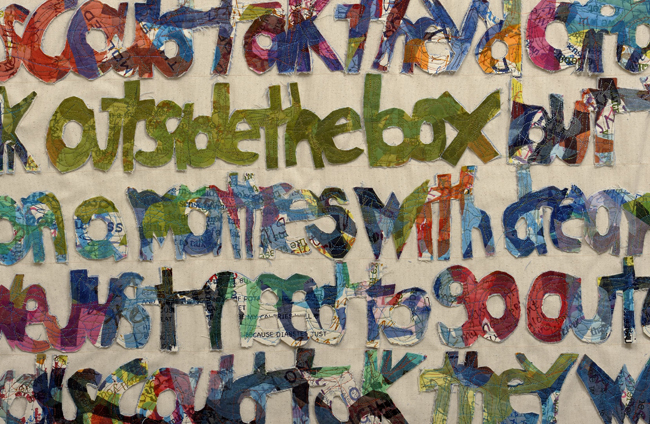 Words can mend, measure, reach and contradict. In the realm of spoken word poetry, syllables fly fast and furious. They call on the hidden, remark on the past, and lean out of the ordinary. They provoke the sublime.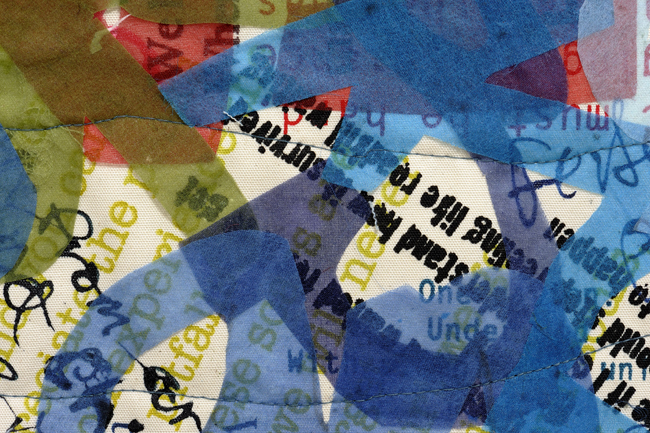 WRAP YOUR HEAD AROUND IT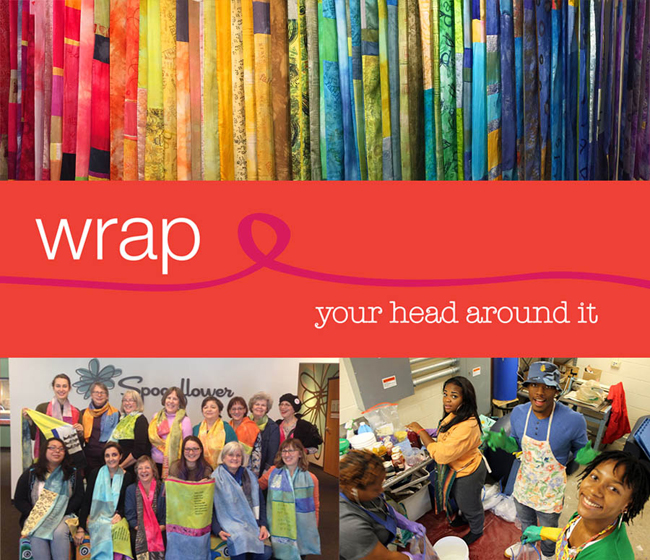 Wrap Your Head Around It: Community Arts project creating 200 art scarves made with and for cancer patients. (2015)
Fueled by the energy of building cloth with poetry after completing the Between the Lines project, I decided to use the scarf as billboard, as surface for word play – and to better understand the meaning of courage.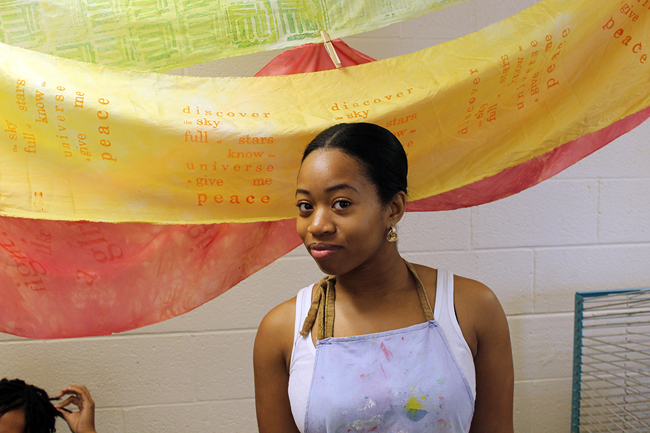 I sought out the creative partnership of many diverse institutions: hospitals, universities, community classrooms and galleries in my region to realize a long held goal of making 200 original silk art scarves.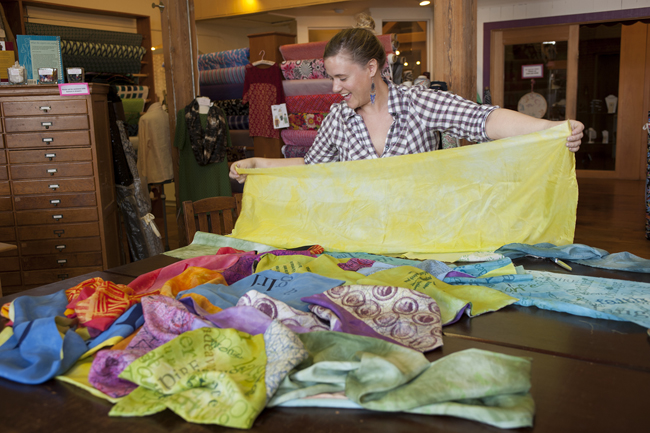 Scarves made with and for folks living with cancer and surviving cancer. Collaborating closely with poet Grey Brown, we developed a series of group poems with cancer patients and caregivers at Duke Hospital, Durham, NC.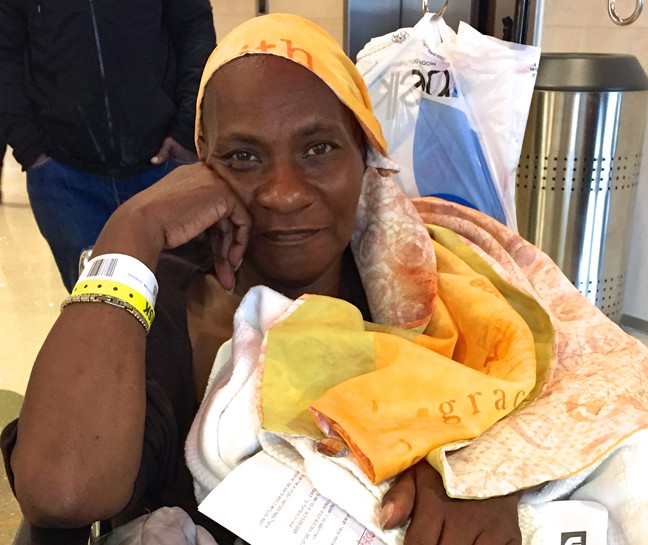 Words were translated into screens and printed and stitched on yards and yards of hand-dyed silks by dozens of students and community artists in a variety of pop-up studio settings.
This project was crowd-funded by a successful Kickstarter campaign and documented in a short video below and at ingignouxity.com/healthcare.html
Swirling up dye, printing, sketching, cutting, ironing, stitching. Agreeing. Not agreeing. Teasing out the visual solutions with folks new to art. These sparks of surprise and creativity have helped me make sense of the larger world, of the one that sits beyond the borders of my quiet home studio.
It is in these fields of play that I have coached, witnessed and been enlivened by bold possibilities.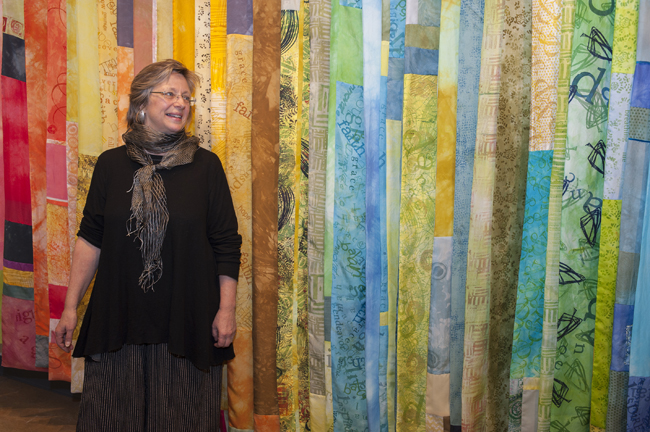 Want to get involved and find out more about socially-engaged art, natural dyeing and ethical fashion practices?


Meet Peg Gignoux and many other socially-engaged makers at SDA's upcoming Made/Aware intensive at Arrowmont School of Arts and Crafts, Gatlinburg, Tennessee, USA  (October 8-11, 2015). Find complete program and registration information here.
___________________________________________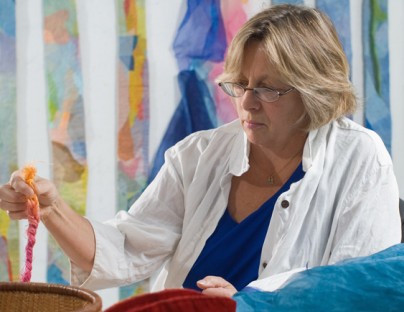 Peg Gignoux is a textile artist based in Carrboro, NC.  Gignoux received a BA in English from Kenyon College and a Masters of Industrial Design in Fibers from North Carolina State University's College of Design.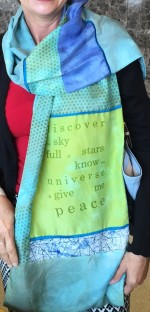 She creates vibrant mixed media works and hand made books. An active community-based artist, Gignoux has led projects with a variety schools, museums and health care centers through out North Carolina. She leads a yearly summer art retreat at Chateau du Pin, Loire Valley, France.  
Textile arts residencies include projects with NC Museum of Art, Duke Medical Center, Greensboro Hospice, Wake County Schools and Green Hill Center for NC Art, Elon University, NC Girl Scouts and Penland School of Craft.
Her work as a teaching artist includes dynamic book arts projects that include programming with Mint Museum, Durham Academy, Greensboro Public Libraries and Chapel Hill Public Schools. Gignoux's textile collages are well represented in Fidelity Investments Corporate Collection.
Find out more about her work at www.ingignouxity.com