Textile Center Library: Check It Out!
April 30, 2015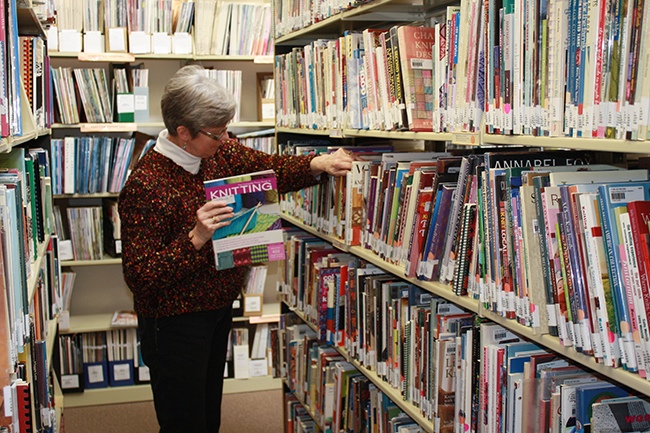 Folded carefully into the heart of the Textile Center (Minneapolis) lies its most precious gem – the Textile Center Pat O'Connor Library. With 27,000 volumes and periodicals, the library is the country's largest circulating collection of textile art resources.
And while the Textile Center Library is located in Minneapolis, Minnesota, it can be easily accessed from around the world via its online catalog at www.textilecentermn.org/library.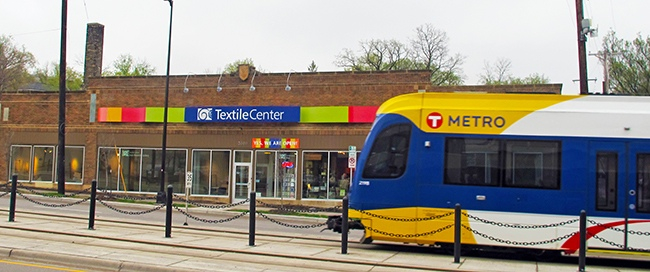 So how did this amazing collection come to be?
It all started when the many textile guilds in the Twin Cities came together to form a coalition and find a home where they all could meet, learn, exhibit and sell their work. The guilds each had their own collections of books that informed and inspired their specific fiber art. But only 2 of the guilds had physical space for their libraries; the rest had their books housed by various volunteer librarians who hauled them to each monthly guild meeting in suitcases! A permanent location for the collections – with a professional librarian, open 6 days a week plus an online catalog – would be a dream come true.
After years of negotiations and thousands of volunteer hours, the Textile Center opened its doors in 2001 with the Textile Center Library opening for business in 2002.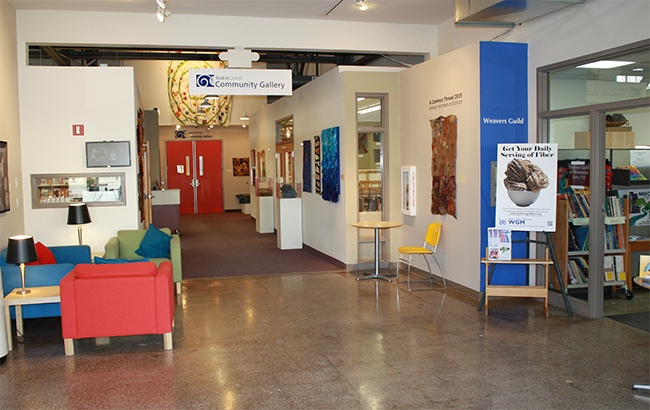 Today, 17 Textile Center member organizations keep their books at the Textile Center Library; their books make up 20% of the extensive collection.
These books cover topics from quilting to felting…and about everything in-between. The rest of the collection is owned by the Textile Center and includes volumes, both historic and current, such as Needle-Craft (1889) by John Q. Reed – to the 2015 Sew Fab: Sewing and Style for Young Fashionistas by Lesley Ware.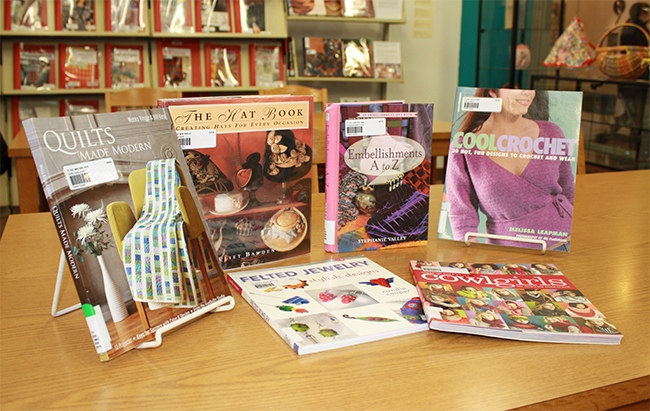 The periodical collection has many complete sets, such as Threads magazine issues from 1985 to 2015. The current publications include 40 subscriptions that offer an enticing smorgasbord of inspiration and information in the fields of textile art, craft and design.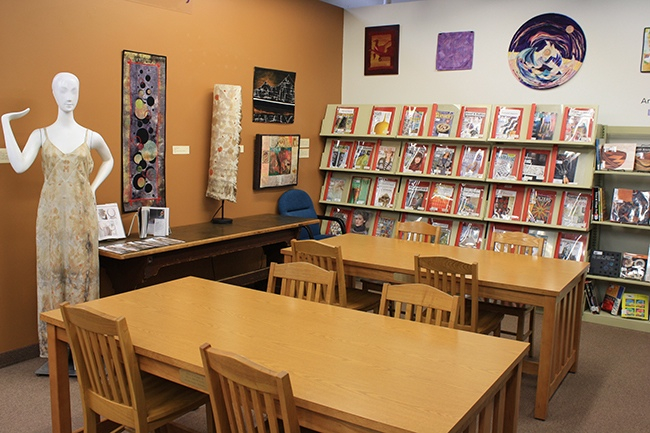 "How-To" books guide makers to learn new or challenging techniques. Design and color books support building skills when making new work. Periodicals keep makers – whether designer, artist or DIY-er – informed of trends and opportunities.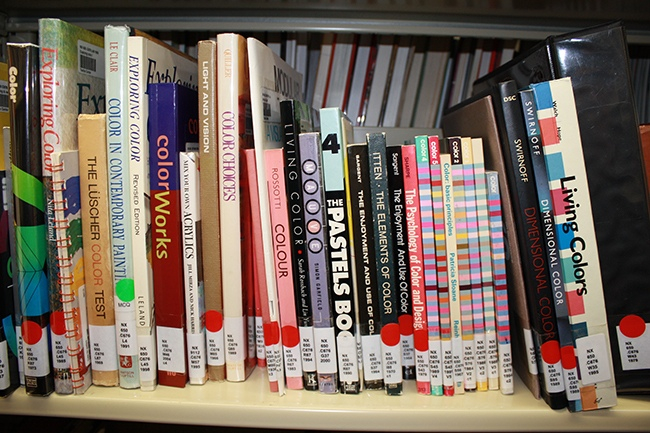 The collection's out-of-print volumes are truly a textile treasure trove. One historian, Yvonne Cory, took advantage of the Textile Center Library's unique collection to do research on her collection of nearly 1,000 aprons. That research informed her on-going exhibitions, lectures and classes. Fashion Design students use the library as muse to inform and inspire their design process. They are just a few of many who visit the library and revel in its resources. (Check out the library's Art Speaks series on specific textile topics and issues by scrolling down the library page.)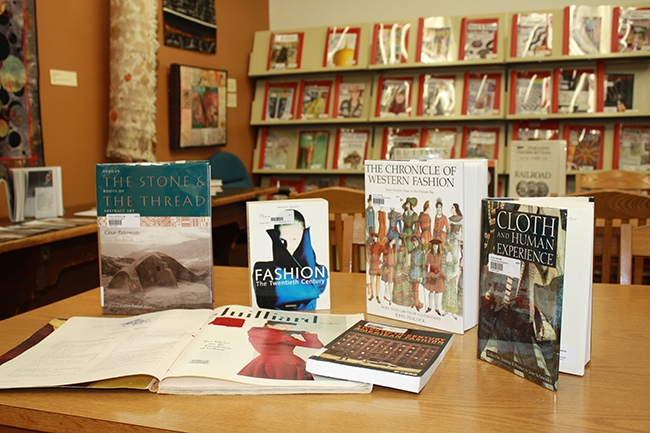 If you would like to use the library, everyone is welcome to come and browse. You may check out books by becoming a member of the Textile Center – but if you are a member living outside Minnesota, the librarian would be happy to ship you the book if you cover the postage. Contact her via www.textilecentermn.org/library/checkout-return-policy.
So check it out! See what gems you can find to take your work to the next level at the Textile Center Library or website at www.textilecentermn.org/library. Textile Center Librarian Nancy Mambi (shown below) is ready to help!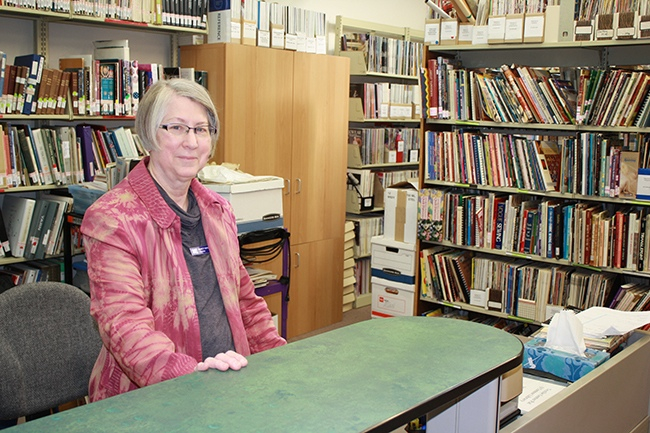 Editor's Note: Textile Center Library was included in American Craft Council's 10 Must-See Craft Research Collections (2013).
_______________________________________________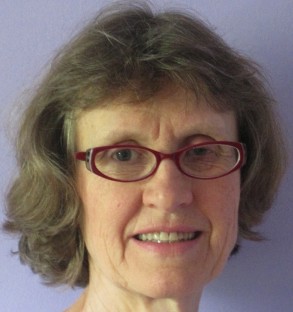 Margaret Miller began her career in fiber art as a weaver. During the 15 years she showed her rugs across the US, she had the opportunity to meet many other artists who struggled to gain exposure and support for their work.
These conversations hatched the idea of a textile center that would promote fiber artists and preserve textile traditions. The Textile Center was incorporated in 1994 and opened its doors in 2001. As its first Executive Director, she worked to grow the organization into a vibrant $2.25 million hub that offered classes, exhibitions, youth programming, sales opportunities, library resources, meeting spaces, dye lab and weaving studios. After retiring in 2012, Miller spends her time traveling and volunteering. She is currently serving as a director on SDA Board.