Textile Travel in Canada: Triennale Outaouais 2013
November 25, 2013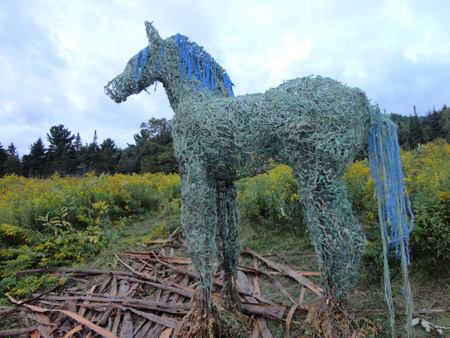 There are currently 3 international textile festivals in Canada: Biennale International du Lin de Portneuf*, Triennale du Internationale des Arts Textiles Outaouais and World of Threads (which has yet to establish a recurring schedule).
Attending the opening days of the 2nd Triennale, as I did in August 2013, meant traveling nearly 700 miles over a 10 day period to see 11 exhibitions and the work of 61 makers. And even then I only saw half of what there would be to see when all the exhibitions were open.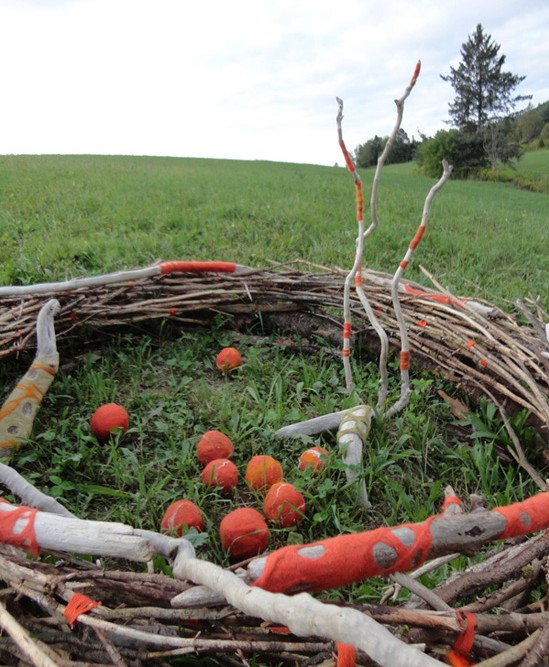 The festival took place in 8 communities in a region east, north and west of Ottawa, Canada's capital city, on both sides of the Ottawa River in Ontario and Quebec, known as the Outaouais. The advance planning to find a hotel or B&B, arrange for a car (and a driver in my case) and figure out public transportation was essential. It was well worth it and helped me to make the most of what was on view over a considerable geographic spread.
The event is built out from Moonrain Tapestry Centre in Val-des-Monts, Quebec. A few weeks prior to the official opening, 24 makers from across Canada, USA & Europe began working on outdoor installations on site. Some also had solo or 2-person shows in the larger lineup of exhibitions in municipal galleries throughout the region, along with other invited makers and an international touring exhibition.
Upon arriving, I attended 2 openings of these solo shows at Art Image et Espace Odyssées in Maison de la culture in Gatineau. Passe moi toi; empreinte et movement showed French artist Françoise Carré's sculpture – constructed of discarded whole garments that are never cut.  She created continuous horizons like landscapes on 3 walls and then floated 2 "figures" in the centre of the room. Her use of used clothing is clever and also poignant in its reconfiguration of both waists and wasted lives, perhaps rescued from obscurity? People aren't present but the mass of humanity is, much like the piles of immigrant luggage in NYC's Ellis Island Museum. Stories wanting to be told have been rendered silent by way of their disposal. Carré lets you search for and imagine them.
Susan Taber Avila (an SDA Board member) also works with discarded materials like end-of-roll textiles and thread rescued/recovered on its way to landfill. A Natural Phenomenon was an installation made of panels of laser-cut textiles in the shape of leaves caught in a web of machine stitches that intersect and join them. These layers hung suspended over a background cloth digitally printed with a garden wall overgrown with ivy. The top layer was embroidered with large text in pink thread which pops out enough to be read at a distance. Does her imagery suggest the individual struggling to be seen like a tree, a flower, a butterfly or leaf? Both these makers are story tellers skillfully using the media of fibre to invite the viewer to contemplate these lost narratives.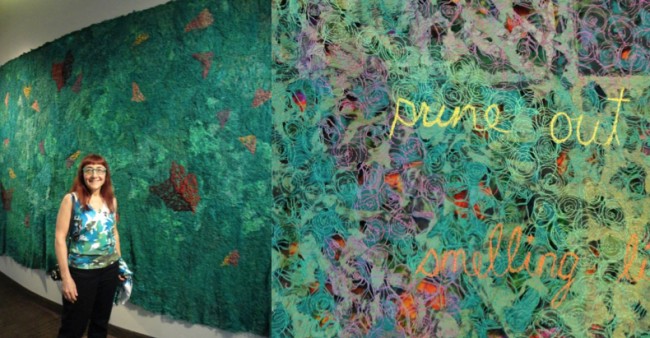 There were 3 "anchor" shows in the Triennale: Matrices, the outdoor installations at Moonrain Centre, Homage to Micheline Beauchemin, Quebec's Master Weaver at Espace Pierre-Debain (a small retrospective showing work by the Canadian master weaver who passed way in 2009) and New Art of The Loom at Galerie Montcalm. The 2 gallery exhibitions, both in Hull, Quebec, showcase tapestry weaving at its best and provided a centre from which to view the work of all other makers participating in the festival.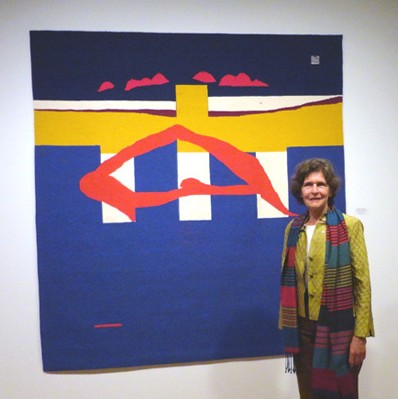 In the work of Beauchemin you see the height of experimentation – with a mix of traditional and new materials like wool, metal and optic fiber – that has not been matched. New Art of the Loom was curated by Dirk Holger, a tapestry artist of the Aubusson School and the last assistant of Jean Lurçat, the Frenchman who re-imagined the concept of tapestry weaving for the 20th century. He is known for liberating the weaver to work from his own design/cartoon rather then making the work of others. This show is currently on a North American tour; this stop was 1 of 2 in Canada and planned to coincide with the Triennale.
Archie Brennan & Susan Martin Maffei are tapestry weavers whose combined careers span nearly a hundred years. Both presented biographical, narrative tapestries – but from 2 distinctly different points of view.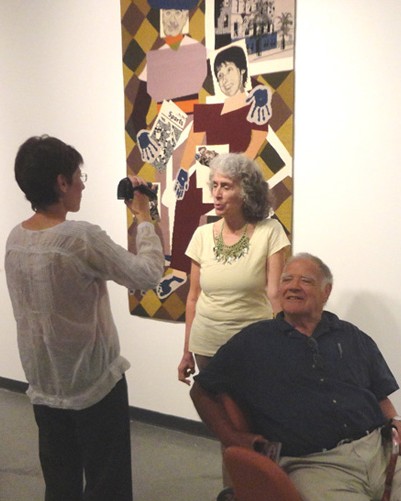 Dersu Uzala Series by Brennan was inspired by an Akira Kurosawa movie based on the life and adventures of Dersu Uzala (c. 1850–1908), an aboriginal/Nanai of northeast Russia who acted as a guide for explorer Vladimir Arsenyev. This series, woven between 1994-96, is composed in a very limited colour pallet. Shades of black and white or brown and black, with an occasional shot of red or blue, flatten the stylized picture plane that presents a complex story line and emotional depth.
Maffei's work, while equally stylized, is brightly colored, cluttered interiors in which each portrait of the sitter is presented with the section of the New York Times that best represents their personality. Family and friends come to life in these tapestries. The co-presentation of these 2 bodies of work – one subdued, one nearly garish – worked very well together.
They also provide a point of departure from which to look at the abstract tapestry work of Krystyna Sadej on view at AEO Gallery. Past and Present: Looking at the past through a new perspective offered a wide-ranging experimentation with colour, materials and shape. Her use of recycled plastic bags and other non-traditional materials to explore colour was intriguing; it echos the work of Micheline Beauchemin.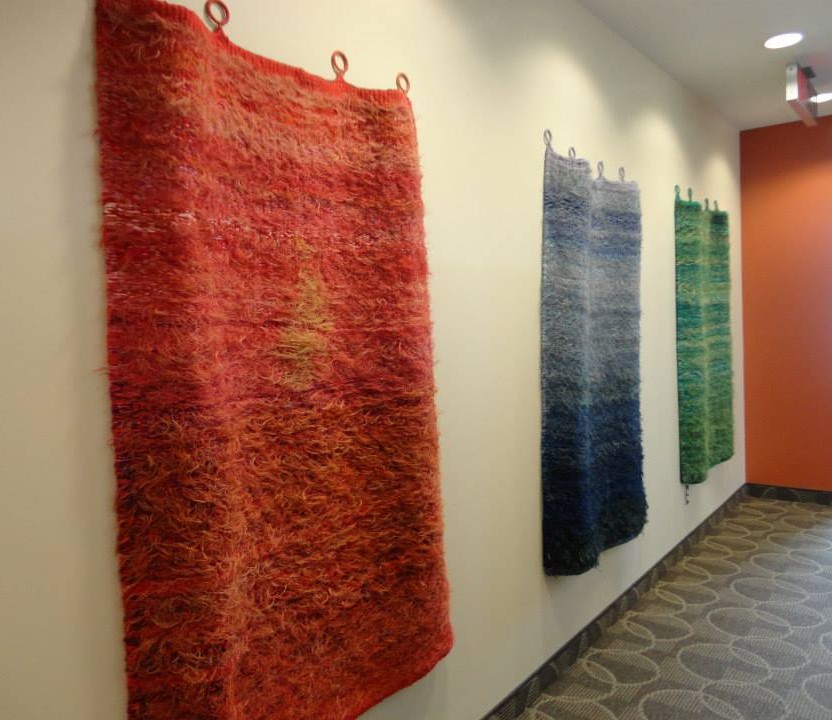 The 4th solo tapestry exhibition was Inner Vision: Maximo Laura at Mississippi Valley Textile Museum which focuses on the history of the Canadian textile industry. This permanent exhibition in the 2nd floor gallery leaves the 1st floor space available for in-house or independently curated or touring exhibitions.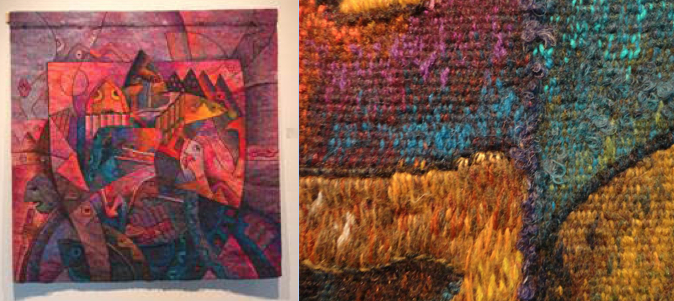 Maximo Laura is a master tapestry weaver from Peru whose work is richly colored, highly textured, deeply coded imagery. His low relief, 3-dimensional surfaces are reminiscent of the carvings on Incan architecture. This is the 3rd time I've seen an exhibition of his work. The first impression is of everything being the same and at the same brightness – but after your eyes adjust to the intensity of the colour, you begin to see the individual pieces, the imagery and the mythologies they suggest.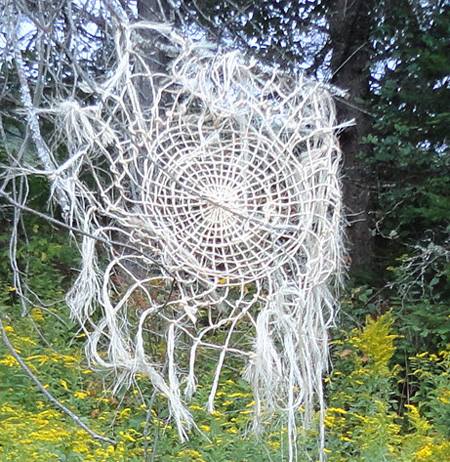 At the end of a 60 mile drive to Moonrain Centre was Matrices, the exhibition of outdoor installations created on site prior to the festival's opening. These were on view along a walking trail marked out on the property. A "tradition" of showing this non-traditional site-specific work has been established; this approach is also called outdoor interventions, artist gardens, knitting graffiti, earth art or botanical sculpture – with or without performance.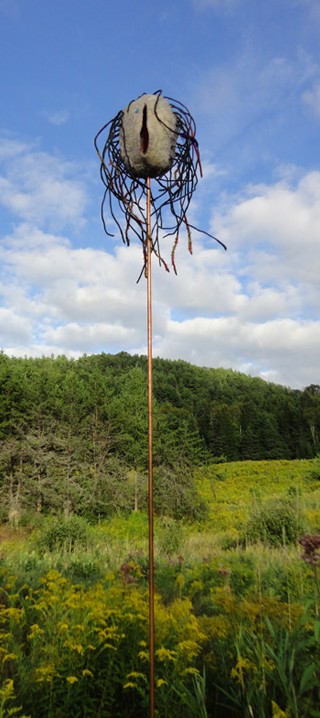 The installations were a mixed bag with some exceptional sites that had one thing in common. These works could be lifted out of the landscape and placed on the gallery floor. The objects/elements of these sites, regardless of the materials used, had a stand-alone quality and an integral strength independent of the landscape in which they were positioned. Other works fit so completely into the site that they seemed like just so much ephemera blow in by the wind, caught in time and the space they inhabited. They could not exist anywhere else.
The rest fell somewhere in between, neither wholly integral in themselves and independent of the site nor completely dependent on it. This could be said of similar site specific exhibitions whether they are inside or outside.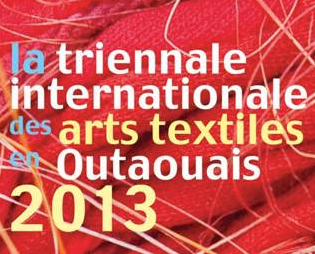 That said, the country side in which Moonrain Centre is located provides a beautiful and varied setting in which to view these works. The landscape of the Ottawa Valley is made up of rocky outcroppings of the Canadian Shield with small streams and waterfalls running through densely wooded areas that give way to smooth rounded hills covered in both meadow grasses and farmed fields. It was a great way to end what was a rather frantic 10 days of going to and from openings, posting images and information on Facebook, checking out makers websites and trying to document the event while actually enjoying the work. Mother and daughter Thoma and Gabby Ewen need to be congratulated on a job well done. I am looking forward to the next Triennale du Internationale des Arts Textiles Outaouais.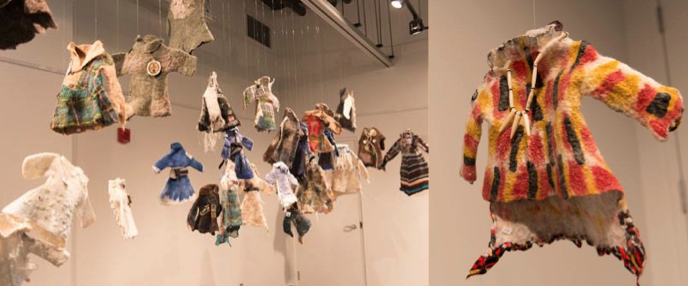 See Liana Voia's interview with Archie Brennan & Susan Martin Maffei on youtube.com
See Liana Voia's interview with Françoise Carré on youtube.com

See images from Triennale 2013 on fibreQUARTERLY Facebook
via August 2013 Textile Sightings Part 1 & Part 2
See images via Moonrain Centre Facebook album
 *Read Patricia Malarcher's 2011 overview of (BILP graphic at right)
4th Biennale Internationale du Lin de Portneuf  on SDA NewsBlog
_______________________________________________________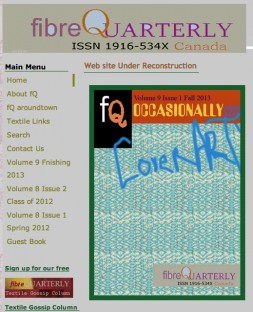 Joe Lewis is a weaver/publisher and writer (and SDA member). A former painter, performance poet and monologue artist, he been working exclusively with textiles since 1997 with a concentration on weaving since 2000.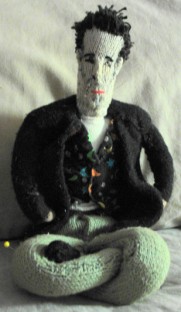 As a publisher, he has been presenting Canadian textile/fibre arts, crafts and history to an international audience via his online fibreQUARTERLY at www.velvethighway.com
(started in 2005). His column Fibre Report in A Needle Pulling Thread magazine is published in Canada.
He also writes reviews for Selvedge magazine and European Textile Network's (ETN) Textile Forum.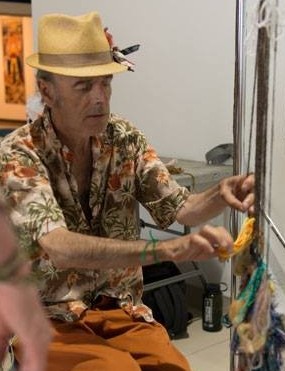 Since 2008, Lewis has been posting monthly textile sightings on Facebook, where he documents textile activities in Canada, USA and Europe as he travels.
He proudly considers himself a "textile gossip" rather than a critic. He is a textile separatist – recognizing it as a field of interest beyond the limiting parameters and confines of both art and craft history and practices. He spins tales while weaving and stitches words and images together – for your enjoyment.