Textiles +: Winter 2014 Surface Design Journal
February 3, 2014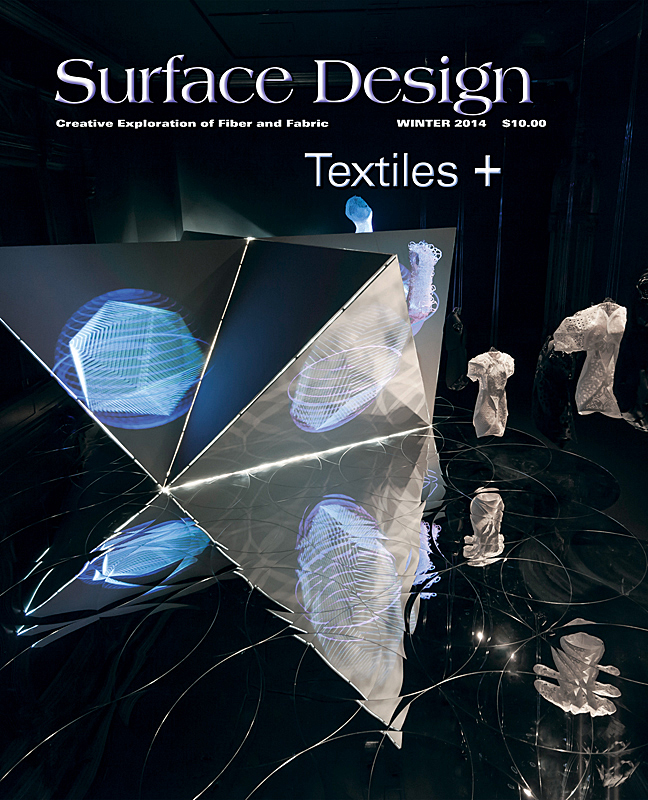 Last year's SDA Member survey revealed that 60 percent of Journal readers rank mixed media among their favorite forms of fiber art. The ever-expanding nature of this genre made navigating the Textiles + theme all the more exciting. My story choices ultimately coalesced to focus on provocative combinations of textiles with unexpected materials and disciplines. In each case, the complexity of artistic vision reflects cultural, formal, and political concerns unique to life in the present age.
To gain clarity and fresh insights, I took a research trip to New York City last fall to study a wide range of recent examples on display. Highlights included Cross Pollination at New York Institute of Technology's Gallery 61. The show featured a stellar selection of mixed-media works by Larry Schulte and Patricia Malarcher, our former Journal editor. The increase in studio time since Patricia's 2012 retirement has clearly been productive and rewarding. Via email, I learned more about her material explorations.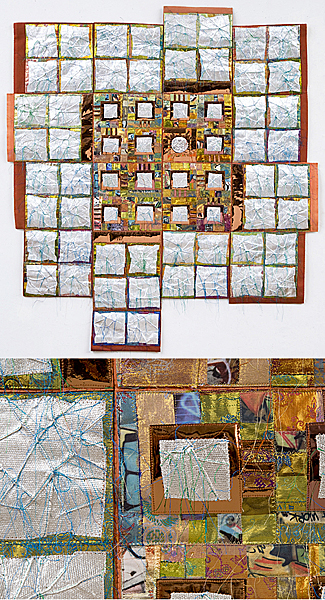 Marci: Why do you prefer making mixed-media creations?
Patricia: I love the limitless forms and surfaces that can be produced with fibrous materials and processes. I like being able to make large things that are light enough to handle. And the meditative pace of working in fiber is pleasing to me.
M: Is there symbolic meaning in your materials choices?
P: Mylar, a material that I've used for many years, speaks of the present time no matter what you do with it. I often use painted canvas because I like the surface quality. I've also used found or purchased textile items for their referential value. In Cloth of Honor, transfer prints of New York graffiti are appliquéd onto patches of shiny brocade to offset elegance with raw energy.
Whatever form of mixed media you enjoy, we hope this issue illustrates a breadth of possibilities!
To subscribe to Surface Design Journal, join Surface Design Association today! Receive quarterly issues as one of many outstanding membership benefits. 
Find related links to this issue's profiles and features below.
Considering the Alternatives:
Trisha Hassler
by Sarah Margolis-Pineo

Trisha Hassler's Will I Still Recognize Her When We Get There features a steel foundation sourced from a rusted-out 1957 Nash Metropolitan car, juxtaposed with a spiraling accordion of meticulously formed textile accented with beadwork. Like many of her compositions, this piece vacillates between micro and macro, at once referencing a blooming molecular wonderland as well as otherworldly cosmic expanse.
Trisha Hassler is represented by Waterstone Gallery in Portland, Oregon
Shawne Major: Colossal Collage
by Nick Stillman

Shawne Major began developing the sculptural assemblages she refers to as "physical paintings" in the late 1990s. An attraction-repulsion dynamic has defined her work. On one hand, her ability to blend mass-produced readymade objects to achieve subtle tonal gradations and pulsating surfaces is best appreciated from a distance. But the guts of a piece like War Channel are its essence, beckoning you to get so close you can smell the plastic.
Shawne Major's work is included in Front & Center at Mobile Museum of Art in Mobile, AL (through February 14, 2014).
Folk Art & Formalism
by Joyce Beckenstein

"The idea that art can come from nowhere is typically American," quipped Abstract Expressionist painter Willem deKooning. His mid-20th century reminder that New York School abstraction borrowed copiously from the history of art, European modernism in particular, resonates with a number of Digital Age artists who find homegrown inspiration in American folk art. Some are especially drawn to historical quilts.They find a soft human touch in their unfettered pattern-based abstractions, and an intuitive logic seldom found in the cooler geometries of minimal art, with which this craft is often compared.
American Folk Art Museum, New York
Stephen Sollins's solo show at Pavel Zoubok Gallery in New York February is on view February 13 – March 15, 2014.
Brenda Mallory:
Reiterations and Rifts

In many compositions, Brenda Mallory fastens the wax-dipped fabric with nuts and bolts, a process she likens to sewing, and holds the compositions together in frameworks of milled steel. These connective elements have a rough-hewn craftsmanship, which the artist traces to her childhood in northeastern Oklahoma.
Evolving the Cloth: Rachel Meginnes
by Kathryn Gremley

Rachel Meginnes evokes an imprecise domestic familiarity in Forum Quilt (Ticking II) through the use of reclaimed mattress fabric and quilt patterns pieced from printed matter. The essence of the work, however, is embedded in her process rather than an implied narrative. Text and images borrowed from magazine pages deteriorate in the image transfer, and this inherent loss of clarity is embraced by the artist.
Rachel Meginnes's work is included in Fail-Safe at Craft Alliance Grand Center gallery in St. Louis (February 7-April 20, 2014).
Andi Arnovitz: Migrant Media

Andi Arnovitz's My Worry Beads features a room full of three-inch ceramic beads. Spilling off a red rope, they resemble an oversized Christian rosary or Islamic Tasbih. Each bead is stamped with a worry: "The Taliban. Getting fat. Weapons of mass destruction. Termites…" They are also stamped with the words of a Jewish prayer recited every morning: "Keep us away from nasty people, evil men, evil neighbors, evil friends…"
Andi Arnovitz's work can be seen in two exhibits at Eretz Israel Museum: Paper Art in Israel – Part II (through March 10, 2014) and Material and Consciousness: Contemporary Israeli Textiles (opening February 2014).
threeASFOUR: Sacred Geometries
by Joyce Beckenstein

"The lucky part is that we met," says Gabriel (Gabi) Asfour, who describes how three families from sparring cultures (Lebanon, Tajikistan, and Israel) lived through the traumas of fighting among Christians, Muslims, and Jews to become the avant-garde fashion design trio threeASFOUR. That history left an indelible imprint on their art—an eclectic mix of haute couture, sacred geometries, technology, and multi-media installations.
threeASFOUR is included in Folk Couture: Fashion and Folk Art at American Folk Art Museum, New York (through April 23, 2014).
Beyond the Surface

Weaving is a peculiar object in the world. It has a dual life of being at once utilitarian and aesthetic. Not merely an image or design, weaving is the material process of pattern, repetition, and rhythm becoming a physical form. Crystal Gregory and Samantha Bittman are examples of exciting artists who create hybrid works that expand weaving's emphasis on structure and pattern, and extend its potential as a surface.


To subscribe to Surface Design Journal, join Surface Design Association today!
Receive quarterly issues as one of many great benefits of membership.