"The Art of Labor" SDJ – Out Now!
July 2, 2018
Surface Design Association is excited to announce "The Art of Labor," our Summer 2018 edition of Surface Design Journal! As Elizabeth Kozlowski states in her Editorial, this Journal questions, "What about the countless hands and hours required to make the objects that keep us safe, warm, and clean? And are we, as consumers, able to make ethically and environmentally conscious choices? …How has the history of textile production influenced contemporary practitioners? The Art of Labor attempts to unpack these ideas and more."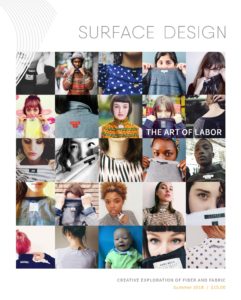 ---
Here's a preview of what you'll discover:
1) "The Transparent Fashion Revolution" by Betsy Blodgett looks at the changing global fashion industry, trends of ethical consumption, online influencers, and fashion startups, that may invoke a new era of fashion manufacturing following the #whomademyclothes movement.
2) "The Visible Invisible: A Ruffled Look at United States History" by Ariel Zaccheo spotlights new work by Stephanie Syjuco using "chromakey" green fabric and dress patterns from historic early settlers to both highlight and hide the colonizing past of the United States.
3) "Stop Motion Craft in the Digital Age" by Kate Fenker examines the history of textiles being used at two large stop motion companies—Bent Image Lab and Laika—and how, even in our current digital climate, there is still a need and love to building sets, characters, and props by hand.
4) "Rooted in Cloth" by Maggie Leininger looks at the textile manufacturing mills in Southern Carolina, how those buildings are used now, and how that history inspires her studio work.
5) In The Studio: "Different Shades of Red: From Historical Sources to Contemporary Practices" by Monika Auch shows the history of madder use in the Netherlands and how the "Ateliergebouw" studio uses it in present day.
6) Legacy: "Busy as a Leibs Loom" by Alexa Griffith Winton looks at the life and work of Dorothy Liebes (1893-1972)—a weaver, textile designer, and powerful advocate for American design—and the influence she had on textile design.
7) Visual Essay: "Cotton, Indigo, and Enslavement" starts with an introduction by Eulanda Sanders about the need to focus on both the processes and narratives within the context of the slave trade in the Americas, followed by a selection of images that illustrate both the romanticization and reality of those enslaved and cotton/indigo production.
8) Emerging Voices: Features the work of Lauren Salazar, who weaves with traditional patterns such as tabby, overshot, basic twill, and log cabin to create cloth that exists simultaneously as canvas and painting.
9) In Print: "Posters for Change: Tear, Paste, Protest" by Elizabeth Kozlowski reviews the 50 posters were selected to provide a representative sample of entries received in terms of geography, area of concern, and graphic style, with subjects covering animal rights, civil rights, the environment, gun control, immigration, mass incarceration, public arts, voting rights, and many more.
That and so much more will be available very soon!
---
To buy a copy of "The Art of Labor", go to the SDA Marketplace, or you can check out a free digital sample on our SDA Journal page.
Tags:
Alexa Griffith Winton
,
Ariel Zaccheo
,
Ateliergebouw
,
Bent Image Lab
,
Betsy Blodgett
,
chromakey
,
Cotton
,
Dorothy Liebes
,
Elizabeth Kozlowski
,
Enslavement
,
Eulanda Sanders
,
Fashion Revolution
,
Indigo
,
Kate Fenker
,
Laika
,
Lauren Salazar
,
Madder
,
Maggie Leininger
,
Monika Auch
,
Posters for Change
,
Stephanie Syjuco
,
Stop Motion
,
Summer 2018
,
surface design journal
,
textile manufacturing mills
,
The Art of Labor
,
The Transparent Fashion Revolution
,
The Visible Invisible
,
Visual Essay
,
Who Made My Clothes?