The Solidarity Issue: Winter 2021 SDJ, Out Now!
December 27, 2021
Surface Design Association is excited to announce The Solidarity Issue, our Winter 2021 edition of Surface Design Journal. "This Solidarity issue invited artists and writers of the African Diaspora to share their personal stories and material expressions of Solidarity. Clearly, one issue cannot correct the vastness of these long-standing omissions. This edition will highlight talented, highly skilled African descended creatives around the world, who reference and work with fibers and surface design in ways that directly or indirectly express the depth and breadth of the African Diaspora. Everyone featured in this issue agreed to do so with enthusiasm. Artists and writers from the United States, Southern Africa, the Caribbean, France, the UK and Brazil have come together to share their work in Solidarity. I want to express my sincere gratitude to each of the talented artists, designers and writers who took time out of their busy schedules to contribute to this issue. Without you, this would not have been possible!" – Precious D. Lovell, Guest Editor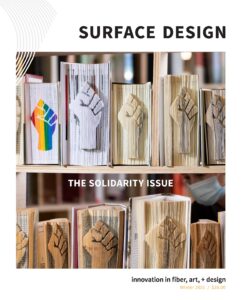 ---
Here's a preview of what you'll discover:
"The Solidarity Book Project: Sonya Clark" by Paulette Young: "Sonya Clark, the renowned conceptual artist and Professor of Art at Amherst College created the Solidarity Book Project under the backdrop of a global pandemic and concurrently the international protests against the heinous murders of black people by police and white supremacist violence"
---
"The Hand, The Head And The Heart" by Ruth E. Carter: "When you watch a film or see a play, before a character even says a word, you know so much about who they are just from what they have on. Is the fabric lush, or some tacky polyester number? Is the red bottom of her stilettos worn off or fresh from Bergdorf's? These are all choices made by the costume designer about the characters that we adorn. I translate to you, the audience, through elements from all sorts of places. That's a part of the discovery. A part of the artistic expression."
---
"Nádia Taquary: Yorubana Sculpted Cultural Conversations" by Dr. Scott Alvez Barton: "Taquary's work embodies and activates cultural and religious artifacts creating a cross-cultural, intergenerational and transnational dialogue. Her pieces trace a path between birth, the living, the dead and the ancestral, recognizing the metaphysical crossroads as defined by the Kongo Cosmogram's Yowa: the four moments of the sun. Her work is also in conversation and collaboration with generations of Brazilian artisans, (some still living), ancestors on both sides of the Atlantic, and, with the orixás or spirits." 
---
"FIBERS OF HOME: Weaving Heritage at The Colored Girls Museum" by Vashti DuBois and Elizabeth de Souza: "Our artistry is a very different kind of labor; one in which our hands are free to respond to the rhythm of our own musings and interests. We use it to calibrate our souls, as a way to relax into work rather than buckling beneath it. Collapsing under pressure was never an option anyway."
---
"The Work Of Billie Zangewa" by Bongani Tau: "The power to tell a story is so important to how people see, perceive and interact with the world. Omission, to me, seems a deliberate measure of control. Control of the narrative initially, then of history eventually. This is a positionality issue. It's important for me to realize this because I'm looking at the "other" articulating herself. This is why I asked Billie Zangewa, a Malawi-born, Johannesburg-based artist to weigh in on the cut-offs in Swimming Lessons, and a few more things, in solidarity with her voice."
---
Legacy: "Diplomatic Threads: Althea Mcnish" by Cheraine Donalea Scott: "McNish described her art practice as seeing everything "through a tropical eye," a gaze often used to imbue the English landscape with a look and feel that resembled the tropics."
---
Informed Source: "Goya Lopes' Afro-Diasporic and Textile Narratives: A Brazilian Artist and Designer" by Hanayrá Negreiros: "When thinking about the importance of Afro-Brazilian fashion, Lopes reflects on the plurality that exist within this field, simultaneously focusing on conceptual approaches and wearable products. Pieces with artistic power visually translate Black and Brazilian narratives. Concepts such as cultural porosity, creativity and the capacity for transformation are all ways to consider Black fashion and design in Brazil."
---
First Person: "I Remember Where I Come From" by Chandra D. Cox: ​​The portals were designed to celebrate a resilient and indomitable spirit displayed by my African ancestors – a will and spirit to live that has prevailed against unspeakable atrocities and injustices imposed upon them in a new world. The expansive presence of African descendants throughout America is evidence of this potent resilience."
---
Made Aware: "From One Shore to the Other" by William Adjété Wilson: "In Haïti I discovered the richness of artistic life especially within the Drapos Vodou. These flags were directly influenced by the Beninese hangings, having both the same purpose and the same spirits. I decided to create a series of these flags, inspired by the local evolution and the rich and exemplary history of Haïti."
---
In the Studio: "Onlooker" by Kelli Williams: "Social media has been a topic that I constantly return to in all of my work, specifically within my stop motion animated projects. I am really interested in the use of stop motion because of the tactile nature of the art form. I have to physically construct the puppet and the environment which mirrors the nature of the highly constructed and heavily curated platform."
---
First Person: "Textiles From Trees and Trash" by Teleica Kirkland: "The production of textiles and clothing from sustainable materials has occurred among indigenous and formerly enslaved peoples across the world for centuries. The archipelago of The Bahamas has a particularly unique history that speaks to an age-old practice developed from the memories of enslaved Africans. All over The Bahamas, people dried and cultivated Silver Palm, which grows abundantly, and used it to create pliable material. Over 200 different patterns and styles of straw plaiting have been recorded and retained through generations in The Bahamas."
---
In Conversation: "Ruth Miller" by Dr. Sharbreon Plummer: "If you journey between the quiet, winding roads of Catahoula, Mississippi, you will find the home and studio of fiber artist Ruth Miller. Her embroidered portraits beautifully combine richly hued threads and textured stitches to capture the depth and breadth of the human experience."
---
Informed Source: "Letitia Huckaby Draws Inspiration from Her Roots in the Deep South" by Dr. Jonathan Michael Square: In her practice, she takes what has traditionally been considered women's craft and handiwork and elevates it to a fine art practice, an act rooted in black feminist artistic praxis. 'I am in love with women and their experience and resilience,' adds Huckaby, which is why she has made lineage and matrilineality central to her practice."
---
To buy a copy of The Solidarity Issue, go to the SDA Marketplace, or you can check out a free digital sample on our SDA Journal page.