Watermark Your Images To Protect Your Work Online
November 24, 2014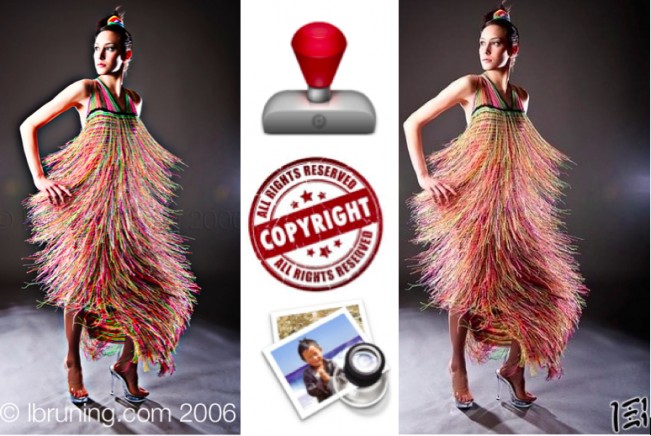 Sharing your pics on social media gets your work out there, but are you getting the credit for your creativity – and driving traffic to your website or blog?
Unless you're adding a *traditional watermark that includes your name + date to all the images you upload, the answer is most likely NO!
Without your mark of attribution, your talent becomes anonymous. You're giving your work away!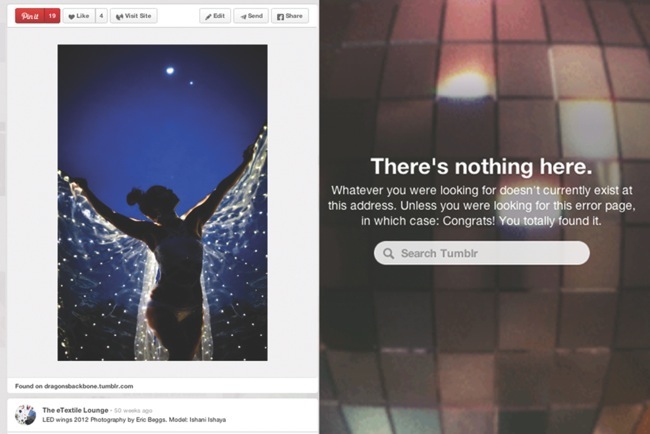 For example, how often have you clicked on a Pinterest image, only to find that the link is dead and there's no way to track back to the author, artist or website of origin? (See an image of my work, above left, and the kind of dead end you can hit after clicking on an image without direct link or attribution, at right).
Or you see an image on Facebook that you want to learn more about, but can't find a website link or any source of attribution, like this adorable book fairy, below.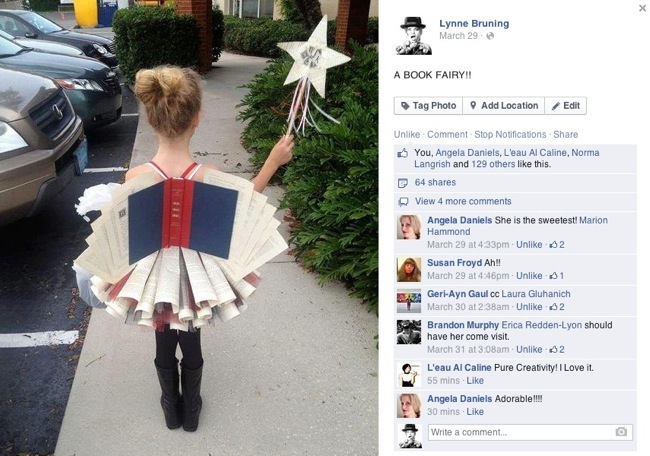 Or you're surfing the web only to find your images are being used by someone else?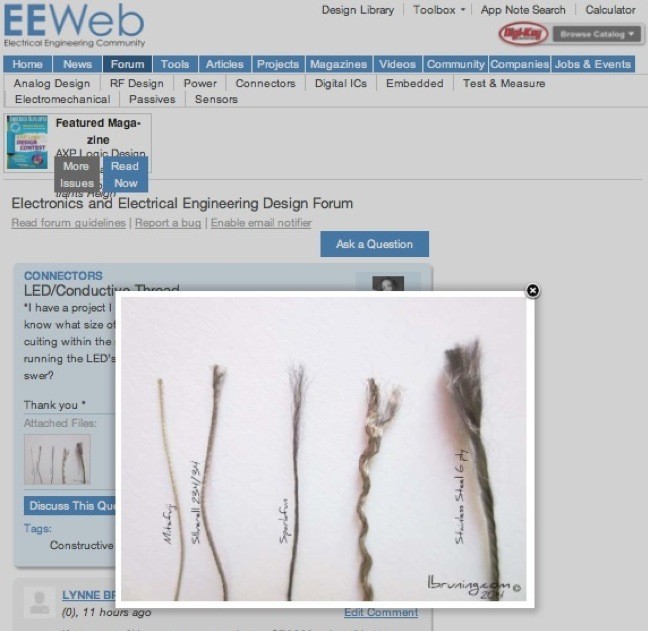 This frequently happens with my work, as with this EEWeb forum member posting a question about conductive thread and using my images as a reference, above.
These examples demonstrate why it is imperative to watermark your images BEFORE sharing them with the global internet audience – or submitting them to museums, galleries, and competitions that publish, print or otherwise disseminate them. (Pinterest's Terms of Service around pinning without attribution have evolved since the site began, as per notification below. Find out more about Digital Millennium Copyright Act referenced in the message here).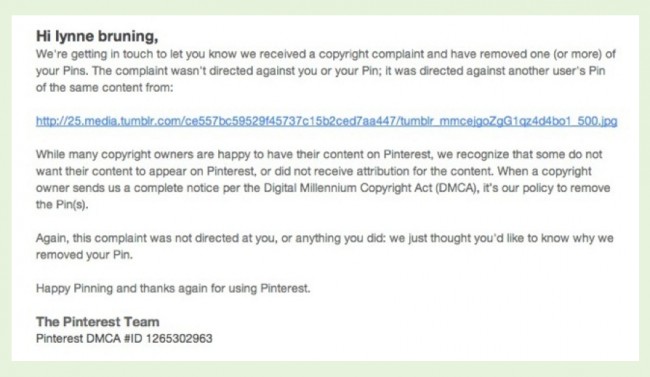 You worked hard to create your art. Please take the extra 5 minutes to place an identifying watermark on your documentation of it.
Then let the world wide web work hard for the rest of eternity to promote your talent.
TOOLS FOR WATERMARKING
PREVIEW 
comes on all MAC computers – free
found in applications folder 
Sometimes the obvious solution is right under your nose. All MAC computers have Preview application – complete with a detailed how-to tutorial built right in.
Open the applications folder with Finder then scroll to and open PREVIEW.
Click on TOOLS in the menu bar to access the drop-down; scroll down to "ANNOTATE" and then "TEXT" to make a text box appear on your image (drop down box shown below on left). TOOLS also allow adjustments to image color, size, rotation and selection of font and size (tools shown below on right).
These same functions can also be found by clicking on VIEW drop down in menu bar and then selecting SHOW EDIT TOOL BAR; the bar of editing symbols will then appear in each image window below the grey title bar.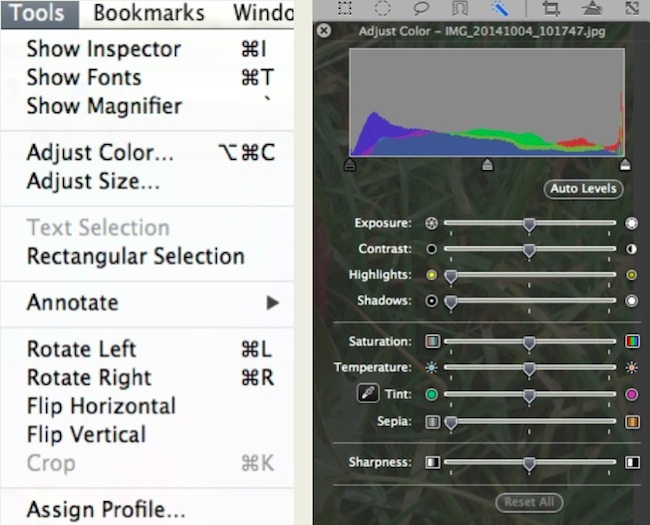 (If you aren't comfortable "noodling around" or exploring the tools – by trial and error – to find out how they work, do use the tutorial link above to get yourself on the right track. Teaching yourself to use one software program, by just diving in and experimenting, will build your confidence, resourcefulness and problem-solving skills for all software programs. -Ed.)
Once you've added your watermark via text box, you can immediately share your image via Facebook, Twitter, Flickr, or email by using the share icon in the tool bar, shown below.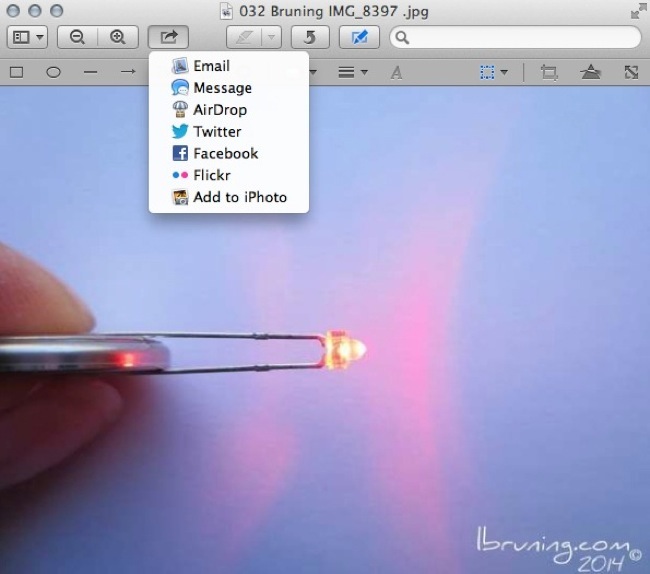 Preview offers you a free photo editing tool (with great documentation and how-to tutorials) that allows you to easily add a watermark to your images then quickly share them with your global audience.
Don't overlook it!
PHOTOBULK
PhotoBulk can be used on your Windows or MAC computer to watermark, resize, optimize and rename your images. $5 USD will upgrade you to Premium – which allows you to create templates and automate batches of images to improve the speed and accuracy of your photo-watermarking tasks.
PhotoBulk's resize and optimize features significantly reduce your image file size, allowing your viewer to receive and view your image faster without compromising picture quality. This is especially critical for users on mobile devices with data restrictions.
The PRESETS TOOL is a valuable time saver for those with multiple data size and text preference. Located in the top menu bar, it allows you to name and save multiple templates that streamline the addition of consistent and accurate watermarking,
Most importantly, the original images are not altered. PhotoBulk automatically stores the revised images in a separate folder making this a fool-proof editing tool.
It's so fast, easy, and convenient that I use PhotoBulk everyday for the images on my eTextile Lounge website. Try the free "lite" version and I'll bet you upgrade to the Pro.
SMART PHONE & TABLET APPS
When selecting a watermark app for your smart phone or tablet, look for the ability to:
add a preloaded copyright or trademark symbol image
select specific fonts, size, color and text placement
add/remove GPS geotags
save templates that will streamline your watermark processing & preserve the original image
upload directly to your social media sites
There are so many apps for Apple and Android that I can't keep up! At this point in time, I am partial to Apple products, so I use iWatermark.
iWATERMARK
iWatermark has pre-designed watermarks that you can use right away. It also allows you to create your own text, signature, QR code or personalized graphic mark.
Gesture control makes it easy to scale, rotate and place the watermark at any location on your image before you click to upload to your favorite social media sites or email.
The website has a free lite version as well as an in-depth tutorial that makes this app an easy one to learn and use.
JUST DO IT!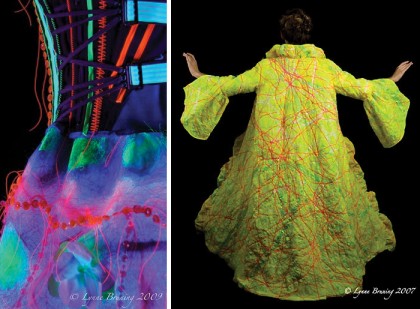 Build your audience, promote your work and legally protect your creative output by watermarking your images!
The World Wide Wed is vast. Once you upload your photo to it, that photo is there forever.
Watermark it! Then let your image become a permanent marketing tool.
Watermarking applications are constantly changing, so please let other SDA members (plus SDA NewsBlog's unlimited international readership) know which apps you have found useful on your iPhone, Android or computer by posting your comments below.
EDITOR'S FYI ON COPYRIGHT LAW
SDA Website Manager LM Wood, Professor of Art at Elon University (NC),  makes sure students in her digital art classes are well-informed about copyright law and best practices.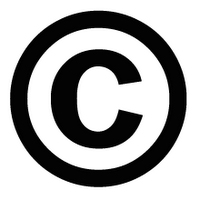 To provide some legal context to the watermarking process, she states, "Every image – whether a traditional watermark is added or not – is currently protected by copyright. It does not require the person's name, year or copyright symbol – though doing so helps identify the original artist."
In other words, "once something is made in tangible form, it is protected by copyright." 
Professor Wood strongly recommends watching the (amusing) video A Fair(y) Use Tale to better understand fair use issues.
*Traditional watermarking, described here, is not the same as digital watermarking – which is embedded in the data of the file. You can find out more about this copyright-related practice here. There's a digital watermarking feature already built into Photoshop called "Digimarc". But that's a topic for another post!
_____________________________________
Lynne Bruning creates exclusive artwear, eTextiles, and adaptive technologies.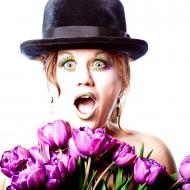 Combining her BA in neurophysiology from Smith College, Masters in Architecture from University of Colorado and family history in textiles, Bruning lectures and teaches both nationally and internationally.
From Qatar to Slovenia and California to New York, her hands-on electronic textile workshops infect textile artists, electrical engineers, and computer hacks with the love of wearable computing while engendering community-based eTextile groups.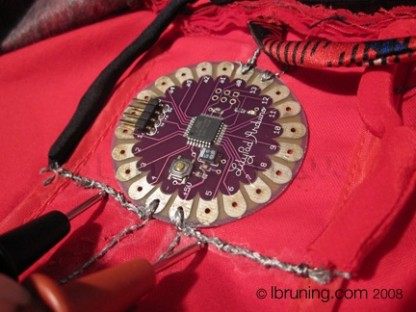 She sustains this global eTextile community by filming How-To Videos, contributing to Instructables and hosting a monthly eTextile Lounge uStream: A Global Hacker Space.
Articles and interviews have been published in Surface Design Journal and Forbes, among many others; exhibitions include a Motion-Activated eTextile Garden at Denver Art Museum (2013) and featured eTextile presence at Maker Faires (2009 – 2012).
Bruning's innovative, award-winning designs will inspire and challenge you to reimagine fabric using 21st c. technology and interactive surface design.