3 Accomplished Members Share Their Best of 2010
February 10, 2011
Patricia M. Greaves' Solo Exhibition Celebrates Edge Hill University's 125th Anniversary
The work of SDA member and artist Patricia M. Greaves was featured in an exhibition (April 2010) entitled Considering Terrain: Land and Sea at Edge Hill University in Lancashire UK, where she is Programme Leader for Creative Art, Design and Technology. A mix of new work alongside pieces which have already been shown internationally, her work explores "the potential of fabric to fold and conceal, as well as cover and protect."
On a more personal note, Greaves observed that,  "This was a pleasure to complete as it hopefully showed my students I could walk the walk, and not just talk the talk….in a manner of speaking.  Still scary though – akin to parading around the University campus without any clothes on!"
For more information on her work, visit www.art-felt.com
Dawn Edwards Celebrates Multiple "Bests" with Awards and Collaborative Works
SDA Member Dawn Edwards (Plainwell, Michigan), reports 3 major "Bests" of 2010:
1) Her hand-felted and beaded, Triton's Horn, won 4th place in the 2010 West Michigan Area Show, held at the Kalamazoo Institute of Arts. According to the KIA, "Since the 1960s, this annual exhibition has showcased the exceptional work of area artists in all media."
2) Edwards paired with cancer survivor Barb Armstrong to interpret her cancer journey in Edwards' chosen medium of felt. The piece is part of the traveling exhibiton Survivor's Journey: Journey of Hope, a collaborative effort of the American Cancer Society, Battle Creek Health System and the Art Center of Battle Creek that merged artistic talent with inspirational stories of cancer survival.
3) Edwards also collaborated  with 1 Israeli, 1 Australian & 3 other US felters on a FeltUnited project called The Battlecoat Project.
Backstory on the project: Joni Cornell and Victoria Marshall Clegg had been thinking of making a 'Scapecoat/Battlecoat' with other women with whom they felt an affinity. Each woman would contribute 1 or more  'scars' to felt into the coat. The project was originally thought of as a potential 2010 Felt United entry, although Clegg thought that it could grow and become something all on its own.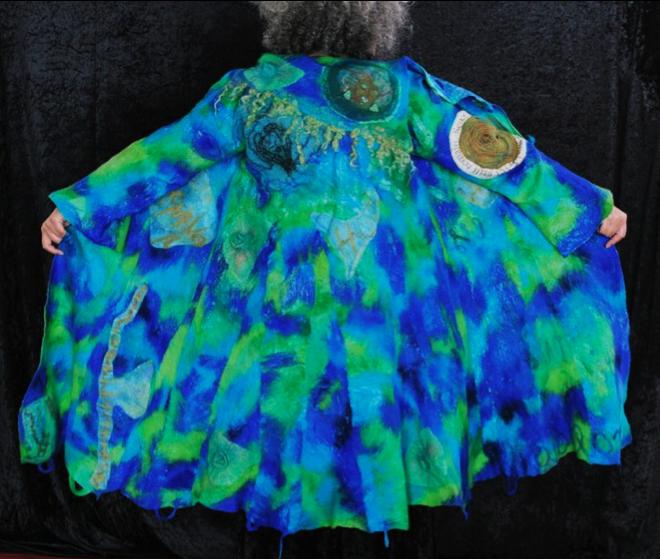 Joni Cornell explains the origin: "It comes from the Clarissa Pinkola Estes book Women Who Run with the Wolves (Chapter 13, 'Battle Scars, Membership in the Scar Clan')….'A scapecoat is a coat that details in painting, writing and with all manner of things pinned, stitched to it all the name calling a woman has endured in her life, all the insults, all the slurs, all the traumas, all the wounds, all the scars. It is her statement of her experience of being scapegoated.' Estes thought she'd burn her scapecoat once it was made to disperse her woundedness but she hung it up and drew strength from seeing it instead. She found it to be true of other women who made scapecoats. Another name she gives to it is 'battlecoat' because it bears the scars (hence the belonging to the Scar Clan)."
Dawn Edwards continues, "Each sent completed work to Joni Cornell in Australia who assembled all pieces into a beautiful hand-felted Battlecoat. The coat is now traveling in the USA, stopping at each participant's home–where it will be shown with the experience chronicled. Check out more images on the project's facebook page."
Edwards sums up her year by stating that "I feel so blessed to be working in a medium that I love and I really feel that in 2010 things really started to come together for me. I met and studied with wonderful felt artists, Elis Vermeulen and Chad Alice Hagen."
Visit her website at www.feltsoright.com
Kathie Kerler Gets 1st Place at the Evolutions 2010 Challenge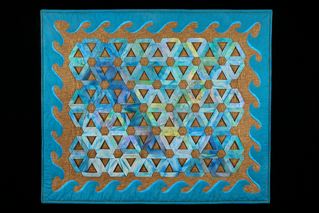 Kathie R. Kerler, a Contributing Editor at American Quilter MagazineEvolutions 2010 Challenge at the Rocky Mountain Quilt Museum for my quilt At the Ocean's Edge. writes: "I received 1st place at the
The challenge was to make a quilt based on a new idea, method, or device. My piece features an innovative dimensional technique using "mobius trefoils." The trefoils are twisted strips of fabric, sewn, folded, and flattened into triangular shapes. They are quilted, sewn together, and appliqued by hand to a machine-quilted background.
The quilt was created for an exhibition called Landscape of the WhaleCannon Beach, Oregon. The exhibition promoted the town's plan to create a strong sense of place by protecting and enhancing the environment of ocean, beach, estuary, and surrounding hillsides. Also, for the past 40 years a beach clean up called SOLV (Stop Oregon Litter and Vandalism) has been underway along the Oregon coast. For these reasons, the recycling symbol's mobius trefoil became my inspiration.
Find out more about Kerler's work at www.kathiekerler.com