Book Review: Digital Jacquard Design
March 29, 2014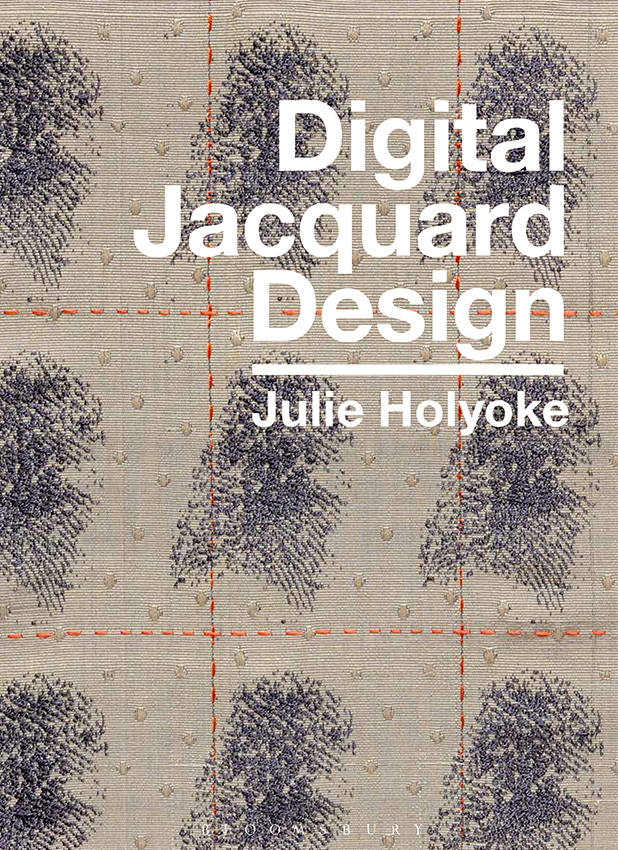 My shelves are lined with textile books but in recent years mostly cookbooks arrive in the mail. So I happily anticipated the arrival of Julie Holyoke's new book, Digital Jacquard Design, not only because it is about weaving, but also because it included images of my work (bias noted).
What I hadn't expected was the pleasure of holding a hardcover book and the beauty of the book itself – brimming with sumptuous color images and detailed technical jargon (I am always hungry for such specifics).
It was on my counter when an artist friend came to visit. Though not a weaver, she bee-lined over to the book and began to squeal with delight as she scanned through the pages. Her enthusiasm affirmed my sense that this is a book that is going to captivate any visually-attuned person.
Holyoke, an American by birth, has lived in Italy since 1970. She has worked as a free-lance textile designer and educator while also wearing many hats over the years at Lisio Foundation in Florence.
I met her there in 1997 when I participated in a 6-week summer intensive she co-taught with designer-artist Eva Basile. Many of the textiles documented by Holyoke were created in Lisio programs – such as the one shown at left.
Reading this book brought back memories of those days. Readers who haven't attended Lisio won't smell the pasta sauce simmering for the communal lunches we ate, but this book will take them, step by step, on the jacquard journey as taught by Holyoke and her colleagues.
She covers helpful designer skills, analysis, the technology of figured textiles, translating image to structure and then gives case studies at the end.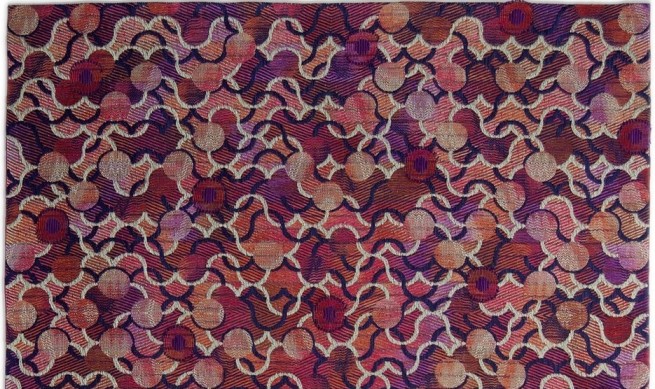 I know my subject, but that summer – and this book – exposed me to many new structures and ways of envisioning cloth.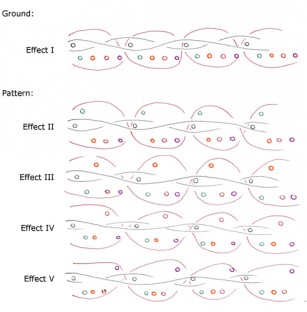 Diagramming cross sections of structures is particularly helpful in understanding weaving as a 3-dimensional process.
Holyoke includes them as part of every draft. I stumbled over them that summer, and I stumbled again with this book—but I persevered when my brain felt scrambled until I could envision the paths of warp and weft.
Those aha moments probably helped me develop a few new brain cells, too.

Whether one chooses to be as dogged as me or not, Holyoke offers several ways to understand the same concepts so that clarity will come.
I like that this book has color photographs shot in actual size on almost every page, accompanied by detail shots photographed with a macro lens that let you count every thread. (Macro photographs are labeled as "details." All other textiles were photographed at 1:1 scale and printed close to real size. Exceptions are the cover photo of Fingerprints, which is blown up, and Chameleon (on page 201), which is reduced.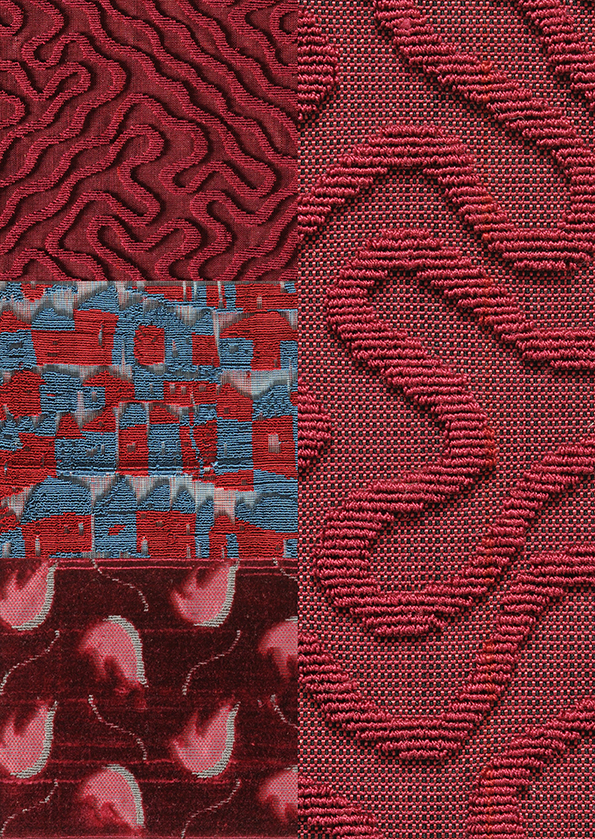 I also like the specifics of Holyoke's diagrams.
And I like that she includes historical as well as contemporary examples.
Obviously this book is an excellent resource for students of jacquard, but more than that, it is a compilation of inspiration for any artist. With the resurgence of interest in making cloth, this book will surely guide many non-weavers through this fascinating terrain.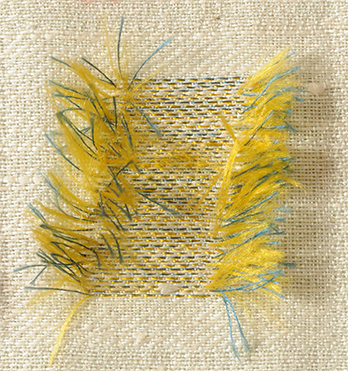 Holyoke's content is relevant to all types of production of figured textiles and is not exclusive to current digital technologies. Weavers with floor looms, dobby looms or drawlooms will be able to translate the information to conform to the constraints of their equipment. The processes she describes are relevant to any jacquard – whether the loom uses punched cards, paper or computer input.
Digital Jacquard Design is a good title for our times, but the book is actually much more comprehensive than the title suggests. If you want to learn digital processes, there are better sources (find links to some good ones below**).
Once you know how to use digital software, this is a book you will want to use to design with those technologies.
It is also a book you will want to have out, handy, just to browse through for inspiration when you are feeling dull.
When I am depressed, images of textiles are the best medicine for me. If winter lingers, I know I will be grateful for a glass of Chianti and this book to get me inspired.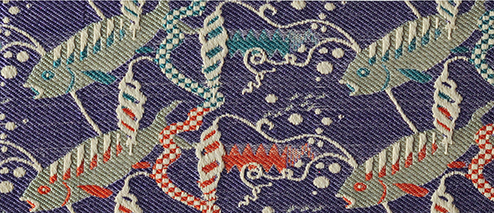 **Author's Note: The best place to go if you want to learn any software these days is www.lynda.com/
software.
As for other books, The Woven Pixel: Designing for Jacquard and Dobby Looms Using Photoshop (co-authored by me and Alice Schlein) is available for free download at www.handweaving.net or for purchase as Alice Schlein's The Liftplan Connection at www.lulu.com/shop/alice-schlein/the-liftplan-connection 
Marg Coe's e-weaving site also offers a good selection of books at www.e-weaving.com/products.
Editor's Note: Click through to Amazon.com to purchase Julie Holyoke's Digital Jacquard Design via SDA Website link and Amazon will donate a % of the sale to support SDA mission and member benefits.
You can also purchase it via Bloomsbury Publishing site for USA or UK.
____________________________________________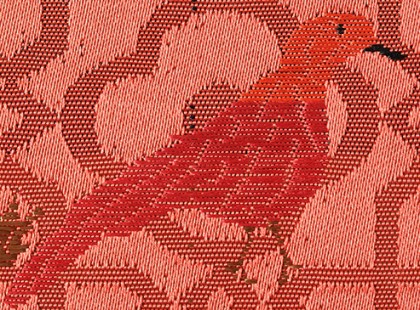 Bhakti Ziek, a weaver, author, and teacher (and long-time SDA Member), is known for work ranging from backstrap weaving to digital jacquard. She has just completed a large permanent installation for Whitman College's Community Hall at Princeton University.
She currently lives in Randolph, Vermont.
Visit her website at www.bhaktiziek.com
View images of her work at
picasaweb.google.com/bhaktiziek
View her work via Drawing Center Viewing Program at:
www.drawingcenter.org/viewingprogram
Read her blog at www.bhaktiziek.blogspot.com