Burning Man: An Artist's Experience
November 4, 2014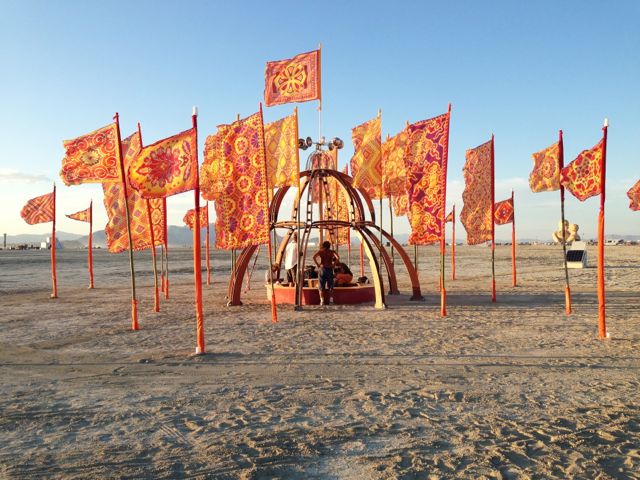 Burning Man, a yearly festival in Northern Nevada, is an experiment in community, art, radical self-expression and radical self-reliance. What began in 1986 as a small beach bonfire in San Francisco has grown to an international event with over 60,000 attendees.
Key to keeping the spirit of the event intact throughout its remarkable growth are the Ten Principles, which include gifting, de-commodification, civic responsibility and participation.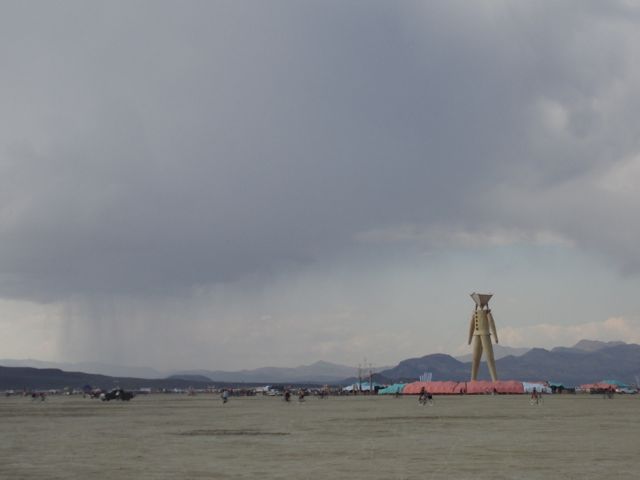 During the week-long event, Black Rock City becomes the 4th largest city in Nevada – before it disappears again. It's the largest Leave No Trace event in the world.
Although attendance at Burning Man has grown almost 30% since I first went in 2007, it never feels crowded. The horizons are broad, the sky is big, and the vistas are long on the "playa," as the dry, alkaline lake bed is called.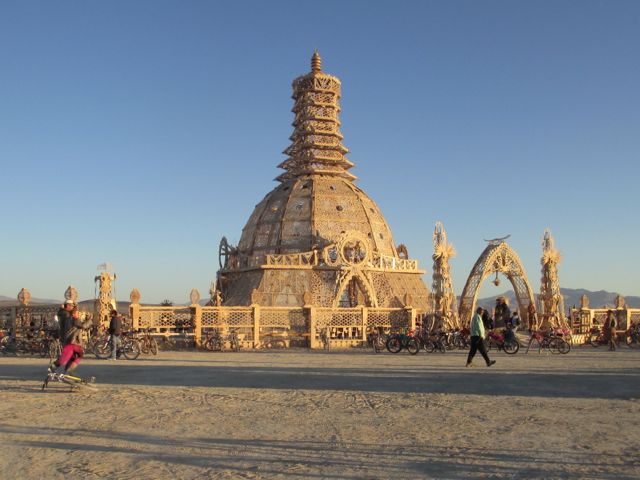 A short bike ride brings you to the perimeter fence where you can be alone with the wind. Or you can be dancing in the center of crowd at 2 am. There are as many experiences to be had at Burning Man as there are people who go there. 
The art is inspirational. The environment is challenging. Winds up to 60 mph, white-outs of fine alkaline dust and temperatures up to 100 degrees test both the art and the artists.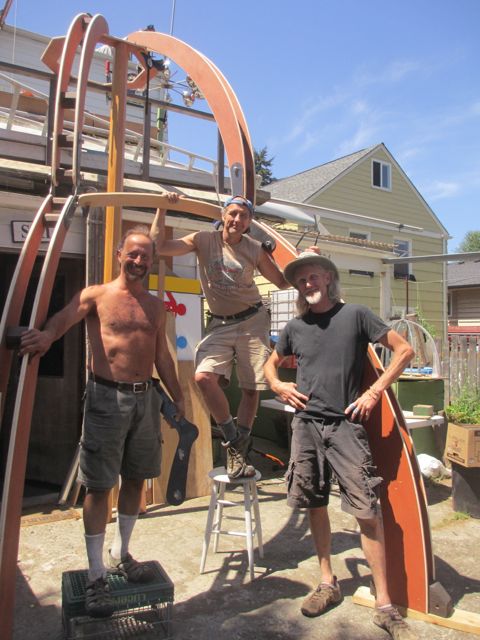 The desert environment is more suited to work in metal, stone and wood than in soft materials. 
But when this year's theme, Caravansary, was announced, I was inspired by the long textile history of the Silk Road and knew that this was the year for me to bring my art to the playa.
Working with my collaborator and general contractor Peter Weston – plus an architect and an electrician – we applied for a grant from Black Rock Arts Foundation.
When we found out in April that we received funding, we jumped full-time into creating Playastan Crossroads: an oasis of color and pattern in the desert, powered by the wind and inspired by the idea of the Silk Road as the original information highway. 
I began with research on textile designs from along the Silk Road then adapted them for the banners of Playastan Crossroads.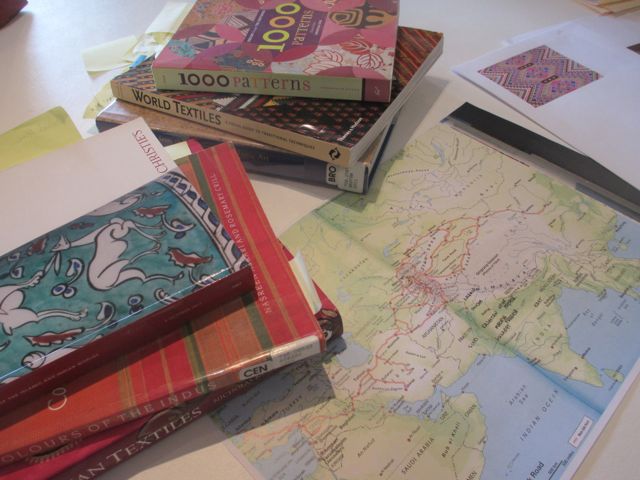 Measuring 45 inches wide and up to 9 feet tall, the banners were patterned with a variety of design motifs ranging from Spain to China. Research and design was followed by creating full-size drawings.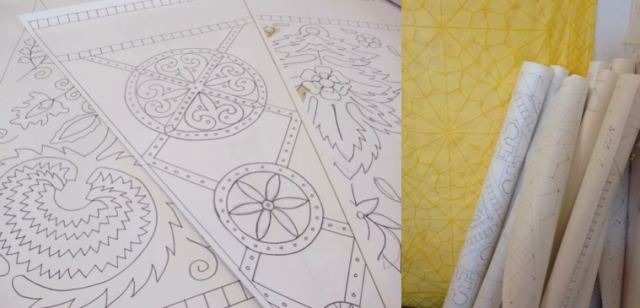 65 yards of china silk were first dyed a light golden yellow. Then the designs were traced onto the fabric with soy wax resist.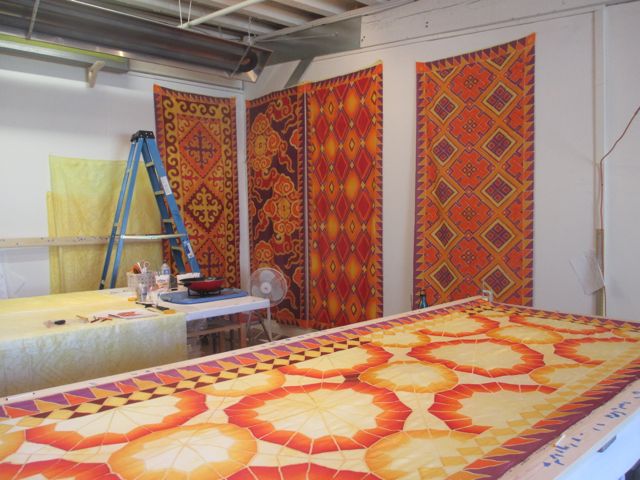 Fiber reactive dyes in shades from red-violet to golden yellow were painted between the resist lines to complete the designs.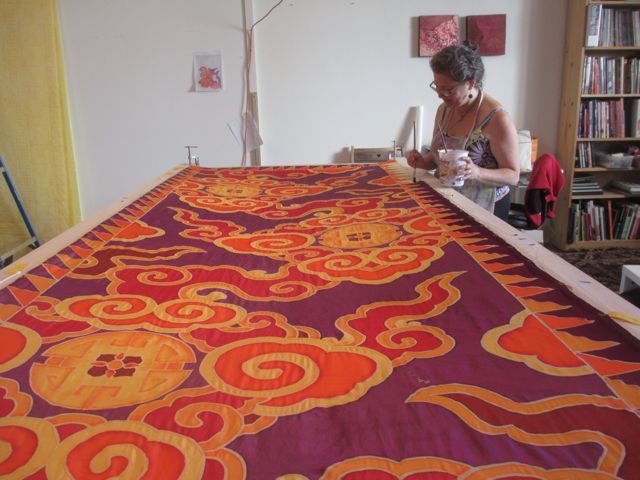 Many hands helped out with drawing, applying resist, painting, steaming and sewing the finished banners.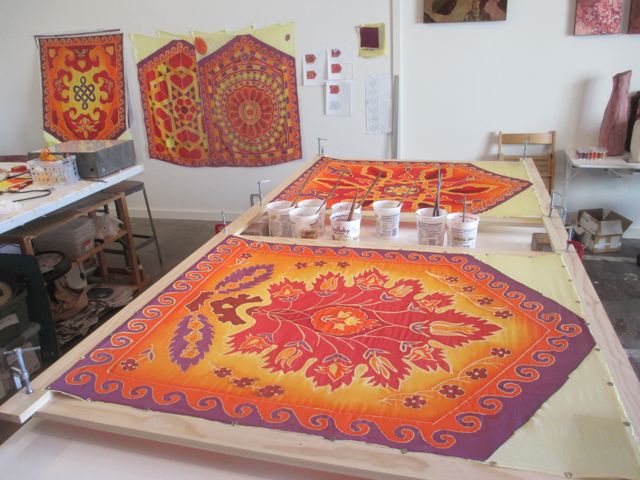 But work in the dye studio was only part of the project.
Peter worked with electricians, a metal fabricator, an architect and volunteer carpenters to build the sturdy yet elegant central structure.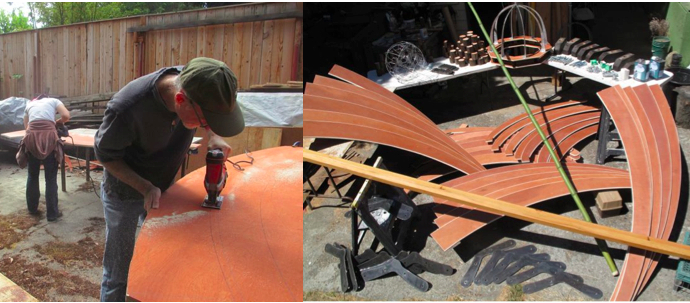 It is simple in concept, yet beautifully built and engineered; every bolt and beam considered, designed and lovingly fabricated.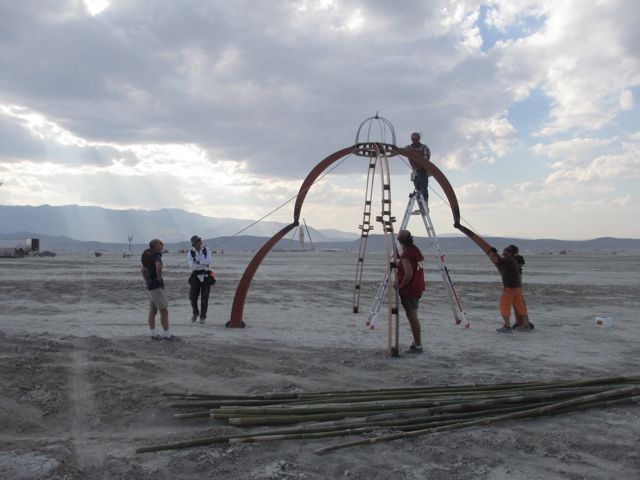 4 months later we drove from Seattle to Black Rock City, arriving when the playa held a fraction of the eventual population.
For 3 long days our crew dug trenches, pounded rebar, raised the structure and wired lighting, while our support team kept us fed. The crew's dedication was humbling; their work was a trust in our vision.  Playastan Crossroads was made by many hands and minds that deepened the vision.
And at sunset on Saturday, Playastan Crossroads was finished. 
It rose from the playa surface, banners snapping in the wind like flames; a gathering place that was both intimate and open. 
Sitting inside the structure, visitors found a Traveler's Journal to which they could add their story. They could also read the Mythic History of Playastan and a Field Guide to the banners. Each of these books were created by members of our larger community – only some of whom actually attended the event.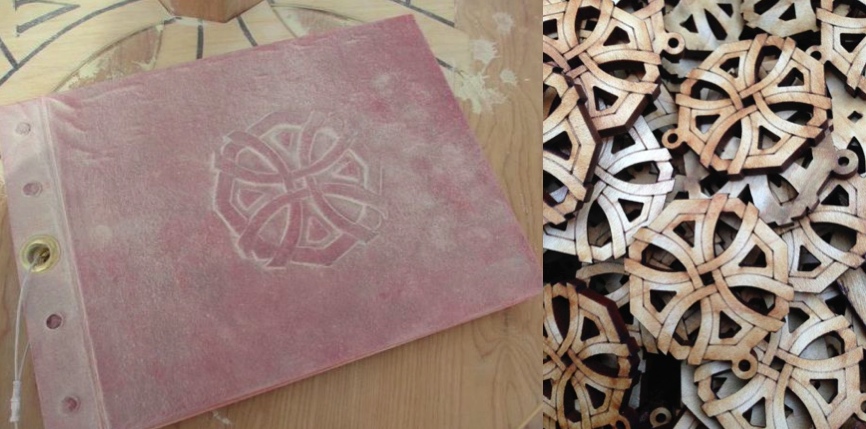 Gifting is one of the key principles of Burning Man. Although we received funding for materials, our labor was a gift to the citizens of Black Rock City.
And the citizens gave back. They danced, they rested, they shared their stories. There were weddings and celebrations. My husband and I celebrated our 20th wedding anniversary by renewing our vows at Playastan Crossroads. It was a simple ceremony with old friends and new, toasted with shots of bourbon.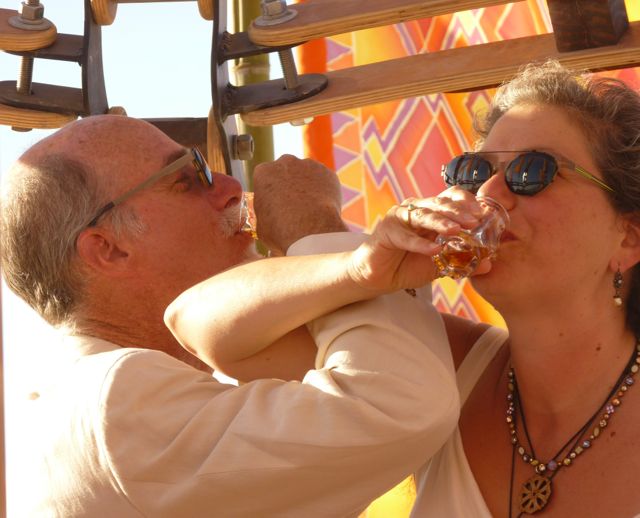 A few days ago I received an email from a Burner (aka someone who has been to BM) named RayVan. He wrote, "I've been to BM 16 times – and some years find an art piece that engages me in such a deep way, my life just gets more wide and open. . . This year, your art was by far the best art for me out on the playa."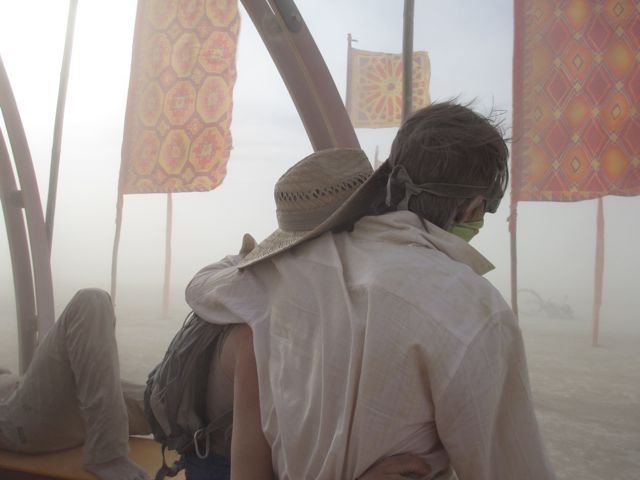 "Sitting on the "bench" and seeing the patterns of the flapping flags pixelating and fractalizing off into the universe, . . . and then your incredible books! Turn a page and get stuck there, then look up at your construction, notice the total color scheme in every detail, . . . the sun making the colors be intense, . . . they seemed the source of light. . ."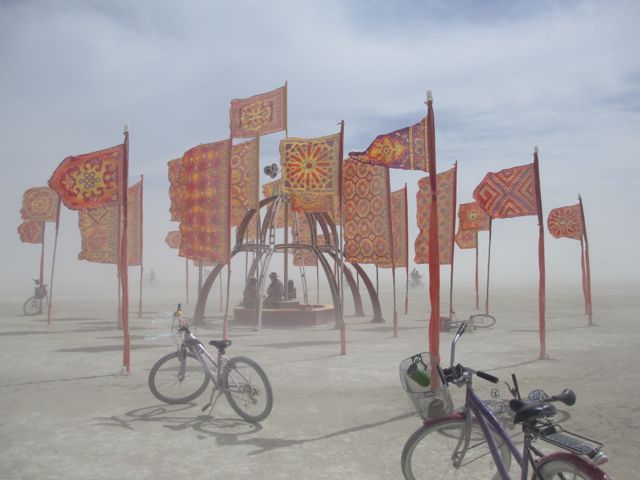 His email reminded me of the reason I create art for Burning Man. It's not about my personal recognition as an artist; it's about creating an intimate space within the spectacle. A place that allows participants to laugh or cry, to be immersed in art and community, to look into each other's eyes and see themselves for a moment…before the dust rises and wipes the slate clean.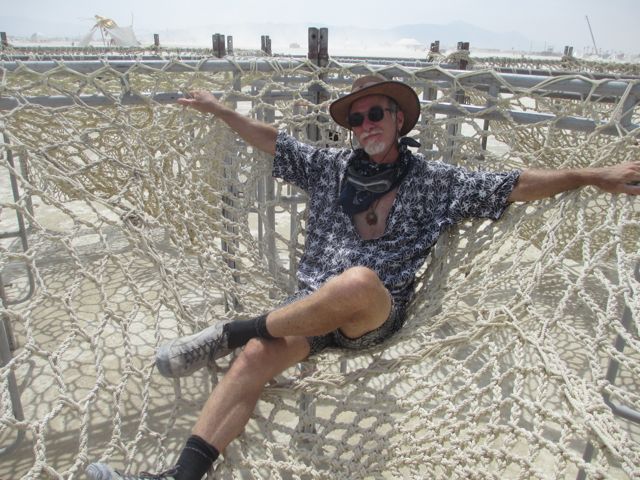 ___________________________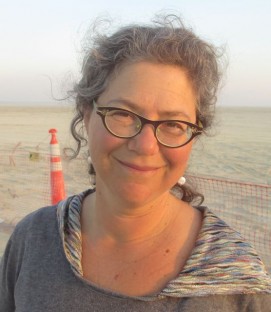 Cameron Anne Mason is an artist, educator and writer (and SDA member) working in Seattle, Washington. Largely self-taught, she creates both site-specific installations and fine art for galleries.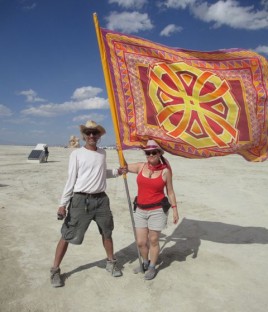 Her work has been seen nationally and internationally; she is represented by Foster/White Gallery in Seattle. She teaches workshops in surface design and sculpture thus combining her love of textiles with her background in graphic design and performance.
About her work, Mason states, "Fabric is fundamental to my process. It is an intimate part of our lives. It protects us from the elements, gives us comfort, and a means to express ourselves. It is sensual and essential. I am drawn to fabric because of its changeability and its constancy.
Fabric is the skin that clothes my work."
Visit cameronannemason.com to view galleries of her work, read her blog or find out about upcoming workshops and shows.