Common Threads
October 12, 2016
Common Threads is a collaborative project between Iowa-based artist and SDA member Catherine Reinhart and Minnesota-based artist Allison Metzger. The show consists of works on paper and an interactive installation at the Iowa State University (ISU) Design on Main Gallery. The show opened on October 1st, and is still on display for a few more weeks until October 31st.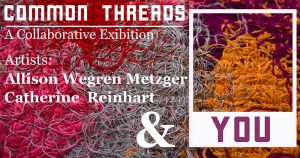 Created collaboratively, each piece uses techniques of drawing, printing, stitching, collage, and dyeing processes, with color palettes drawn from murals on the ISU campus.
Reinhart and Metzger mailed the pieces back and forth to one another to continue working on them while in different states. All paper works in the exhibition fit within the size parameters of: 18" x 24", 10" x 18, and 6" x 7".
Inspired by the Grant Wood murals on the ISU campus, the themes of this project are growth and community. The interactive installation will quote the forms in the murals using simple wooden structures as armatures.
This project's goal is to cultivate a relationship between ISU students and the local community through art. Common Threads educates students on the potential use of historic local precedents in contemporary art endeavors. These goals will be realized through a varied series of events spanning the exhibition.
Visitors to the gallery will be provided with thread and encouraged to wrap, arrange, and manipulate the installation, giving it a dynamic character. Reinhart and Metzger desire to invigorate the arts in Iowa with a project that acknowledges Iowa's rich cultural heritage and makes it a generative source of creative community involvement.
This exhibition was made possible through an IndieGoGo crowdfunding campaign, and was successfully funded in concordance with a grant from the Iowa Arts Council.


---
ISU Design on Main Gallery
230 Main Street
Ames, IA 50010
Hours: M, W, F, Sat. 2-5pm or By appointment
---
Catherine Reinhart is an SDA member based out of Ames, Iowa. She was recently featured in the "Emerging Voices" department of the Spring 2016 Issue of Surface Design Journal – "Transgressing Traditions".
Tags:
Creative Process
,
Embroidery
,
Exhibitions
,
Fiber
,
fiberart
,
Member Buzz
,
Member Profiles
,
Members In Print
,
Mixed Media
,
Networking
,
SDA Community
,
SDA Journal
,
SDA Member
,
Self-Promotion
,
Sustainability
,
Textile Design